My First Meeting with a Food Coach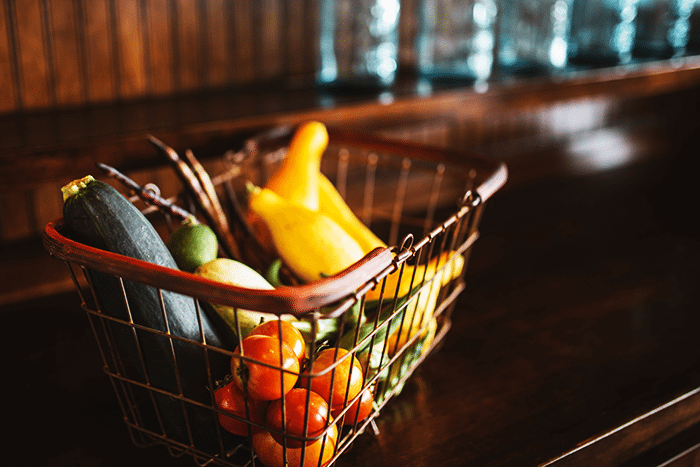 As I walked into Whole Foods to meet health coach and wellness educator, Liz Cascio, I wasn't sure what I was getting myself into. I left this foodie haven pleasantly surprised and feeling like I'd actually learned something. In just one meeting, I started to notice diet habits that I'd formed and I have never seriously considered addressing.
In a culture that is simultaneously diet-obsessed and hyperconscious of obsessive dieting (to the degree to which we judge our friends for dieting, for being one of "those people"), we've gotten so far away from our bodies' nutritional homeostasis. We've somehow lost the ability to moderate, to listen to our bodies, and to healthfully fuel and satisfy them. I know I have.
I believe what I'm told by the sketchiest of Internet sources. I'm quick to jump on a fad nutritional trend my co-workers currently swear by. And I'll believe that nugget of "wisdom" until the next new "right way to eat" emerges. I'm speaking in the first person because I don't want to speak for anyone else, but I'm sure I'm not alone.
I honestly don't know what to believe. Is paleo the healthiest thing for my body? Is a gluten-free diet? What about candida?! And over the past couple of years, I just stopped buying grains. To be clear, I don't deny myself any particular kind of food I want to eat, and I'll be the first to recommend Au Cheval for the best burger in the land, but when it comes to my day-to-day diet, I've gotten in the habit of just selecting tons of vegetables, some protein, yogurt, and almond butter from the grocery store.
I sat across from Liz, a food coach who I barely knew, describing my average week of food and how I felt eating it (which, oddly, felt like a very intimate discussion). It was during this conversation that I started to think about how hungry I am and how I always wish I had more healthy foods around me so that I wouldn't settle for the unhealthy substitutes when I get caught in a pang of hunger (which is every day).
I asked Liz if I was getting enough protein, and her answer surprised me. She said I might need more intact whole grains and starches. My head went two places: first, "YES, I love pasta," and then, "Oh wow, I guess grains aren't part of my regular diet. That's so weird! I like them, so why have I completely blocked them from getting into my grocery cart week to week?"
My point is not push grains on anyone. It was just an interesting point of discovery about myself that I never would have considered if I hadn't been forced to take an introspective look at my nutritional habits.
After taking this initial self assessment and expressing what I would like to get out of a potential nutritional program, Liz walked me through the grocery store and pointed out some great (and fast!) options to quickly incorporate into my routine food shopping. In our short 45 minutes together, she shared some awesome fast facts, and explained the high level background of calories versus nutrient density.
For instance, pairing nuts, which have very high calorie density, with fruit, which is low, is a great snack. Neither would be the healthiest option by themselves. She recommended that along the right balance of calorie/nutrient dense snacks, incorporating more beans and whole grains and starches would help me stay fuller longer. The frozen food aisle actually has a lot to offer in terms of what I can throw in my salads and lunch bowls (frozen is another buzz word I've tried to stay away from, but many options contain the same amount of nutrients as fresh).
Too often, food conversations revolve around what we shouldn't be eating. Not only are we crowding our brains with negativity around food, we may even be more likely to overeat, Focusing on what kinds of restrictions we should put on our bodies sets us up for failure. But changing the conversation to what we should eat rather than eliminate? Now there's some food for thought.
I'm not saying that everyone needs to see a nutritionist if they haven't considered it before, but it was incredibly interesting to talk about the thing I think about more than anything during the day – what I'm going to eat – in a productive, self-reflecting way. If you're not ready to sit down with a nutritionist, you can try an app like MyFitnessPal, which allows you to log and review what you're eating.