Healthy Food Blogs to Get You through the Holidays
With the holidays upon us, the temptation to make your favorite holiday treats can be impossible to resist, despite how unhealthy they can be. Research shows that people gain just over a pound during the holidays that they will never lose. While it's important to keep tradition, there are plenty of options out there to lighten up your holiday favorites. No matter what your favorite holiday treat is, these healthy food blogs are a great resource to look for an alternative that will help keep off those extra pounds you've worked so hard to shed all year long.
Gina Homolka of Skinny Taste has long been one of my favorite bloggers for lightened up versions of classic recipes. Whether you crave green bean casserole or latkes, her holiday round-up is a great resource to make it through December. This year, I want to try to make her peppermint meringues as an alternative to stop me from eating too many of my future mother-in-law's irresistible frosted sugar cookies. I'm even hoping I can convince the family to make her sausage, cheese and veggie egg bake as a lighter alternative to our traditional Christmas casserole!
Often when we think of making a recipe lighter, the sacrifice is taste. Lauren Keating of Healthy Delicious promises that her recipes are healthy, but that you'll still be going back for seconds. She has some terrific recipes that will still help you win your cookie swap, like Eggnog Sugar Cookies or sweet 'n' salty cookies, but without feeling totally guilty when you eat them straight out of the oven. She even has a free e-book that you can download for a full collection of healthy recipes perfect for holiday entertaining!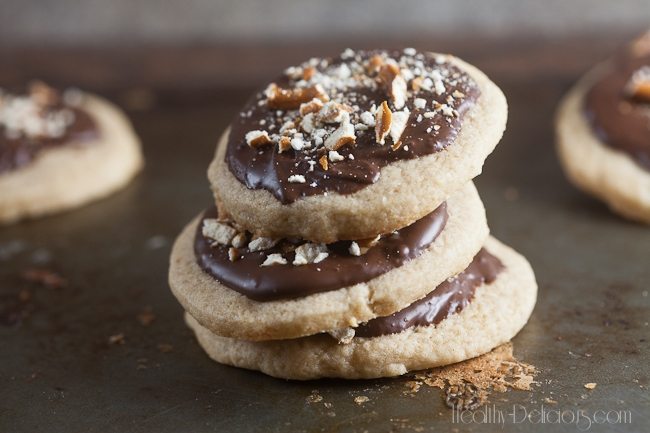 Amie Valpone, the blogger behind the Healthy Apple, is all about cooking "real food" as a way to combat the digestive difficulties she has due to Lyme disease. Even if you aren't gluten, dairy, soy, sugar and egg-free, her recipes can offer healthy alternatives to some of our holiday favorites. I'm eyeing her easy thyme roasted mushrooms as an alternative to my mom's cheese-stuffed mushrooms and I think even the pickiest eaters could get behind her holiday cranberry & peach galette. I also want to try her gluten free cinnamon sweet potato loaf as a healthier holiday dessert for our office potluck.
All year long, Oh My Veggies is my favorite go-to blog when my best friend, who's been a pescatarian all her life, is visiting from New York. Katie Trant's vegetarian blog is all about easy recipes that use fresh, and seasonal ingredients to make food that tastes good and makes you feel good. This holiday season, I'm hoping to try her vegan gingerbread cookies, which use whole wheat flour and coconut oil to lighten up a classic favorite. I'd also like to make her pumpkin gingerbread blender muffins as a treat I can feel good about while opening presents on Christmas morning. Plus, she has some great tips and tricks to staying healthy over the holidays!
What blogs do you turn to when trying to lighten up your holiday meals?
Let us know!
Did this post help you get closer to achieving one of your goals?