Healthy Eats: Detox with This Lean, Green Soup Recipe
Right about now, millions of Americans are bemoaning the sweets and drinks and cheeses they indulged in over the holidays. Maybe you're one of them, and you want a detox to jump-start your healthy resolutions this year. If that's the case, I've got JUST the healthy meal for you.
Sweat Lifers, meet the (slightly adapted) Redeeming Green Soup recipe from my current favorite cooking blog, Cookie and Kate. Easy to make (if a tad time-consuming) and using simple ingredients, one of my roommates was spot-on when she declared "This soup tastes like health." Delicious health, that is.
Fair warning, though: while the original recipe claims it takes about an hour to make, I'd clock it at closer to an hour and a half. There's a lot of do-something-and-then-wait in this recipe, though, so it's not very difficult. The time is well worth it, and you have tons of leftovers that are perfect for freezing at the end- so don't let the time required scare you.
Here's what you need:
2 tablespoons extra-virgin olive oil (+ more for garnish)
2 large yellow onions, chopped
1 teaspoon salt, divided
2 tablespoons plus 3 cups water, divided
1 bag of farro (I used Trader Joe's 10 Minute Farro)
1 large bunch kale (I used one full bag, or about 16 ounces worth))
14 cups gently packed spinach (I used two bags, or about 14 ounces worth)
4 cups vegetable broth
Big pinch of cayenne pepper, to taste
1 tablespoon lemon juice, or more to taste
Optional: Brown rice or cooked chickpeas to serve over (I used chickpeas)
Here's what you do:
1. Prep your greens. Remove the ribs from the kale and discard, then coarsely chop or tear the kale leaves. Trim any tough stems from the spinach and roughly chop or tear the leaves.
2. Carmelize the onions. Heat two tablespoons EVOO in a large skillet. Add onions and 1/4 teaspoon salt. Cooking, stirring frequently, until the onions begin to brown (about five minutes).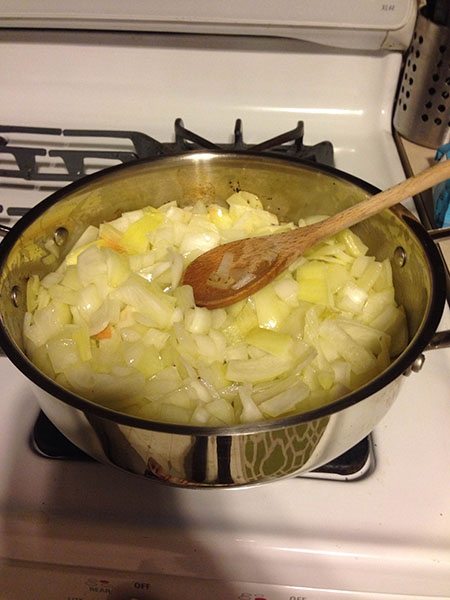 3. Reduce the heat to low, add 2 tablespoons water, and cover the skillet. Cook until the onions are greatly reduced and are tannish-brown in color (about 25-30 minutes). Stir onions frequently while the pan is still hot, and stir occasionally once the pan has cooled down, recovering the pan each time after stirring.
4. Cook the farro. Fill a large pot with water and bring it to a boil. Add farro and boil for ten minutes (check your farro to see if the instructions are different).
5. When the farro is cooked, stir in the kale. Return the mixture to a simmer, and cover and cook for 10 minutes.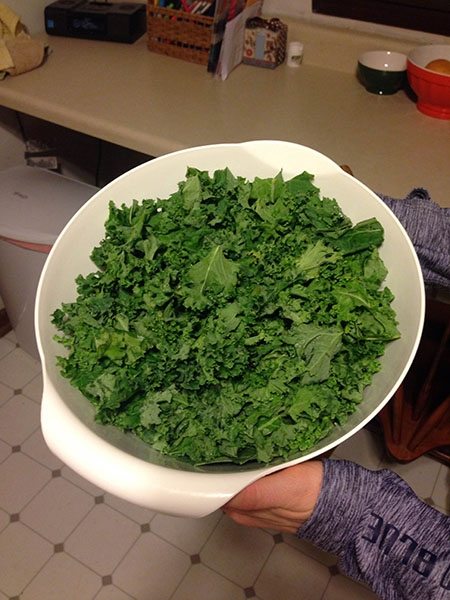 6. When the onions have carmelized, add them to your farro and kale, along with your spinach, vegetable broth, and cayenne. Return to a simmer, cover and cook, stirring once, until the spinach is tender but still bright green (about 5 minutes).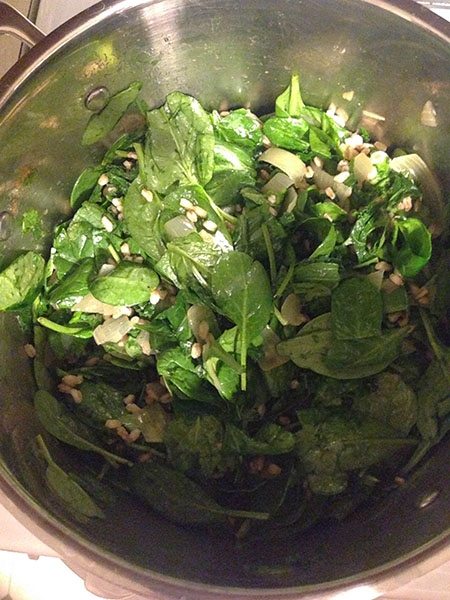 7. Puree or blend your soup. You can use an immersion blender in the soup pot if you have one, but I used my Ninja blender and it worked great. You'll probably have to blend it in two batches- this is a ton of pre-soup.
8. Serve alone or over canned chickpeas (rinsed and drained). Garnish your soup with a little EVOO, a lemon wedge, and/or a little extra salt or freshly ground black pepper.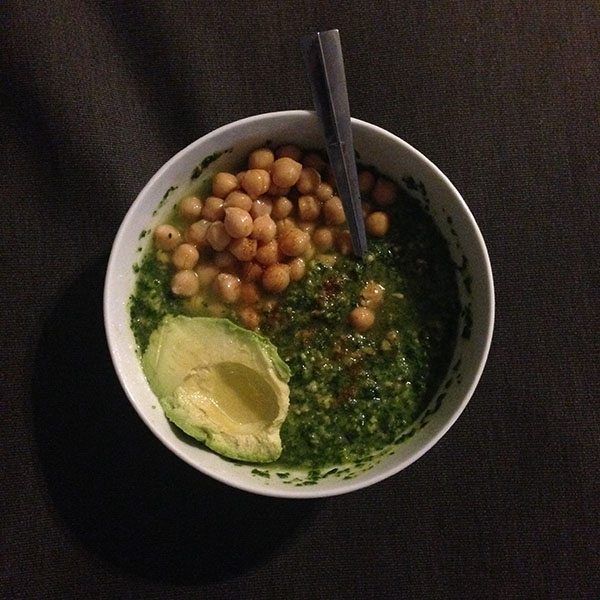 9. Bask in your healthy decision-making.
As mentioned before, this makes a ton of soup and it freezes beautifully for the evenings when you need a quick and healthy meal. Your resolutions will thank you.