5 Healthy Habits You Can Adopt Today
If you've ever said the phrase, "I need to get healthier," it probably feels and sounds like a completely insurmountable task. Should you diet? Throw out all of the food you love? Spend two hours at the gym every day? Absolutely not.
We've talked a lot about setting goals and making those achievable, and trying to go from one-ish treadmill session a month to a fitness model isn't going to happen. Over time, it can definitely happen, but if you don't give your body the time it needs to ease into and adjust to your new healthy habits, chances are that you will quit find yourself starting over again in a couple of months.
So whenever anyone says, "I want to get healthier," to me, I usually give them a list of five small lifestyle tweaks that won't feel dramatic, but are totally achievable starting tomorrow. As these goals start to feel like habits, layer on new goals.
1. Swap your soda for water. 
Real talk: Soda does absolutely nothing nothing for your body. It's what some call empty calories, or calories that you're piling on, but don't bring anything to the party like vitamins, minerals or anything else that will sustain your health.
A can of cola, for example, has 138 calories. If you were to have two colas each day, you'd be drinking 7,728 calories over the course of 4 weeks. That number is important, because to lose a pound of weight, a person needs to have a deficit of 3,500 calories in their diet. (It's not always that simple, but that rough approximation is what many hold to be true.). In 4 weeks, swapping soda for water could plausibly help one lose 2 lbs. Drinking more water can also help you to feel more energetic, can purify your skin and can aid in digestion.
If you crave that flavor in your beverage, try one of Fit Men Cook's Real Vitamin Waters, which use fruits and herbs to flavor water. Hydration win.
2. Pack your lunch instead of buying it
The simple fact is this: if you want to be healthier, cooking at home is an easy way to know exactly what you're putting in your body. That's not to say that there aren't healthy options out there (we love Protein Bar and Lyfe Kitchen), that is to say that a lot of options out there are packed with oil and sodium.
If you feel like you'll never have time to pack your lunch, try grab and go basics:
fruits like apples, oranges and banana that don't require much work to eat
Single serve Greek Yogurt – I love Fage fat free, single serve Greek Yogurt
Pre-cut veggies – I know that baby carrots don't occur in nature, but boy, are they portable. Trader Joe's has a great selection of pre-cut, pre-washed veggies.
Nuts, like roasted unsalted almonds.
If you're ready for some quick Sunday meal prep to create a week of packed lunches, join the Lunch Bunch. Try any of our weekly, healthy lunch-packing plans that come with a convenient, printable grocery list here.
3. Make healthy friends or make your friends healthy
If you look at your friend groups, there are usually some pretty interesting similarities, like interests and activities. Your friends' habits rub off on you. When your group of friends isn't ready to make healthy lifestyle changes, it can impede whether or not you actually follow through with your plan.
You can approach this two ways:
Make new friends, but keep the old. Find someone to add to your life who is living a healthy lifestyle. Having that good influence can help to keep you on track.
Get your friends involved by asking them to adopt some healthy habits with you. Instead of going out for girls night, have each friend contribute something to a healthy potluck GNI (girls' night in).
4. Take more steps during your day
The more you move the better you'll feel and the more calories you'll burn. If you usually drive, take a cab or a train 1-2 miles to work, scrap that and lace up your walking shoes. If walking to work isn't an option, use your lunch or your breaks to get some more steps into your day. Or change a meeting to a walking meeting. Getting outside can also help take some tension out of a tougher conversation.
If you sit at a desk, just getting up to walk once an hour (take a loop around your office) can help reverse the negative impact of sitting all day.
5. Eat breakfast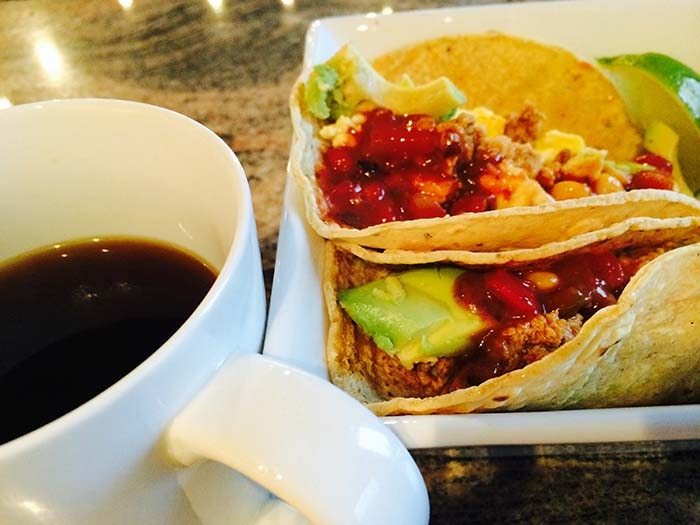 You need to eat breakfast every single day. Period. When you wake up, drink a glass of water, grab your coffee (I'll never give up coffee and no one can make me) and pick up something healthy like an apple with almond butter, a Kind Bar, a Greek Yogurt or some oatmeal with berries.
According to the Mayo Clinic, eating breakfast reduces your hunger, helps you to control your cravings and gives you greater energy throughout the day.
Think you can make these 5 healthy changes? How are you keeping yourself on-track?