{Giveaway closed} #AIRSweatworking goody bag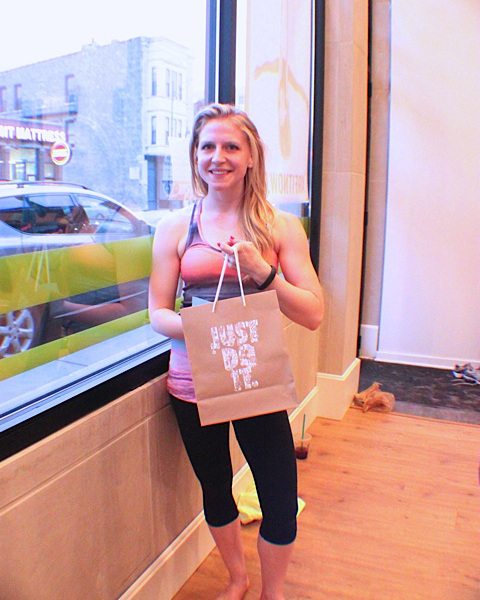 (Disclosure: products mentioned in this post were donated by Pretzel Crisps, Gymphoria, Muscle Milk, Air Aerial Fitness, Ms. Tech, Nutrilux and Mark Bars. As always, we only talk about the stuff we love)
After last week's Sweatworking event at AIR Aerial Fitness, we mixed and mingled all while getting a killer workout. Everyone who sweatworked with us took home a gift bag. Great news! We managed to save one to give away and there's a lot to love in there!
What's in the bag?
AIR – Aerial Fitness: To experience the same lengthening, strengthening, Pilates/yoga/ballet fusion workout we got at #AIRSweatworking, there's a gift certificate for $30 to AIR.
Mark Bars: These all-natural nutrition bars use quinoa to pack a protein-punch. They're gluten free and perfect for pre-workout.
Nutrilux Bursting Vitamin bubbles: These Glow vitamins promote beautiful hair, skin and nails. They burst in your mouth and have vitamin B to release your body's natural energy.
Protein Bar: Protein bar's smoothies are great for a mid-day snack or post-workout! I had the Wrigley Peeled last week. Delicious!
Pretzel Crisps: Pretzel Crisps are a modern twist on an old favorite. With its thin, crunchy, high-quality ingredients and sweet and savory flavors, Pretzel Crisps are the go-to, better-for-you snack choice.
Gymphoria: Gymphoria is Chicago's multi-gym membership. One winner will get 15 points to use to take classes and gyms and studios across the city. That's enough points for 2-3 classes! Gyms on network include can be found here.
Ms. Tech: Ms. Tech is a network of over 700 Chicago women helping women in tech. You could win a voucher that will get you a First Class Membership, a $35 value. This gets you access to complimentary events and tons of resources for female entrepreneurs.
Muscle Milk: In a convenient grab-and-go size, Muscle Milk 100 Calories uses the same high quality proteins as Muscle Milk but in a convenient 100 calorie serving. With 15 grams of protein in each carton, Muscle Milk 100 Calories provides ultra portable protein to help fuel your recovery, whenever and wherever you need it.
Giveaway now closed! Congrats to Shannon S.