joni, The Mission Driven Organic Period Care Brand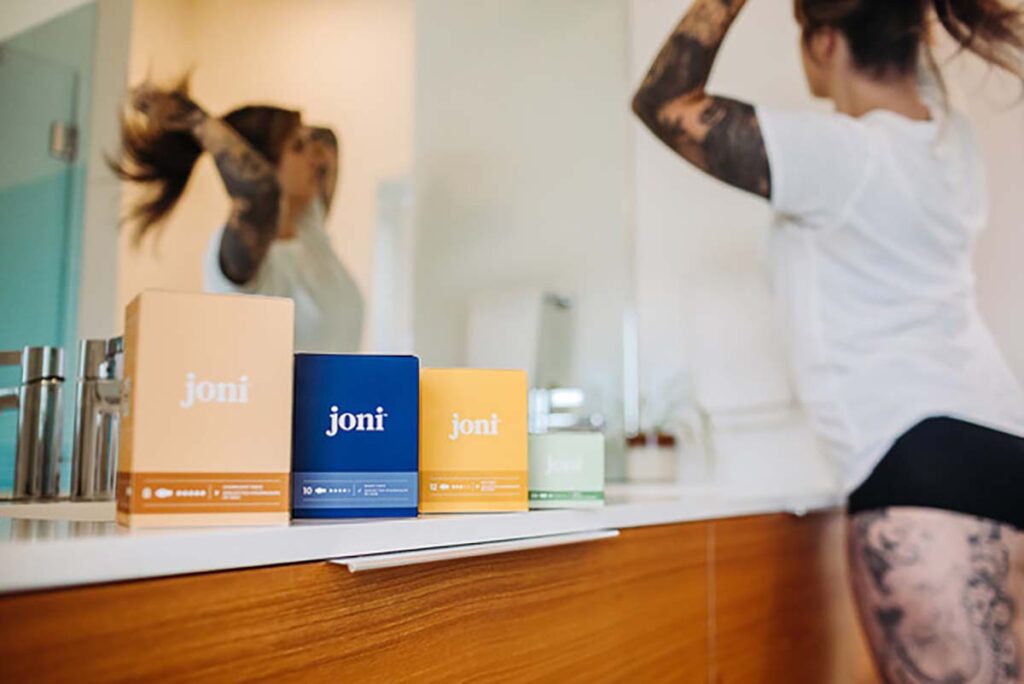 I remember specifically avoiding conversations about periods before I got mine in high school. Late bloomers, you know what I'm talking about. And I came up in the era of "here's a bunch of period products, figure it out," so by the time I was 15, I felt like it was way too late to ask for help.
But today, I think there's incredible awareness around the fact that a first period experience can be prepared for and talked about. There's this scene in the Ed Helms movie, Together Together – the plot is that he hires a surrogate as a single dad – where the surrogate teaches him how to show a potential daughter how to use tampons. I've also spent no less than an hour on a substack community reading moms' advice to each other about how to talk about and teach this very thing. They talked about lubrication and the specific advice, "if it doesn't feel right, take it out."
And because we've come a long way with the way we talk about periods, the things we demand of our period products have come a long way too. New entrant into the period care market joni has two big missions: to create better, organic, sustainable products and to be a conduit for period equity.
Why organic and sustainable period products matter
You know the tampons with plastic applicators? They were invented by a dude, obviously. A male doctor invented the applicator tampon in 1929 because "at the time, many people, including physicians, believed that women touching their reproductive organs during tampon use would cause them to sexually pleasure themselves or break the hymen," which was socially unacceptable.
All this time, we could have been having orgasms in public bathrooms instead of praying that no one makes eye contact with us through the gap in the door? Silly us. It kind of reminds me of the time the internet exploded over the three men who marketed pink medical gloves to women for disposing of their tampons.
That brings us back to the way we talk about periods, reproductive organs and being a woman. Because women are autonomous beings who won't lose out on their marriage proposal if the "hymen is broken," we can get down to business: Most of us don't need need for the plastic applicator and the single-use plastic waste that it creates. That's why joni doesn't use them.
And, even better, joni pads and tampons biodegrade in 12 months in the right conditions because the pads are made of bamboo not petroleum based plastic, and the tampons are made of organic cotton wrapped in a plant-based bio-plastic wrapper that is certified compostable (yup, just add it to you veggie waste).
Because I'm only one human with one opinion, here's what aSweatLife ambassadors said about the products:
"Love the packing and earth-friendly mindset especially for products that tend to not fluctuate much from one brand to another. This definitely stands out." – Erin
"I try to use organic period products that are undyed/scented to avoid irritation, and I also like that they're better for the earth." – Christina
"I'm glad I learned the background of tampon applicators and why joni doesn't use them. I avoid other period products with ingredients that aren't natural or transparent, but I was happy and confident using joni's products." – Molly
Why Period Equity matters
Periods are expensive and conventional brands haven't done much to help the 16.9 million people in the US who currently live in period poverty. Period poverty impacts two in five women, which means many people miss school, work or have to choose between food or period care. And according to joni, people who menstruate will spend over $6,400 in their lifetime on period care products – and the costs keep rising.
And don't get me started on the period tax. Ok, fine. Twenty two US states still charge sales tax on period products in the US, which makes an essential product even less accessible to millions.
The ACLU created a guide to period poverty, which outlines all of the ways those living below the poverty line have unequal access to essential period products. It's staggering and the implications are everywhere.
That's why joni donates 5 percent to non-profits working directly with people who would otherwise go without, and has distributed more than 115,000 products since launching in 2020.
Want to try a modern period brand that's better for you, the planet, and your community? Use code MAKEITEASY30 to save 30% off the first month of a joni subscription.