For the One Who's Up For Anything: The Adventure Awaits Gift Guide
Scroll to the bottom to enter our Happy HAUL-idays giveaway—and a chance to win over $3,000 worth of prizes!
One of the things I love about the holidays? The fact that they coincide with the end of the year, when we're all rethinking our limits and planning big things for the next 365 days. Sure, in 2021 I wasn't a person who plays Spikeball—but in 2022, I will be! This gift guide is dedicated to that sense of possibility. 
The "Adventure Awaits" gift guide goes out to that little voice inside your recipient's head, daring them to try something new and get out of their comfort zone. Have you heard your friend say that she wishes she had time for a weekend backpacking trip? Or maybe, your favorite colleague loves to share stories of the trail runs she tackles before work. Whatever brave new activities your friends and family are into, the Adventure Awaits gift guide has the perfect gadget or gizmo to help propel them forward.
The Adventure Gift Guide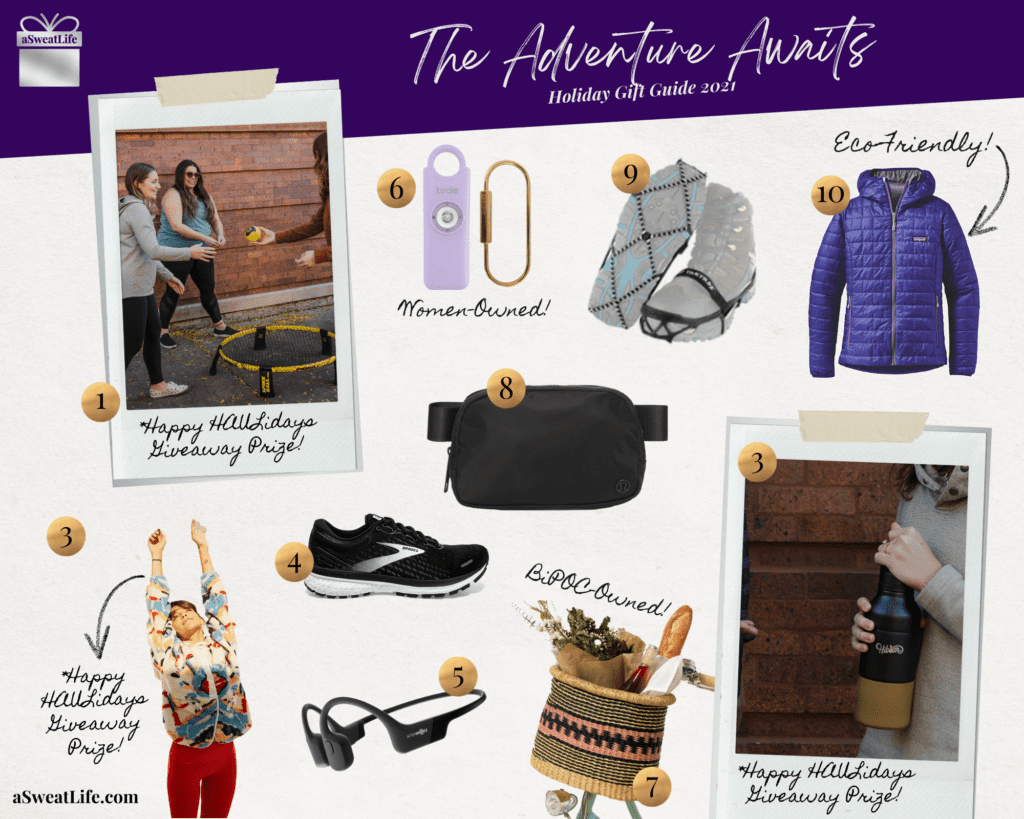 1. Spikeball Standard 3-Ball Kit + SpikeBrite Bundle: We've played Spikeball at several aSweatLife events, and we're sold on the sheer fun of this four-person game. It's accessible for all ages and activity levels, and there's nothing like a little friendly competition to bring people together (just keep the trash talk in check around your parents). We're bookmarking this for a family that goes camping and needs an activity for in-between hikes, and for the person who just moved near the beach and wants a low-effort way to make some friends. Tack on the SpikeBrite bundle and enjoy this game and the darker winter months.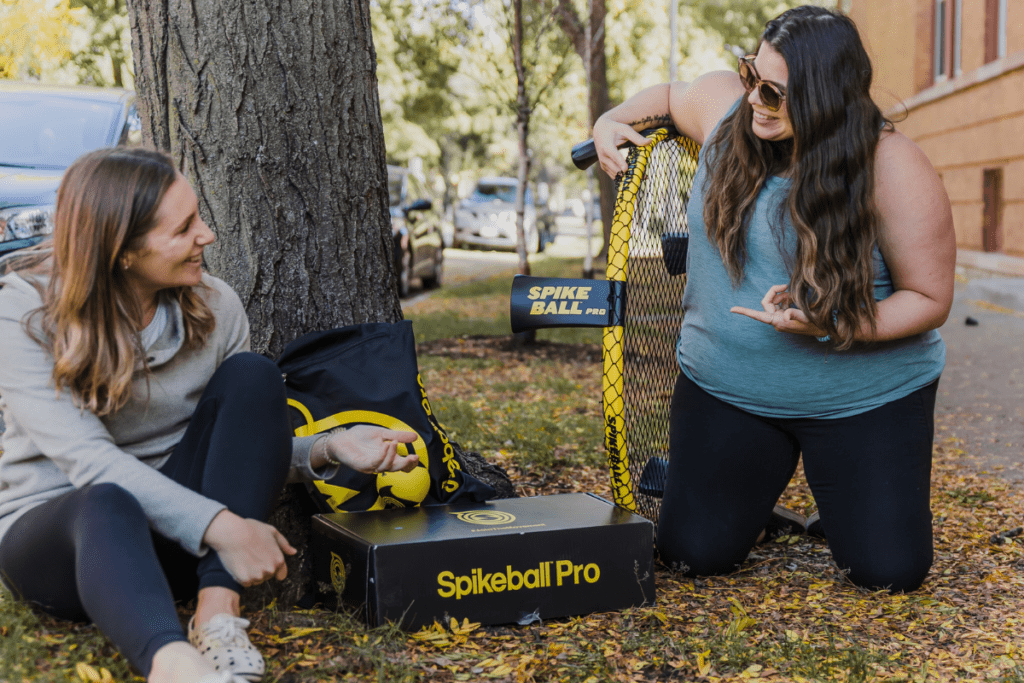 2. FP Movement Gear: From light (the Happiness Runs crop) to fluffy (the Hit the Slopes Jacket), FP Movement has all the stylish, cozy activewear you'll want to gift. And then buy for yourself. Check back next week for more on why we're obsessed with these gifts.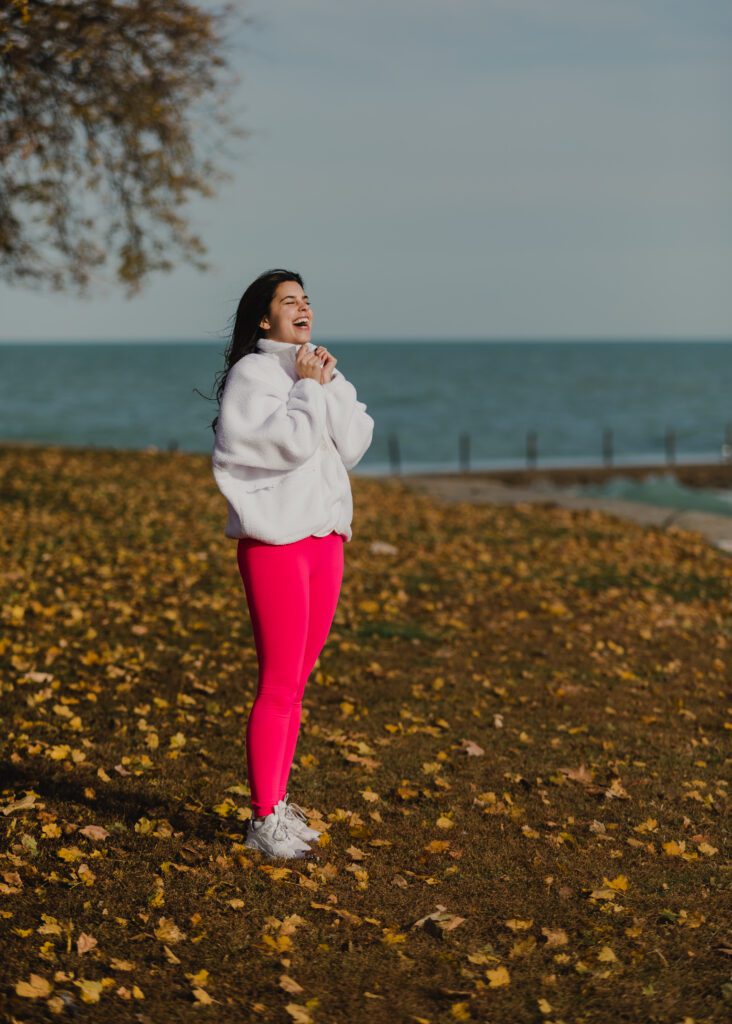 3. HiBear All Day Adventure Flask: Single-function water bottles are so last year. This All Day Adventure Flask not only keeps your water icy cold, but it also comes with all the accessories you need to make pour over coffee, cold brew coffee (my java of choice), a perfectly shaken cocktail, teas and infusions, and even decanted red wine. It's seriously the most handy drinking vessel we've ever seen.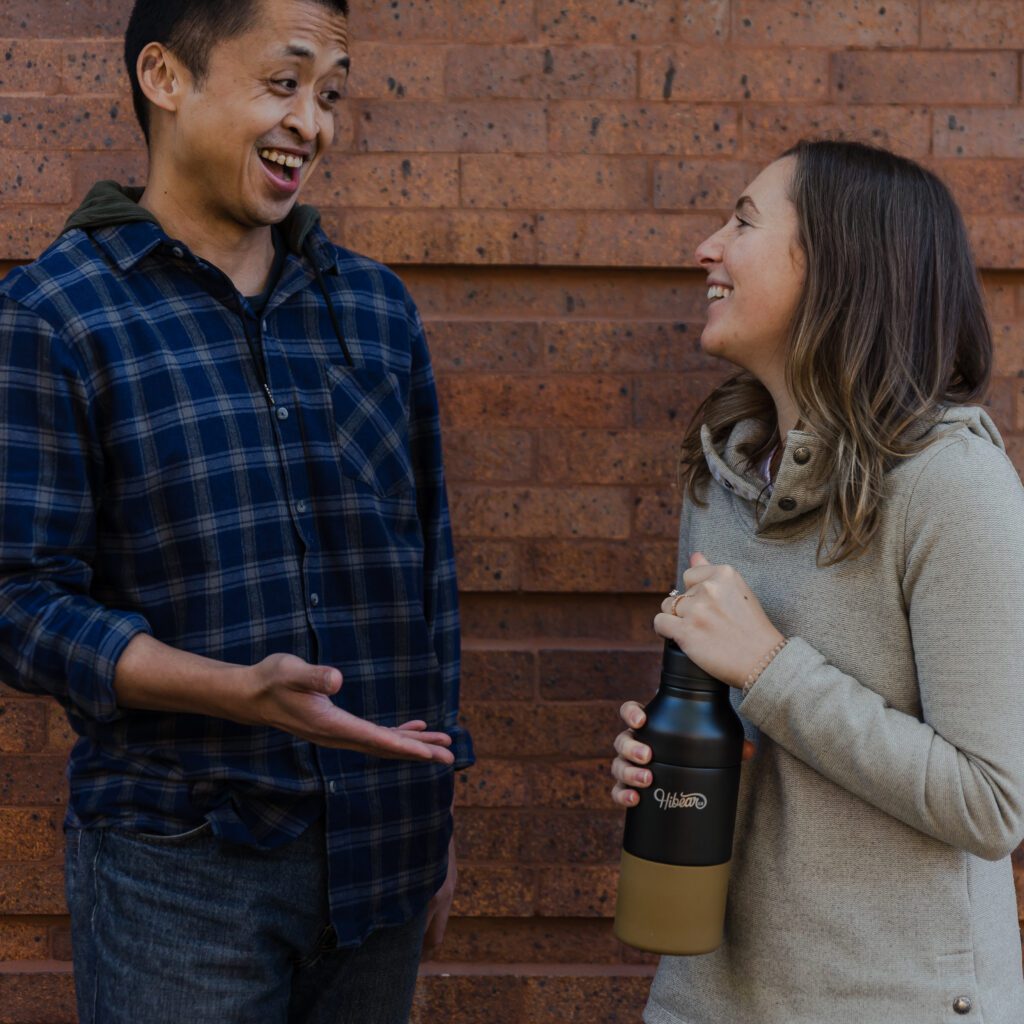 4. Brooks Running Shoes: Here's the thing: running shoes are something we always WANT to get for the holidays, but they're super personal and hard to choose for someone else. In that case, we're totally fine taking a little bit of the surprise out of a gift in favor of not needing to do any exchanges. Send your recipient to Brooks' incredibly thorough Shoe Finder Quiz, where they'll be matched with options for their metaphorical glass slipper. All you have to do then is click buy or grab them a gift card. We especially love that Brooks has shoes for trail running, which requires different types of support and traction than what you'd wear on the road or tread.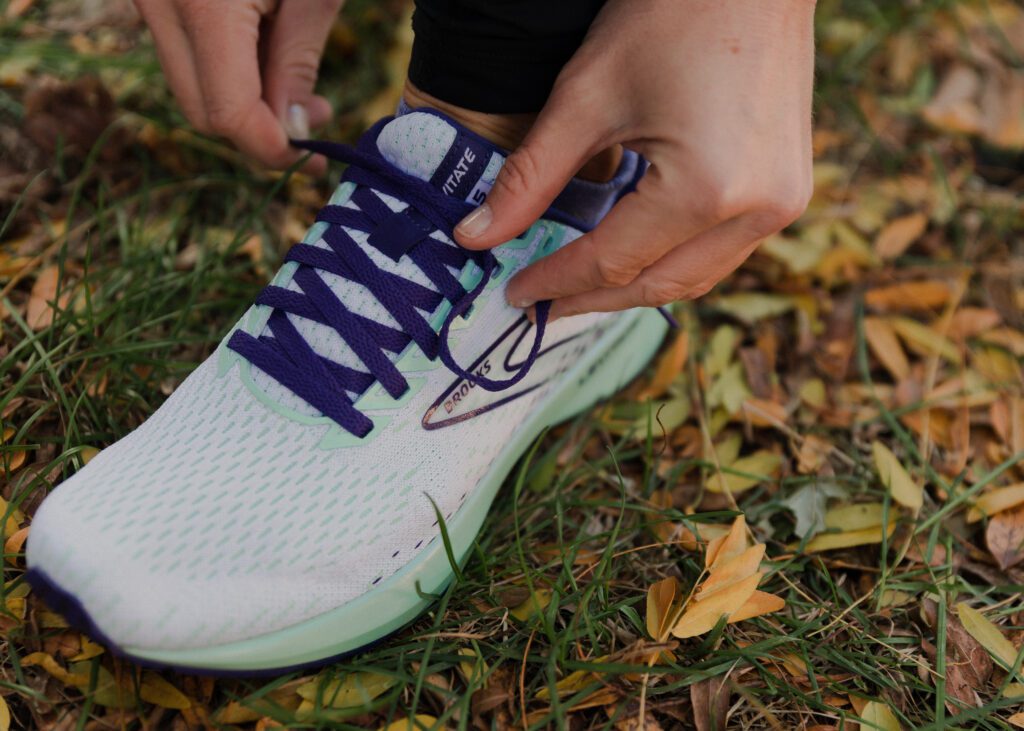 5. AfterShokz Aeropex Wireless Headphones: Adventure may be calling, but you've got to keep your ears open to be able to hear what's around you. These super-smart bone conducting headphones (yup, you read that right) go right outside your ear so you're able to stay alert to your surroundings. We also found them to be really high quality and long-lasting—perfect for anyone who's a cyclist or endurance athlete.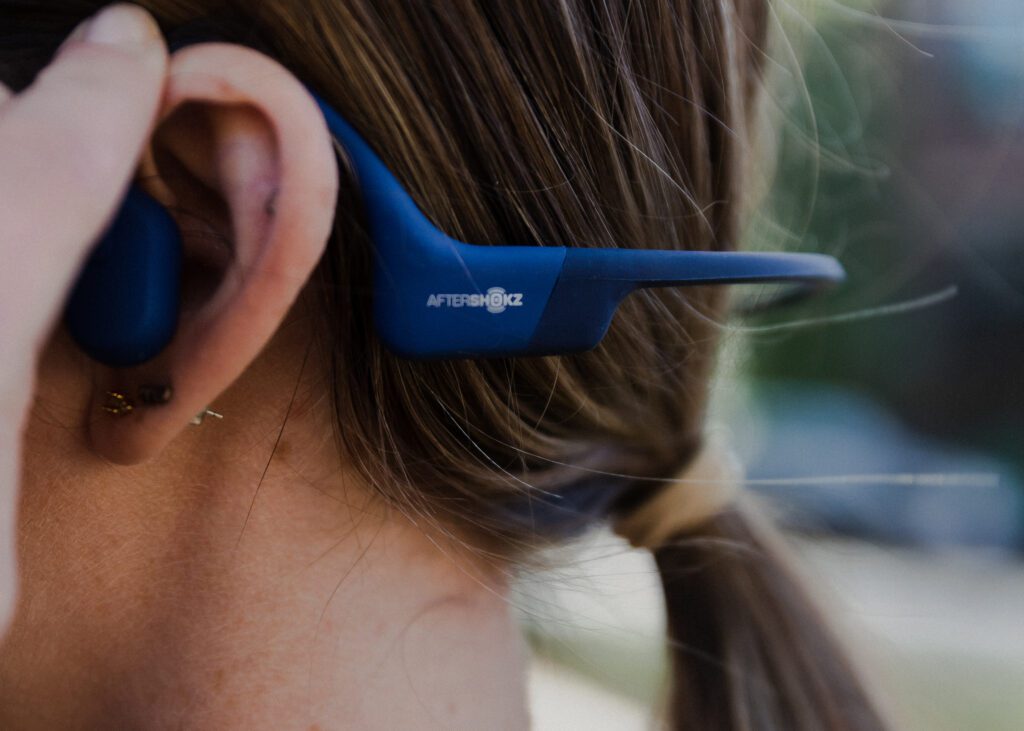 6. Birdie Personal Safety Alarm: On one hand, it's not super festive to gift someone a personal alarm. On the other, it shows that you care about their safety and honestly, it's a damn cute stocking stuffer. Plus, the more you buy, the bigger discount you get—so go ahead and get them for all of your friends.
7. Bicycle Basket from Goodee: We all have that one friend who got really into biking over the pandemic—gift them this handwoven basket from Ghana to help them carry their farmers market haul this spring.
8. Lululemon Everywhere Belt Bag: This is literally the bag that I wear everywhere. I bought myself one before last winter in an obnoxiously neon colorway, and I've already worn it more than all of my other "adult" purses and cross-bodies combined. This would be an amazing gift for a new dog owner—plenty of zippers and pouches to carry extra treats and poop bags, but it's also not another generic dog toy that'll get forgotten immediately. 
9. Yaktrax Pro Ice Shoes: Way cheaper and easier to buy for someone else than a pair of winter hiking boots. These are versatile enough for hiking, winter running, or even just walking the dog when you don't trust your neighbors to de-ice their sidewalks in a timely manner.
10. Nanopuff Hooded Insulated Jacket from Patagonia: Kelly, our mountain resident and hiking extraordinaire, is "obsessed" with this jacket. I'll second that—it's thin enough to wear under another jacket, but warm enough to stand up on its own. Plus, it packs down really well. 
Remember, our gigantic holiday giveaway is open—and one lucky reader will get a major haul, including Spikeball and Spike Brite, an FP Movement outfit of your choice, Brooks Running Shoes, AfterShokz headphones, and a HiBear Adventure Flask. Enter below for a chance to win!