Don't Use TikTok For A Mental Health Diagnosis—Here's Why
I'll be honest – I'm not a huge TikTok-er. I open it maybe once or twice a month to watch the plethora of videos my friends have sent me. That said, I've seen how quickly TikTok has become a part of our daily lives. TikTok was released in August 2018, but did not experience its boom in popularity until the pandemic began in 2020. Shelly Banjo of Bloomberg Business Report writes that while TikTok was popular from its nascence, it wasn't until adults were home with nothing to do that it joined the ranks of Instagram, Snapchat, and other major social media platforms.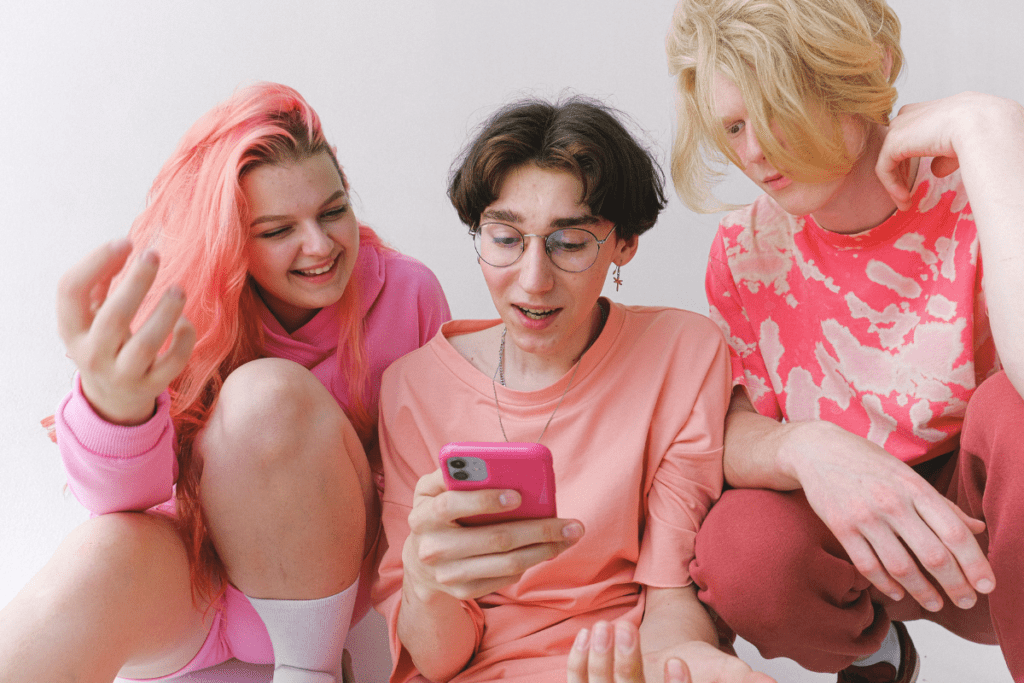 With a wider age range of users came a wider variety of trends, like cooking, dancing, and quick workouts. This spring, I noticed in conversations with friends, clients, and colleagues that a new TikTok trend had emerged: mental health. And this is a global phenomenon too—as of writing, the hashtag #MentalHealth as 16 billion views.  
At first, I thought my conversations with clients and colleagues were coincidental. But after several clients came to me asking, "Do I have ADHD? I saw a video on TikTok…," or, "After seeing these videos, I think I have borderline personality disorder," I accepted the influence TikTok has on conversations related to mental health. We even discussed TikTok at a staff meeting, so that our office could have a consistent perspective on the platform.
TikTok users create affirming and informative spaces about mental health, yes. But as with all good things, it's necessary to remember scope and purpose. When I started hearing murmurs of clients engaging with TikTok for mental health related content, I was supportive. However, I started to become concerned with some of the content that is being consumed. Here are some concerns regarding TikTok's mental health content:
1. TikTok cannot diagnose a mental health disorder.
I often hear, "I know I have this mental health disorder because I saw this video and I have the three symptoms that the video talked about." While it's often affirming to have a label for the causes of our distress, TikTok cannot diagnose a mental health disorder. Simply put, the algorithm doesn't know the person viewing its content. Mental health disorders present in each of us differently depending on our own lived experiences. Anxiety, ADHD, and trauma all have similar presentations, but are treated quite differently. A trained clinician or psychiatrist can properly diagnose these disorders because they are able to get to know the person experiencing the distress. 
2. TikTok therapists are not vetted and therefore should not provide mental health treatment.
Yup, there are some people posing as mental health providers online who do not have the appropriate licensure. Each state and country have their own licensing requirements that dictate how a person can practice.
For example, I am a licensed social worker. That means that I can provide therapy under the supervision of a licensed clinical social worker in Illinois. With this licensure, I can state that I have the knowledge necessary to provide appropriate care. While there are licensed clinicians on TikTok, be sure to verify someone's credentials when taking their advice.
3. TikTok cannot provide protection of privacy and confidentiality.
Confidentiality is a key tenet of mental health treatment, meaning a clinician will not divulge what is shared in session unless what is said reveals imminent harm to either the client or another person. If someone is sharing about their mental health on TikTok, there are few provisions to protect that person's information and who is able to view it. Additionally, if a user messages with a therapist on TikTok, there's no guarantee the conversation won't be leaked. 
4. Mental health content on Tik Tok can be triggering.
Yes, much of TikTok mental health content is related to education and affirmation. However, there's a lot of content related to self-harm, abuse, suicide, and other types of triggers, too. Due to TikTok's endless scroll and algorithm, it can be challenging to filter out triggering content. When using TikTok, be mindful that you may see content that is harmful.
Are there any benefits of mental health TikTok?
While there are major concerns for TikTok's influence on the discussion of mental health disorders, there are positive aspects too. To begin, TikTok has made mental health conversations more accessible and tangible. Mental health care and treatment have been historically stigmatized, which makes them more difficult to discuss in every day conversations. Via TikTok, all varieties of people are able to engage with content that feels affirming and informative. According to therapist Jamie Mahler, her engagement with mental health TikTok allowed her to see her own challenges with a fresh perspective.
Additionally, TikTok may encourage users to feel kinship with others who are experiencing similar emotional pain as they are. Seeing videos with several shares and likes related to their experience can be life-changing and can encourage many to seek support.
But while mental health TikTok provides valuable content, it cannot replace the value of working with a clinician. If TikTok has made you more aware of your need for mental health care, check out resources here and here for how to access support.