You Should Use Your PTO (Even If You're Working From Home)—Here's Why
As I look at my calendar, my jaw hits the floor when I see the word "August." It feels like yesterday I was sitting in my quarantine bubble singing Hamilton lyrics into my water bottle to ring in the new year. Normally, by now I would have used most of my paid time off (PTO) on summer vacations, saving a few days for the holidays before my vacation time replenished in January. However, this year is far from normal. I'm noticing that I'm not taking as much time off as I typically would.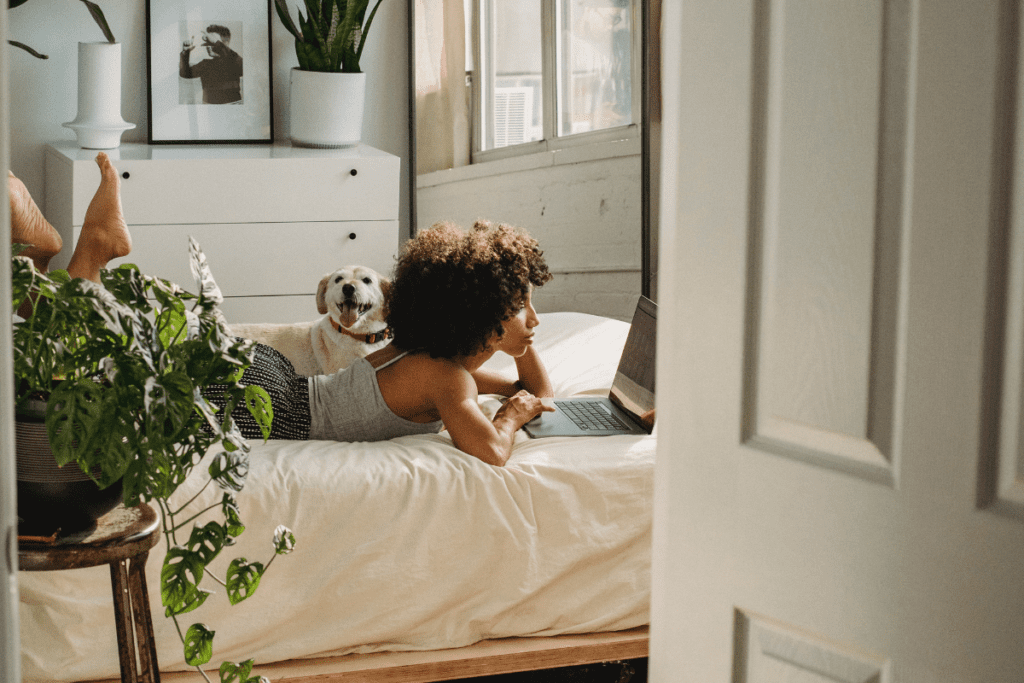 Here's why people aren't using their PTO
I know I'm not the only person in this predicament. As a therapist, I hear my clients say they want to take time off, but feel unmotivated to do so. Additionally, I'm noticing that the expectations of many employers have begun to blur the typical 9 to 5 workday boundary. Several clients report that they feel obligated to answer emails and phone calls early in their off hours because their supervisors and companies know that they are capable of completing work tasks in their homes. These two trends reveal that many of us are working longer hours and taking less time off than we did prior to the COVID-19 pandemic.
Many of the reasons that people have for not wanting to take time off work are valid. According to Megahn McCarty Carino, some workers fear taking time off due to concerns regarding job security. Certain industries such as the air travel, fitness, and entertainment have experienced high rates of lay-offs. Those who are still employed are extra cautious about maintaining their employment status.
Carino also reports that some are choosing to save their PTO days. After all, the way they'd normally use that time (like visiting family or heading to an international locale) isn't as accessible as it used to be with the Delta variant. Instead, many would prefer to save that time or roll it over for a more traditional trip.
Why you should use your PTO
Again, the reasons for not using PTO are valid, but there are also reasons why we should utilize our PTO. First and foremost, time off is a benefit that has been earned—it's meant to be used. When job searching, one of the first topics I hear discussed is PTO. Job seekers want security to know that they will have time off when they need it. Think of your PTO as a part of your salary. If you don't take PTO, you may possibly lose it and therefore lose a part of your salary.
Another reason to take PTO is that it leads to improved productivity. According to the JP Griffin Group, employees who do not utilize their PTO tend to have less motivation, lose focus more easily, and struggle with creativity. Time taken to increase productivity does not have to be long. According to the Journal of Travel Research, a vacation over a long weekend can allow employees recover from stress and avoid burnout.
How to use your PTO—wisely
Understanding the "why" for taking PTO is important. However, it's also important to understand the "how" as most of us can't take PTO the way we used to. Below are some recommendations on how to utilize your PTO before the year ends.
If you're feeling concerned about job security…
Have a conversation with your supervisor regarding how to schedule your time off to best support the company. If you can be flexible, try identifying a time frame for taking your PTO that will be substantial enough for you and not harmful to your employer. Many employers will appreciate your flexibility and willingness to be a team player.
If you are worried about being contacted regarding work during your time off…
Many clients report that when they take time off, they're still flooded with emails and calls. If this is a concern for you, Regina Borsellino recommends being firm in your boundaries. Setting clear boundaries can look like leaving an out of office message for your voicemail and email. Let your work contacts know when you'll be away and who can be contacted in your absence. Lastly, try disabling notifications from your work channels so that you're not pinged if someone contacts you.
If you are used to traveling to unique locations, but don't want to fly…
Search for areas near your town or city to do a mini-vacation. As a Chicago resident, I like to travel to the coasts. But, I've found unique and fun locations in nearby Wisconsin, Iowa, and Tennessee. Close locations allow for safer travel via driving and new experiences.
If you are uninterested in traveling…
PTO doesn't have to be used for travel. If you have unused PTO but no desire to leave your location, sprinkle your PTO around to allow long weekends or mid-week time off. The extra time will allow you to rest and attend to other areas of your life that you haven't had time for.
This past year has been challenging and stressful for each of us in its own way. To manage that stress, do yourself a kindness and take some time for you.