The Bottled Water That's Making a Dent in the Plastic Problem
In 2020, our team took the opportunity to assess the impact we wanted our work, content, and events to have on the community and the planet.
When it came to events, we shifted our pricing model to pay-what-you-can. We committed ourselves to eliminating food waste from the events, and we wanted to create less waste in general. In the years of hosting #Sweatworking, we've gotten used to packaging that makes the brands we work with transportable. But looking at piles of plastic that were destined to hit the landfill, we wanted to cut back and work with brands seeking to reduce waste as well.
We started with hydration. Each year, 8 million tons of plastic waste escapes into the oceans from coastal nations. In the United States, 70 million bottles of water are consumed each day and of that, 30 percent or fewer are recycled. We can't help but think convenience-seeking wellness wonks are gobbling up those bottles en masse.
Knowing that this was a priority, aSweatLife ambassador Priya Shah raised her hand to make an introduction to Open Water, a brand that checked all of the boxes (and that we hope shows up in every studio, grocery store and restaurant chain.) Oh, and by the way, Open Water didn't pay for this post or our partnership. We just really think they've created an elegant solution to the bottled water problem.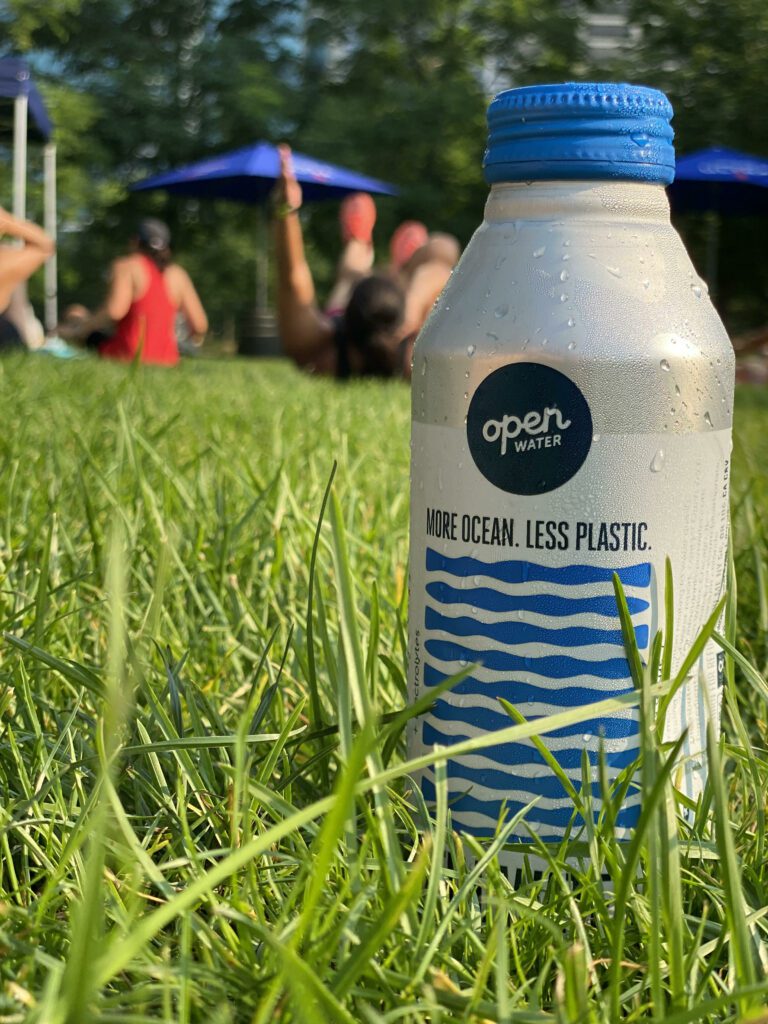 According to Toral Gandhi, Director of Strategy for the certified women-owned brand, Open water launched in 2014 with an acute knowledge that the plastic-water-bottle problem had technically already been solved.
"A perfectly sustainable solution already exists – reusable bottles and tap water," she stated simply.
Still consumption of bottled water grew, so Open Water built a sustainable solution meant to be as convenient as plastic bottles: water in aluminum cans and bottles. This malleable metal is infinitely recyclable, meaning that no matter how many times it ends up back in a recycling bin, it experiences no loss in volume or quality. Put one can in, get one can out. And consumers are more likely to recycle aluminum – it's recycled more than twice as often as any other material, including cartons.
And, to their credit, Open Water became the first company in the world to use aluminum bottles for water that are as refillable and reclosable as plastic bottles.
And, honestly, there is nothing more satisfying than an aluminum bottle of water straight out of a cooler or refrigerator. I'm not kidding when I say that it simply tastes better.
Continuing their mission to leave this planet better than they found it, Open Water has pledged 1% of profits to the planet since its founding and became carbon neutral in 2020. You can find Open Water in the Chicagoland area at Pete's Market, South Loop Market, Angelo Caputo's Fresh Markets, The Grand Food Center in Glencoe, Butera Market, Valli Produce International Fresh Market, and Sunset Foods.
You can also purchase Open Water at www.drinkopenwater.com: please use promo code ASWEATLIFE15 for 15% off your first subscription. Are you the owner of a studio or gym and want to carry this better-for-the-planet water? Email me and I'll connect you, [email protected]