How Group Fitness Helped Me Find Pride in My Identity
I will forever remember 2013 as one of the most challenging years of my life, and surprisingly, it wasn't because I underwent a major surgery. The physical pain was easy to withstand compared to the emotional toll of coming out. Yes, 2013 is the year I realized my true identity as a gay man. Coming out and revealing that truth over and over again to friends and family was mentally and emotionally taxing—any LGBTQ+ person knows this feeling. You don't know how your loved ones are going to react, all while navigating your "new" identity.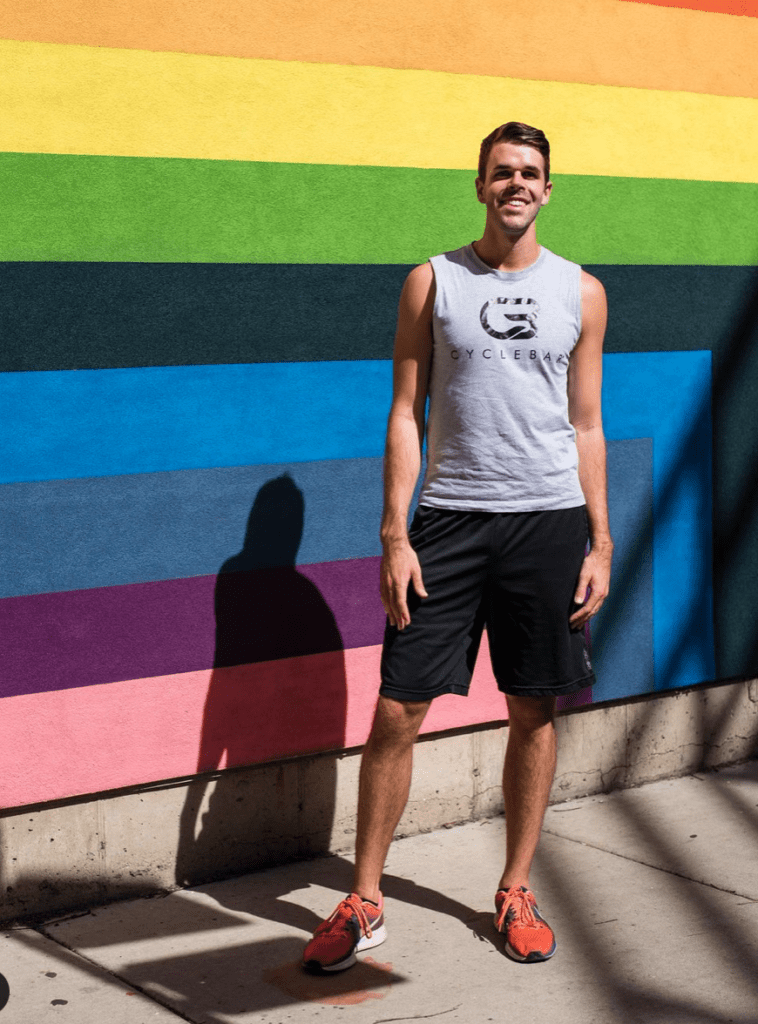 Fortunately, another journey of mine also reached a fever pitch around that time—my group fitness journey. The year before, I had started attending group fitness classes on campus at the University of Illinois in Champaign. I instantly fell in love with indoor cycling, weight training (shoutout to Les Mills BODYPUMP) and kickboxing, and soon after, auditioned to become a spin instructor. Somehow, this tall, lanky sophomore survived training and landed a couple indoor cycling classes on the Spring 2013 schedule.
While my fitness journey was on an upswing, my mental health was spiraling downward as I grappled with coming out. Luckily my cycling sessions on Mondays and Thursdays gave me the opportunity to sweat out my worries and drown out my thoughts with beat drops and soaring melodies. I felt that because I was in a position to influence others in their personal journeys, I couldn't let my baggage get in the way. But I quickly learned that I could turn "my mess" into my message.
Before classes, new riders would ask if they could handle the workout because they were "out of shape" or they had never cycled before. After classes, regular members would come up and thank me for helping them pedal out their stress from the day. Other times, riders would confide that a song made them feel empowered or that they reached a new milestone in their health journey. Over time, these moments helped me realize that during every ride, everyone was conquering some sort of personal battle.
For so many people, group fitness classes are more than just a workout—they are an opportunity to become the best versions of themselves, physically, mentally and spiritually. The hills we climb in the saddle run parallel to and prepare us for the challenges we face outside of the studio.
In hindsight, it was the strength and community I saw in my riders that helped me muster up the self-love and courage ultimately needed to come out publicly. Unknowingly, my journey as a group fitness instructor became synonymous with my journey to self-acceptance and pride. Today when I let my guard down and tell a personal story or sing loudly and proudly to Jennifer Lopez's "Dance Again" over the microphone at CycleBar, it's because a group fitness class is one place in this world I feel truly at home.
A fitness studio can and should be a safe haven where diversity and differences are embraced, adversity is tackled head on, and even the tiniest victories are celebrated. As I continue teaching, I hope that my classes can be a space where all participants, especially queer people, feel safe, joyful, and able to express their true selves. When the cool down is over and we walk back out into the world, in the words of Britney Spears, we are "stronger than yesterday."