Five Things I Learned from a Group Fitness Instructor Internship
When I joined the rest of the aSweatLife crew in studying for the NASM personal training exam, I already knew that my interests lay more towards the group fitness end of the spectrum, rather than personal training. I knew that (at least in the beginning) I'd want the support of a group training community and easy access to trainers who'd been in the biz for awhile, without worrying about selling myself and booking one-on-one sessions.
And thanks to the helpful tip of an aSweatLife ambassador (hi Kelly!), I learned that a HIIT gym literally thirty seconds away from my house offered a kickass group fitness instructor internship (hi SWEAT!). With the help of their amazing team, I began shadowing classes, meeting clients, learning the musical tastes of different instructors and eventually teaching classes on my own. That all culminated a couple of weeks ago, when I held my graduation class and officially started teaching the next day.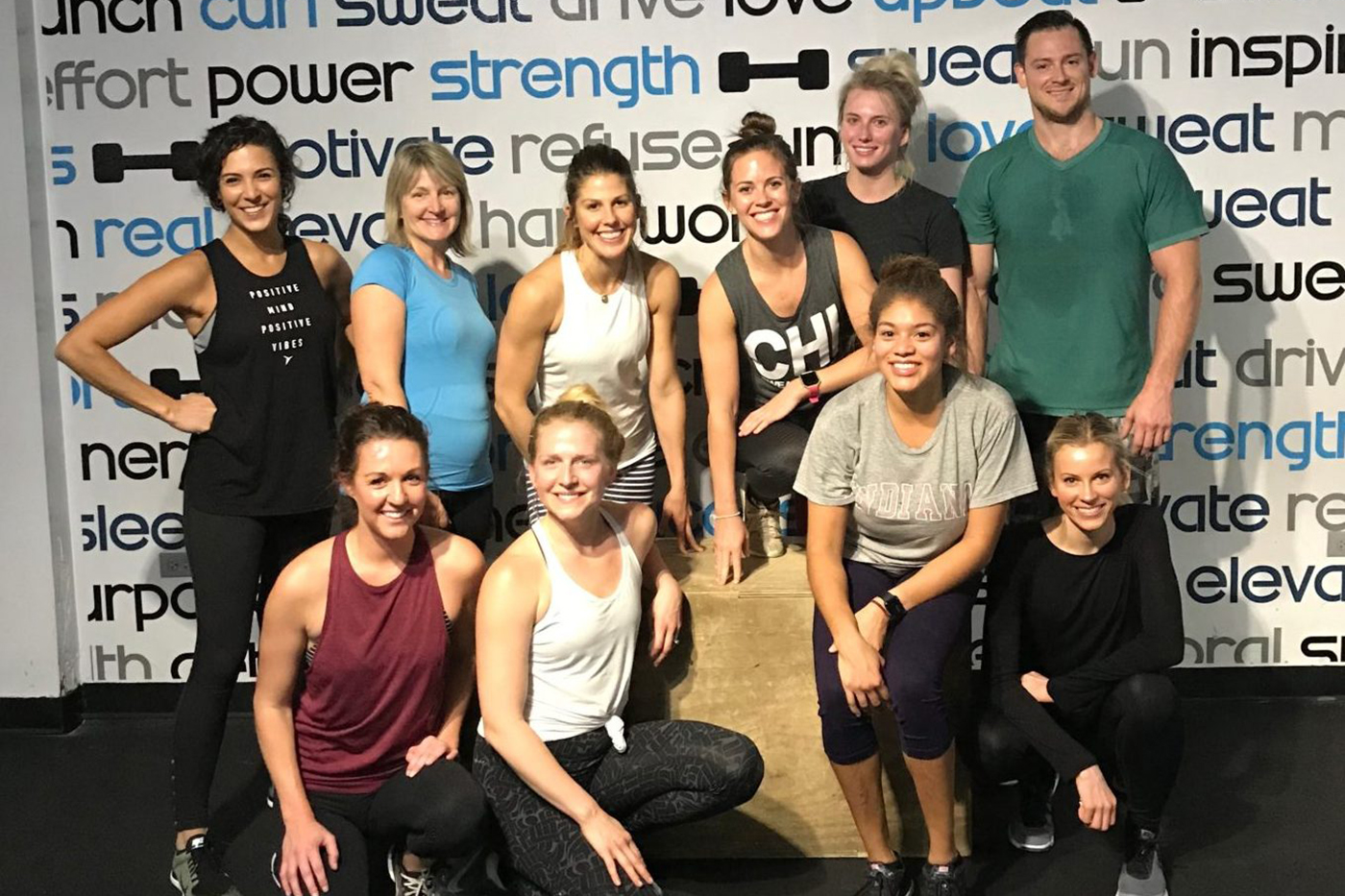 Thinking of embarking on a fitness career yourself? I highly recommend a group fitness instructor internship – it's a crash course in training all different types of clients, learning unique programming, figuring out all the technical aspects of teaching a class (truth: the in-class timer fails on me at least once a week) and gaining confidence in your training knowledge and coaching style. Here's what else I learned during my three-month internship with SWEAT.
No one cares about what I'm saying as much as I do
This is super embarrassing to admit, but we're in a safe space here, right?
In the days leading up to me teaching parts of class at SWEAT, I literally made a list of motivational cues that I thought I would use and that I'd heard other instructors say in class. I don't know what I thought was going to happen once I donned the mic and headset – absorbing the cues by osmosis, perhaps? – but the first few times I led part of class, I got pretty tongue-tied on the mic despite my nerd-level preparation.
But actually, that turned out to be a good thing, because I realized a very important concept: people don't REALLY care what you say when you're teaching a class. Sure, they expect you to correct form, count down in intervals and cheer them on – but the actual words and phrasing aren't so important. I was way more worried about myself than anyone else was, and letting go a little bit and giving myself the freedom to goof up sometimes made me a much more relaxed instructor.
I may be in shape, but I will still get out of breath explaining the workout and demonstrating movements
It seems that this is an inevitable truth. Luckily, see paragraph above – no one's that worried about it or thinks less of me because of it. In fact, I like to think it shows people that the workout is no joke. Hey, if it's tough enough that I get out of breath just demoing it, then it's tough enough for you!
Multitasking is a key skill
I know that single-tasking is so hot right now, but that's not a luxury that group fitness instructors have when teaching a class of 30+ people. Between injuries, tight hamstrings, bad wrists, first-timers and the occasional pregnant woman, we have our hands full attending to everyone in class and making sure their form is on point. You have to have eyes in the back of your head, keeping tabs on which newbie needs a little extra coaching and which regular should really be using a heavier weight.
And that would be enough, but don't forget, we're also running the clock, playing DJ and pushing you to do your best throughout the entire class. It's enough to make your head spin, but with an experienced instructor, it all feels seamless.
Becoming an instructor doesn't make me a superhuman
I've always kind of halfway assumed that full-time fitness instructors take multiple classes a day, lifting the heaviest weights and sprinting at the fastest paces without thinking twice. I figured I'd gain that same superhero power once my NASM certificate arrived in the mail, kind of like getting my Hogwarts acceptance letter via owl and my magical powers showing up at about the same time.
Unfortunately, I'm still waiting on those superpowers to develop. Yes, trainers are still humans, it appears. We get sore if we happen to double up on a workout one day and the first ten minutes of a Pilates reformer class still shreds my abs to pieces. Personally, I still don't go to yoga enough or focus on my mobility as much as I should. In fact, I know plenty of full-time trainers who have such packed schedules that they have a hard time fitting in their own workouts.
So the secret to training like a trainer? There is no secret. It's common sense that you've probably heard a million times in your life: fit in exercise when you can, even if it's only nine minutes a day. Move often. When time is of the essence, get your heart rate up with short, tough intervals. And equipment isn't a necessity – if you have a body, you have a gym. Got it?
There's always more to learn
I may have just passed my NASM test, but there's still so much more to learn. Trust me, the coaches at your favorite fitness studio are constantly creating new program formats, adding twists to tried-and-true moves and researching the latest trends in fitness and mobility to make sure that they're continuing their education. It prevents us trainers (and our clients) from falling in a fitness rut and plateauing.
Personally, my favorite way to learn on the job is pretty simple: take a bunch of classes, with different instructors and at different studios. Even though I teach HIIT-centric classes, there are form adjustments and motivational cues that I can pick up from a Pilates reformer class. Taking a variety of classes not only benefits my education, but also supports the local fitness community as a whole (hi, #TrainersConnect!).
Have you ever gone through a group training internship? What do you wish your group fitness instructor knew?