#TrainersConnect 5/4: Tax Season Edition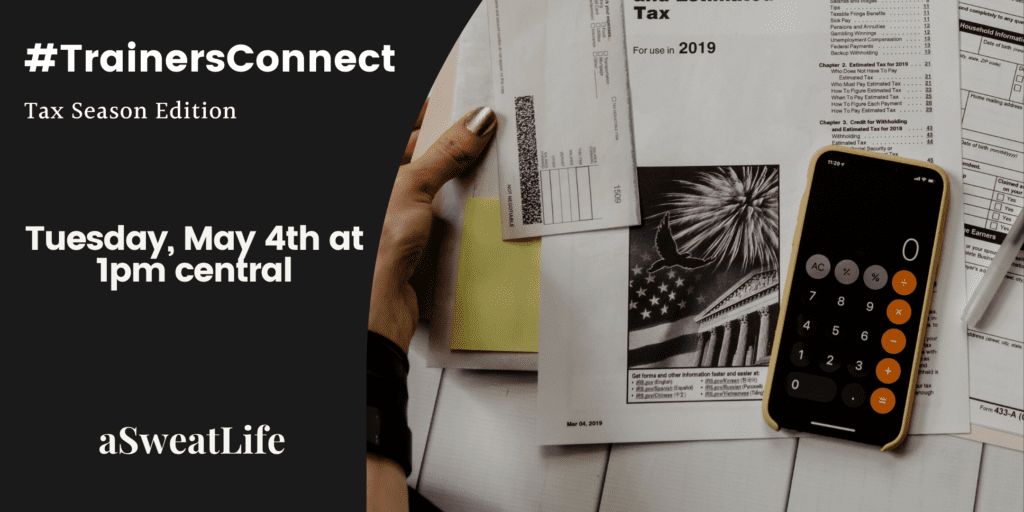 Get your ticket to #TrainersConnect on 5/4 right here.
Tax filing day has been extended to May 17, 2021 which means, if you haven't filed your taxes yet (we are raising our hands over here) this workshop is for you. And what if you need to file for an extension beyond May 17th or what if you already filed and you want to be better organized for next year? You have come to the right place!
On Tuesday, May 4th your #TrainersConnect workshop will cover the exciting world of taxes. We are here to help you feel confident during the process of filing your taxes so it isn't something you are dreading year after year. This workshop will answer all of your most pressing accounting questions. You'll learn how to get organized and set yourself up for tax success with the help of Josh Lance, CPA, CGMA, who specializes in working with sole proprietors. Come prepared with your questions, but know that these common questions will be answered:
How to manage a mix of income sources, 1099s and W-2s
As a new business owner, what you need to know about filing taxes?
What documents do you need to do your own taxes?
What can you deduct?
Are there any new rules that we should be aware of for 2020 returns and is there anything we should be paying attention to in the near future?
What are some resources and advice on how to keep us organized throughout the year?
Tell me more about Josh:
Joshua Lance is the founder and Managing Director of Lance CPA Group, a virtual CPA firm that focuses on providing accounting and consulting services to small businesses. A licensed Certified Public Accountant and Chartered Global Management Accountant, Josh is also a family man who calls Chicago home. Before venturing on his own with a mission to help small businesses, Josh spent his early career at Crowe LLP before working as a Controller at an ultra high net worth family office. Josh is also an adjunct professor at Northwestern University in Evanston, IL teaching accounting in the Farley Center for Entrepreneurship and McCormick School of Engineering and an adjunct faculty at University of Vermont in the Business of Craft Beer program. He enjoys making wine and beer at home, cooking, traveling, and cheering on his favorite football and soccer teams. Josh was honored by being selected to the 2017 class of the AICPA Leadership Academy and was named as one of the 40 under 40 in 2017, 2018, 2019, and 2020 by CPA Practice Advisor.
#TrainersConnect Workshops are free for all attendees. We'll host the event in a private Zoom room. If you don't have Zoom, you can download it here!
Details for #TrainersConnect
What: A virtual (free!) #TrainersConnect
When: Tuesday, May 4, 1 pm Central
Where: Zoom link will be provided in the reminder email.
What you need: A place to jot down all of your notes.
Where do I snag a ticket? Right here!