Five Things You Didn't Know You Can Make With Your KitchenAid
There are few kitchen tools that I love as much as my KitchenAid stand mixer. After eyeing them for years and trying to decide whether buying one was worth the price tag, especially as someone who didn't love to bake, I borrowed one from my uncle and a year later he generously gifted it to me as I still hadn't returned it. It turned out that once I had my hands on one, baking became a lot more fun, and now my freezer is full of bread that I baked as a quarantine hobby.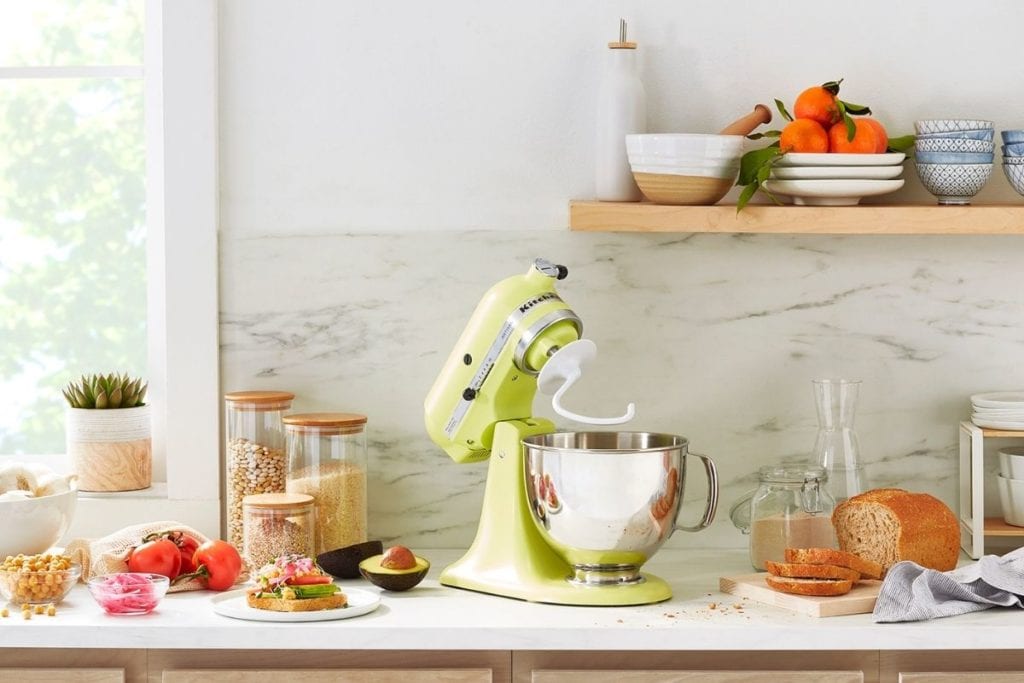 While a KitchenAid mixer is certainly a baker's best friend, I learned that it does a lot more than cream butter and knead bread dough. In fact, with a few KitchenAid mixer add-ons, a stand mixer becomes one of the most versatile kitchen tools and allows you to make 100 percent homemade dishes that rival the ones made by pros.
If you're looking to level up your KitchenAid game beyond cookies and bread, here are five things you didn't know you could make with your stand mixer.
Flour
You've probably used the dough hook to make all your favorite breads with your KitchenAid mixer, but did you know you can also grind your own flour? If you're looking for truly homemade baked goods, the grain mill attachment is the perfect KitchenAid mixer attachment. And by making your own flour you ensure that you're avoiding chemical bleaching agents and other commercial processes that give carbs a bad rap.
Pasta
Once you've mastered milling your own flour, take it a step beyond bread and use your flour in homemade pasta—although you can (and should) still make homemade pasta with store bought flour if homemade isn't your thing.
If you're as obsessed with your KitchenAid as I am, you may know that you can make your pasta dough with the bread hook, but you can also roll and cut your pasta with a few KitchenAid mixer add-ons. The classic pasta roller and cutter attachment can't be beat, but once you've mastered that you can also consider leveling up to the gourmet pasta press. This will expand your repertoire of pasta shapes and let you experiment with short cut pasta as well.
Ice cream
I love a kitchen appliance that can fulfill functions of multiple, and by extension, free up counter space. Sub out the regular bowl of your stand mixer for this ice cream maker attachment and you have no need for another clunky appliance. Use it to make classic ice cream, sorbet, or lighter nice creams to satisfy your sweet tooth when summer finally rolls around.
Spiralized veggies
While your KitchenAid mixture may usually conjure images of indulgent pastas and baked goods, it can also help you keep your health goals in mind. KitchenAid makes multiple spiralizer attachments with varying features and price ranges so you can make zoodles, sweet potato noodles, and all your other favorite low carb dishes. For a tighter budget, they sell just a spiralizer attachment, or if you're looking for something that does it all, consider this vegetable attachment that peels, cores, slices, and spiralizes all of your favorite veg.
Burgers
Wondering how a stand mixer can cook meat? Unfortunately, it does have its limits, and searing a burger is work best left to a grill or a cast iron skillet. However, you can grind your own meat with the food grinder attachment and experiment with premium beef cuts or mixed and flavored patties. Master making your custom burger blends during quarantine and once it's safe, invite your friends over for a DIY French bistro night.
This post contains affiliate links. If you buy something from this post, we'll earn a few cents commission, at no extra cost to you. Thank you for supporting aSweatLife!