5 Unexpected Emotions that Can Pop Up Around the Holidays—How to Deal
The end of year holidays are fondly referred to as the most wonderful time of the year, but for many of us, Christmas and other holidays can stir up depression and other unexpected emotions.

Personally, I love the holiday season and look forward to it every year. But each year as it rolls around, it causes me to pause and reflect about where I am in my life and how I am not further along in some areas. (Another Christmas spent as a single thirty-something yet again…seriously?!)

As much as I love the colder weather and the twinkle of the lights wrapped around my perfectly decorated tree, these things do not prevent the feelings of sadness that often creep into my life like an unwanted fruit cake made by your great aunt.

Although unexpected emotions are quite common during the holidays, there are a number of ways you can successfully manage them. Here are some of the most common and unexpected emotions that can pop up during the holidays and how to deal.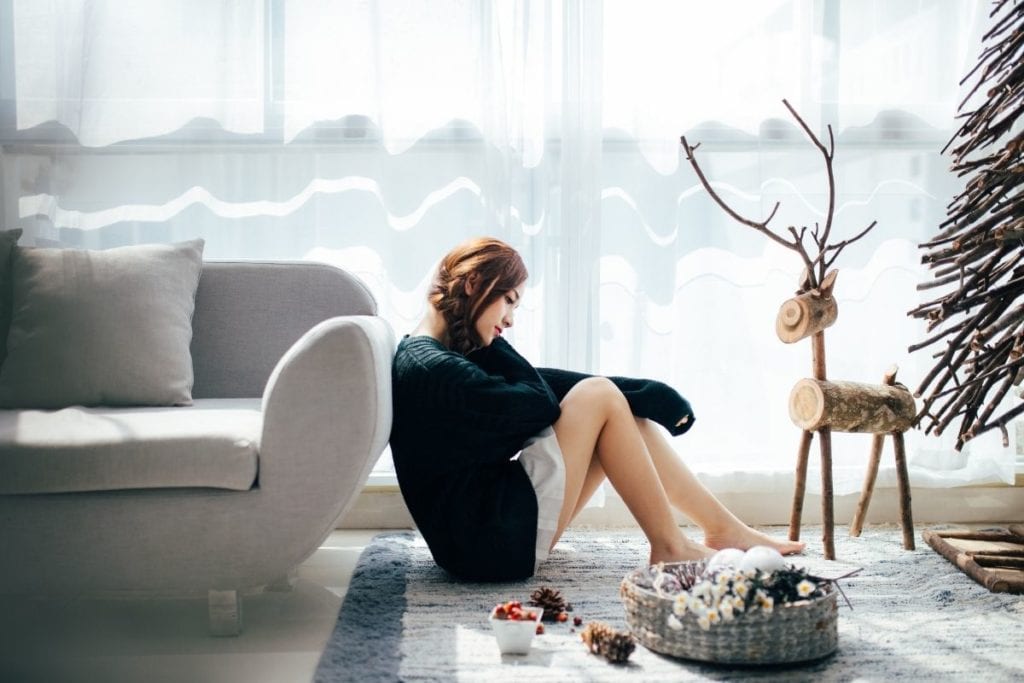 Anxiety
Holiday parties (even when they're on Zoom) can be a common stressor during the holidays. Entering a crowded room with loud music and chatting up coworkers or complete strangers can be completely terrifying for people with anxiety disorders or for anyone who is an introvert or fellow HSP like myself. And even when you're celebrating virtually, there may be stress around what you're even supposed to do or talk about when you're "celebrating" in front of your computer.

How to deal: First of all, let me say this: you can say no. (Believe me, I am an expert at it). There is no shame in that game.
However, if you decide to give that holiday party the old college try, Brian Wind, a PhD clinical psychologist, Chief Clinical Officer of an addiction treatment center and former co-chair of the American Psychological Association's Advisory Committee on Colleague Assistance, has a few recommendations.
"Take your focus away on your perceived flaws and remind yourself that everyone is probably focusing on their own flaws. Even if something doesn't go well during social interaction, the person probably only thought about it for a second and then moved on with the conversation. What you fixate on might not be a concern for the other person."

Need some ideas on what to talk about? Here's how you can make small talk actually interesting.
Depression and the holidays
Holidays bring many families together, but for others, the holidays can mark the absence of a loved one. Whether it's a death, distance, or divorce, it's important to process the feelings of grief and depression around the holidays. It may seem easier to simply suppress the pain, but according to Loma Linda University Health, working with a mental health professional who can help walk you through the process of grieving can help in long-term healing.

How to deal: If you are dealing with the loss of a loved one, you can also find ways to celebrate them. Cook their favorite meal or participate in one of their favorite holiday activities. Invite family and close loved ones to join you as you celebrate them and the memories they left on your heart. You may even consider creating a new holiday tradition to keep their memory alive for years to come.
Feelings of failure or inadequacy
During the holidays, we are bombarded by the media with tips for baking the best batch of cookies, decorating a Pinterest-worthy tree, giving the greatest gifts, organizing the perfect socially-distant gift swap, and preparing lavish meals that could grace the covers of Martha Stewart magazine. These joy-filled gatherings with family and friends can make us feel like we have failed or are inadequate, especially if our holidays don't match what we are seeing elsewhere.

How to deal: To combat feelings of failure, adjust your holiday expectations. We all know social media showcases everyone's highlight reel, so consider taking a social media detox during the holidays. Perhaps even limit the amount of time you spend watching television, and subsequently media advertising, so you can focus on what is most important to you during the holidays.
Irritation
During the holidays, we are often reunited with family, for better or for worse. Dr. Sabrina Romanoff, Harvard trained clinical psychologist working at Lenox Hill Hospital, Northwell Health, in New York City says, "Being with your family can be fun in small increments, but the more time spent together often leads to a regression to your childhood identity." (For more on this, see the next point below).

How to deal: Dr. Romanoff says,"To cope, remember you are not that kid anymore. You have more options available to you now. Do not accept the role your family may push you into." Also, consider limiting the amount of time you spend with family (virtually or in-person) during the holidays.
Reverting to childlike patterns
There is nothing wrong with having childlike wonderment, especially during the holidays. But sometimes during the holiday season, we may find ourselves feeling, and even acting, like our childlike selves again. (Flashback to that one fight between you and all of your siblings fighting about who should sleep where). There's something about being with family and old friends that makes us become who we were and not who we are.
According to Psychology Today, "Sometimes when we see family members, we revert to old childhood patterns, which may hurt us and remind us of difficult times. Even though we think we've worked through these patterns, they just seem to crop right back up."
How to deal: Instead of dramatically stomping off to your old bedroom only to be surrounded by your old Aaron Carter posters (because who's never done that before), take a minute to walk away and remember who you are now.
Remember that it's also unnecessary for you to play the same role as you did when you were younger. Even if someone from your past is encouraging you to do so with their own actions and words, invite someone who knows who you are today into the conversation and include them in these interactions to help keep you grounded in the person you've grown to become today.
If unexpected emotions like depression pop up during the holidays, remember, it's completely normal and incredibly common. Once you've identified your emotions and why you may be feeling them, use these tips to help you manage them so the most wonderful time of year doesn't become the most miserable time of the year.