Gift Guides, Day 8: For the Top Quarantine Chef
This post contains affiliate links. As always, we only write about products, brands, and experiences we truly love. Thanks for supporting the brands that support aSweatLife!
In January, maybe most of your friends' "signature dishes" were along the lines of macaroni and cheese, charcuterie boards, or a signature chili dish. But now, after months of proving (proofing?!) bread, whipping coffee, mashing bananas, and artfully photographing our creations, everyone deserves a little upgrade to the 10-piece Bed Bath & Beyond cookware set they got after college—and there's no better combination of quality and style than the Cookware Set from Caraway.
For the Top Chef of your household: Cookware Set, Caraway
What it is: The four-piece Cookware Set from Caraway bundles the essentials of home cooking in gorgeous colors and finishes that make them more like home decor than cooking tools. The non-stick ceramic coating makes each piece super easy to clean AND it's non-toxic to keep your healthy(ish) ingredients safe (the ceramic coating is naturally smooth and free of chemicals like PTFE, more commonly known as Teflon). The set includes a fry pan, a sauce pan, a saute pan, and a Dutch oven (which is one of those cooking tools we've always resisted buying because it's HOW BIG and HOW MUCH MONEY?!), plus all their lids.
And when you purchase this set, Caraway will add in a magnetic pan rack and a canvas lid holder. The storage is pretty enough to act as decor, and you'll find cooking much more enjoyable when you're not digging through the backs of your cupboards for a loose lid. Why has no one thought of a magnetic pan rack before?! We're stumped—but thankful for Caraway.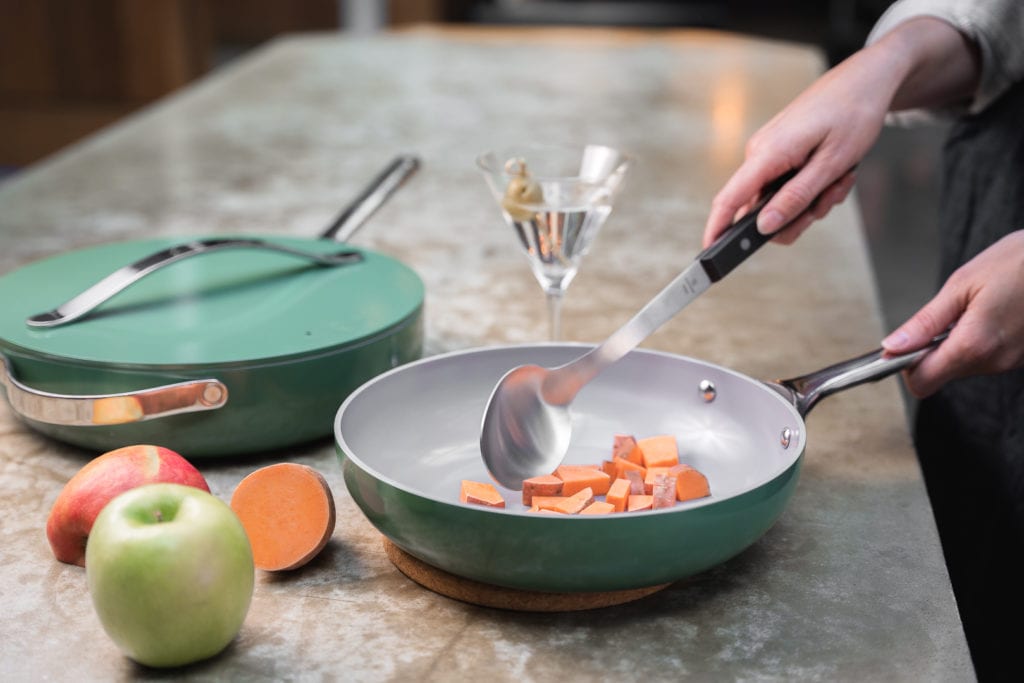 Why we love it for gifting: This is the upgrade every kitchen needs, and while the high quality of the cookware stands on its own, we think the eye-catching colors are what really makes this a giftable item. Choose a set that matches the giftee's kitchen, or go with a brighter color (may we suggest Perracotta or Sage?) to spark a little joy in the cooking process. It's kind of like how we (used to) dress for the job we wanted at work; cook with cookware for the chef you aspire to be, and maybe your food will taste that much better. It's a show-stopper gift that deserves a place at the top of everyone else's list.
Plus, this set is DURABLE. You're gifting quality pieces that will last for years to come, and since the ceramic coating is so easy to clean, we're guessing they'll stay looking just as good as the day you gifted them. We also love that the Caraway set does more with less—in a year where we're all about throwing out things that no longer serve us, we're very into the idea that all of our cooking can get done with just four pots and pans. It's finally time to get rid of the three fry pans you've accumulated, all of which somehow have something burnt still stuck to the bottom.
Last things we love: while this set belongs in any professional chef's kitchen, the cookware was designed to be versatile and stove-top agnostic—meaning it can be used safely on induction, gas, and electric stovetops. If the dinner party host in your friend group is still working out of a tiny renter's kitchen, this set will help her get Michelin star taste (even if that one stove burner always heats kind of unevenly).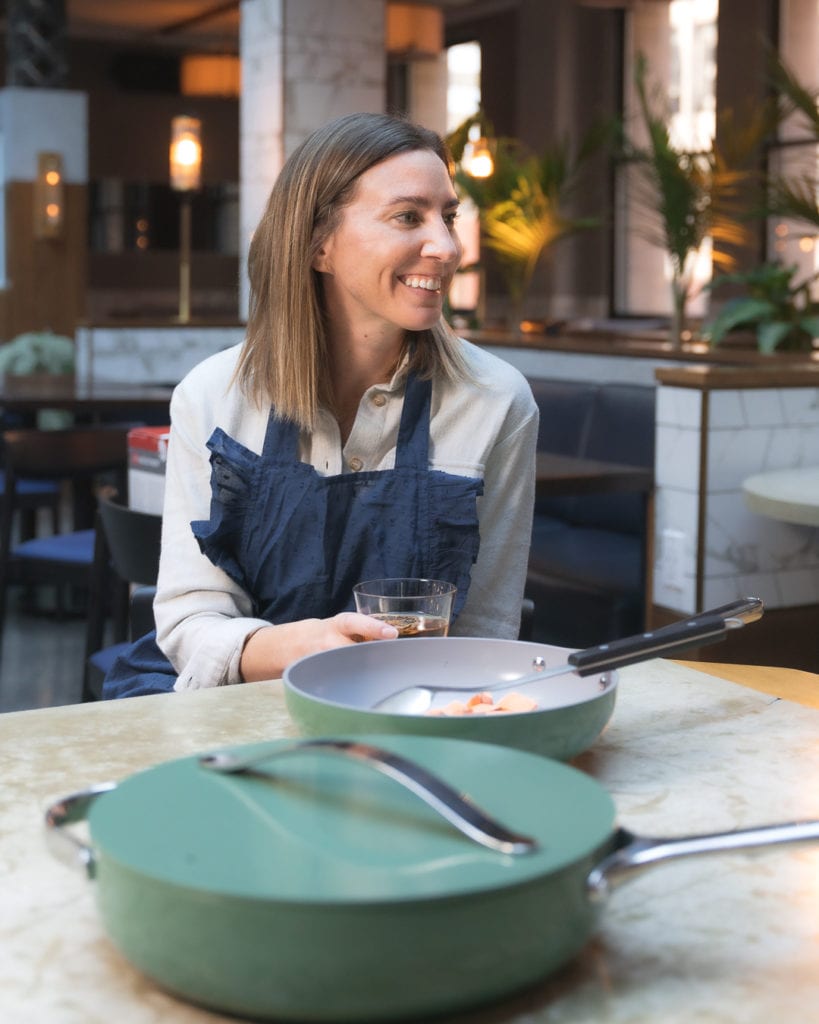 Who we're giving this to: The friend who organized a meal train when we had a sick family member, the roommate who started our Sunday night roomie dinners tradition, or the pal who's found her inner Ina since March. Anyone from a casual chef to a perennial Thanksgiving host will obsess over this set.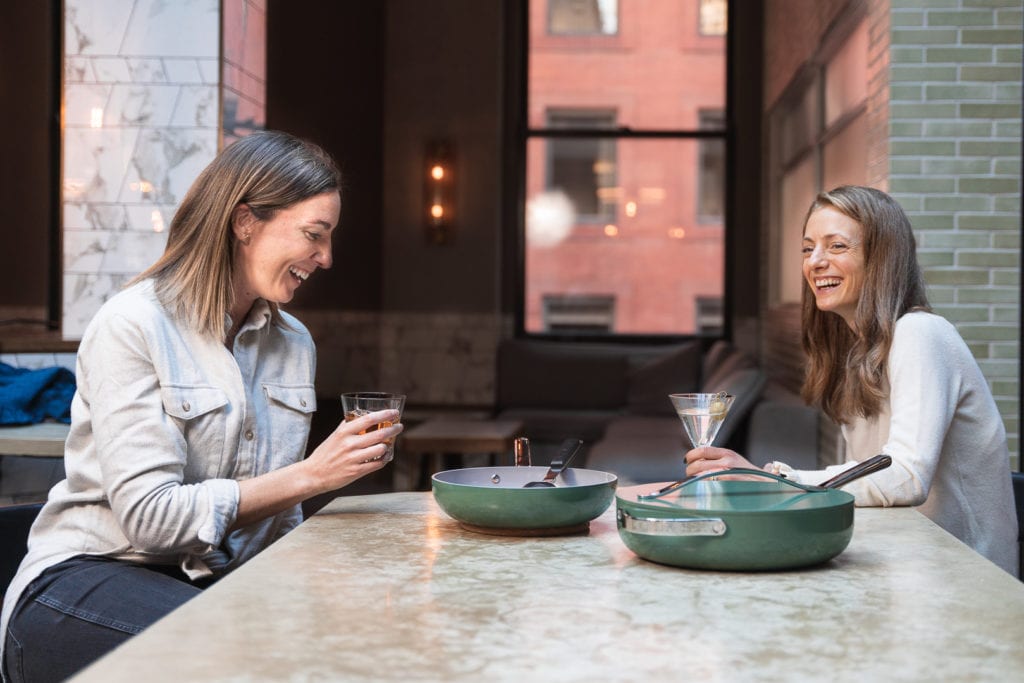 Where to buy it: Right here!