The 9 Best Meal Delivery Services for Vegetarians
As a vegetarian, it's easy to get bored when it comes to dinner (and breakfast and lunch too, to be honest). Sure, zucchini noodles, portobello mushroom burgers, and tofu-veggie stir-fries are tasty—but after a while, eating the same meals over and over again can put you into a serious food rut.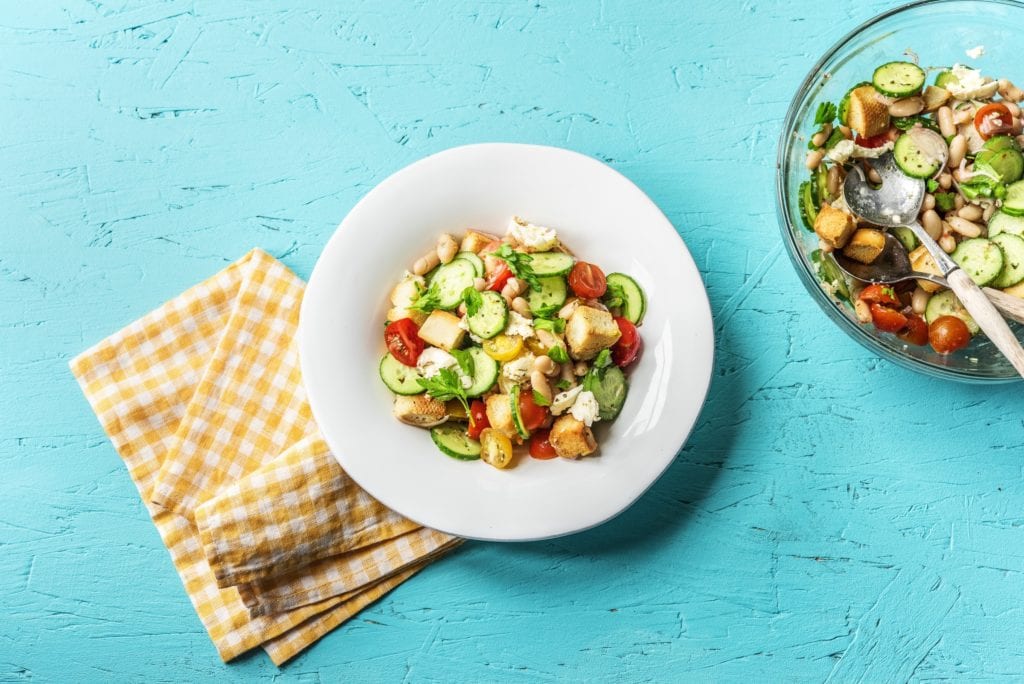 Enter meal delivery services, which are designed to introduce you to new recipes, ensure you reach your nutrition goals, and make your life easier. The good news is, there are plenty of meal delivery kits that are vegetarian-friendly (and some are even 100% plant-based).
Here, we've rounded up the best vegetarian meal delivery services and subscriptions.
Purple Carrot
Purple Carrot offers 100% plant-based breakfasts, lunches, dinners, and snacks. Sofia Norton, RD, dietitian expert for Kiss My Keto, likes the fact that all of Purple Carrot's recipes are ready in about 30 minutes and include ingredients like sustainably-sourced coconut oil, fresh ramen noodles, and organically-grown vegetables.
"Purple Carrot is best for small households or meal-preppers who want to stock up on healthy meals," says Norton.
Adds Amanda A. Kostro Miller, RD, advisory board member for Fitter Living, "I like how they offer various cuisines like Mexican and Asian, so it's a great alternative when local restaurants only offer a few vegetarian options."
Dinner prices start at $9.99 per serving. With Purple Carrot's subscription plan, you can select to have three or four dinners, in servings of two or four, sent to you weekly. 
Veestro
Veestro brings you 100% plant-based, fully-prepared meals so you don't have to stress about getting dinner on the table. You can choose from more than 50 vegetarian entrees, including eggplant casserole, pad Thai, and tortilla chili, and have them auto-delivered or order a la carte. 
Have dietary restrictions? Veestro has you covered. There are plenty of meals available that are gluten-free, nut-free, soy-free, high-protein, low-calorie, and kosher. Entrees start as low as $9.90 per meal.
HelloFresh
HelloFresh is one of the most popular meal kits among meat eaters and non-meaters alike.
"I like HelloFresh because they have a few different vegetarian meal plan options: Veggies, Low-Calorie, and Family-Friendly," says Kostro Miller. "This is great because even vegetarians may have specific weight and family goals. HelloFresh takes customization another step further compared to other meal delivery services." 
With HelloFresh, you have the ability to filter for dietary preference and select between two and five meals per week, for two or four people. Recipes include a variety of seasonal ingredients and easy-to-follow instructions. Some recipes take less than 20 minutes. Prices start at $8.49 per serving.
Hungryroot
Although I am not strictly vegetarian, I have been using Hungryroot the last few months and really enjoy the plant-based offerings, which include Beyond Meat burgers and meatballs, savory tofu bites, and an addicting cashew cheddar sauce. 
Hungryroot sends you ingredients for recipes as well as grocery items so you can stock up on snacks and other essentials without schlepping to the grocery store. The best part, though? Most of their recipes take less than 10 minutes to put together. Recipes start at $8.99 per serving.
Green Chef
"Green Chef is best known for innovative recipes, but now they offer easy-to-follow meals for every lifestyle—plant-based ones included," says Norton. "What's more, all of their ingredients are organically-grown and responsibly-sourced, which is something many of those on vegetarian or vegan diets prioritize."  
On Green Chef's Plant-Powered plan, you get to choose from seven recipes weekly. Having a plethora of options helps to "keep your diet interesting and versatile so you get all your nutrition needs met," says Norton. Recent recipes include barbeque chickpea bowls, creamy corn and potato chowder, and green pea falafel with tahini. Meals start as low as $6.66 per serving. 
Territory Foods
"One of my favorite plant-based meal delivery kits comes from Territory Foods," says John Fawkes, National Strength and Conditioning Association-certified personal trainer and managing editor at The Unwinder. 
Fawkes' points to Territory Foods' seasonal menu, which was created by real chefs, as a major selling point.
"It's especially exciting for someone like me who spent an entire year traveling the world in 2016 and loves any chance to remember those flavors," he says.
Select the vegan plan and customize your order, from portion size to whether you'd prefer pickup or delivery. All meals are fully-prepared (no cooking required!) and start at $9.99 per serving. 
Epicured
For those who are vegetarian with additional dietary restrictions, Epicured is a great option. All of Epicured's meals are gluten-free and low-FODMAP to accommodate people with food sensitivities. They have plenty of vegetarian options, with yummy meals like tofu tikka masala and truffled mac and cheese on the menu. Prices average around $15 per meal. 
Sakara Life
If you want to feel fancy, then Sakara Life is the meal kit for you. The company bills itself as luxury clean eating, offering 100% plant-based, fully-prepared meals. Each week, you'll receive a preset menu of meals, with options like the Sakara cobb salad and veggie satay bowl. You'll also receive breakfasts, including superseed muesli and chia pumpkin bread. 
All meals are single serving, with pricing working out to about $70 per day, depending on the plan you choose. You can also add on supplements, detox teas, and other wellness products to your order.
Daily Harvest
Daily Harvest is known for its tasty, nutrient-packed plant-based smoothies. Some of Daily Harvest's bestselling smoothies include strawberry + peach, mint + cacao, and acai + cherry. Daily Harvest also offers harvest bowls, flatbreads, soups, and more. 
You can choose to have nine, 14, or 24 items shipped to your door weekly or 24 items shipped to you monthly. Smoothies start at $7.99.