At-Home Workouts & Workshops with ZYN Week of 9/14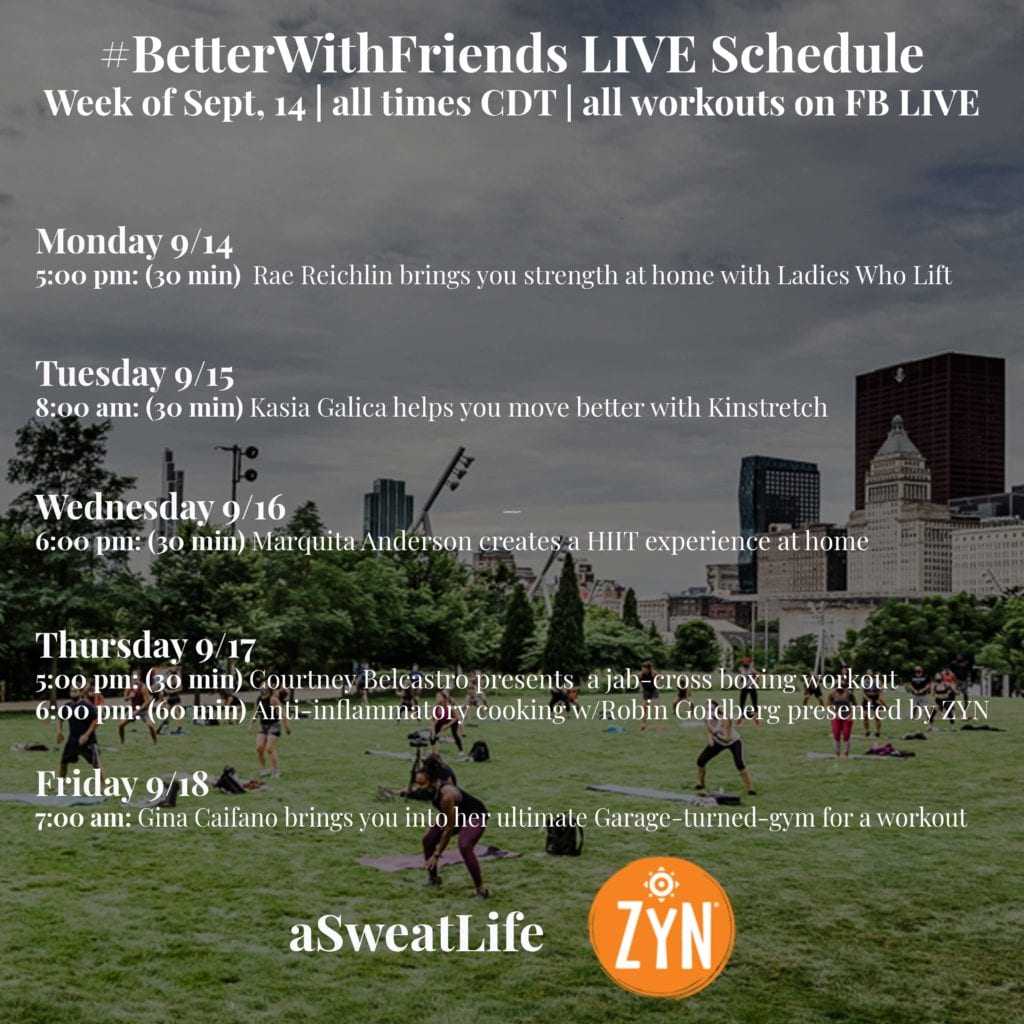 [Disclosure: This week is presented in partnership with ZYN. As always, we only partner with the brands we truly love and support]
If you've followed our Instagram stories, you've seen our ambassadors trying and loving a new-to-us beverage, ZYN. We were smitten with this Milwaukee-based brand when we heard its start-up story – which you'll hear on next week's episode of #WeGotGoals – and we fell in love when we actually tried the flavor-packed, anti-inflammatory beverage.
How do you make a beverage with turmeric-y goodness without staining your life yellow? The answer is curcumin, a naturally occurring chemical compound found in turmeric that has been shown to have the greatest health-promoting effects. Curcumin is the super power of turmeric and has over 35,000 medical, scientific, and academic articles on it backing up its health benefits with research. The health benefits include everything from immunity boosting to anti-inflammation.
And a big benefit of the week: ZYN is offering 30 percent off first-time online orders here.
Your workshop:
Thursday 9/17 at 6 pm: Anti-inflammatory cooking with Robin Goldberg presented by ZYN
The seasons are changing and it feels more appropriate to spend a cozy night in the kitchen digitally connected to friends.
Thursday, we'll learn more about curcumin and anti-inflammatory foods with Certified Nutrition and Wellness Consultant, Robin Goldberg. We'll learn about the anti-inflammatory benefits of curcumin with a little help from our friends at Drink ZYN. Then, Robin will help us all create an easy at-home vegetable curry recipe.
This workshop is complimentary, thanks to ZYN, and your grocery list is included here in your sign up.
Your weekly workouts
We'll continue our efforts to Sweat the Vote, encouraging you to check your voter registration status, request your mail-in ballot, and sign up to work the polls. You'll have an opportunity to work out every day with five different trainers we love.
Monday 9/14
5:00 pm: (30 min) Rae Reichlin brings you strength at home with Ladies Who Lift
Tuesday 9/15
8:00 am: (30 min) Kasia Galica helps you move better with Kinstretch
Wednesday 9/16
6:00 pm: (30 min) Marquita Anderson creates a HIIT experience at home
Thursday 9/17
5:00 pm: (30 min) Courtney Belcastro presents a jab-cross boxing workout
Friday 9/18
7:00 am: Gina Caifano brings you into the garage for a workout at home