Healthy Hood Takes Care of its Community's Health Through COVID-19 Pandemic
[
Disclosure: This article was created in collaboration with NOW®, a longtime partner and local natural products manufacturer that we launched a new kind of partnership with that allows us to shine light and resources on organizations we believe in, like Healthy Hood. Through this partnership, we were able to donate to Healthy Hood and continue to fund our operations. As always, we only write about the people, places and things we truly support
.]
When the systems don't serve your community, you create your own. That's what's driven Healthy Hood to build a grassroots network of health support to decrease the life expectancy gap between affluent communities and Black and Brown communities.
I interviewed founder Tanya Lozano just over three years ago and didn't yet understand that she acts as a force of nature. Estelle Lozano – the Chief Strategy Officer at Healthy Hood and Tanya Lozano's cousin – explained it to me. She told me that when Tanya Lozano explains what Healthy Hood is, she says it's "whatever the community needs it to be."
Under the weight of the COVID-19 pandemic, it became what the community needed to stay healthy, safe, fed and employed.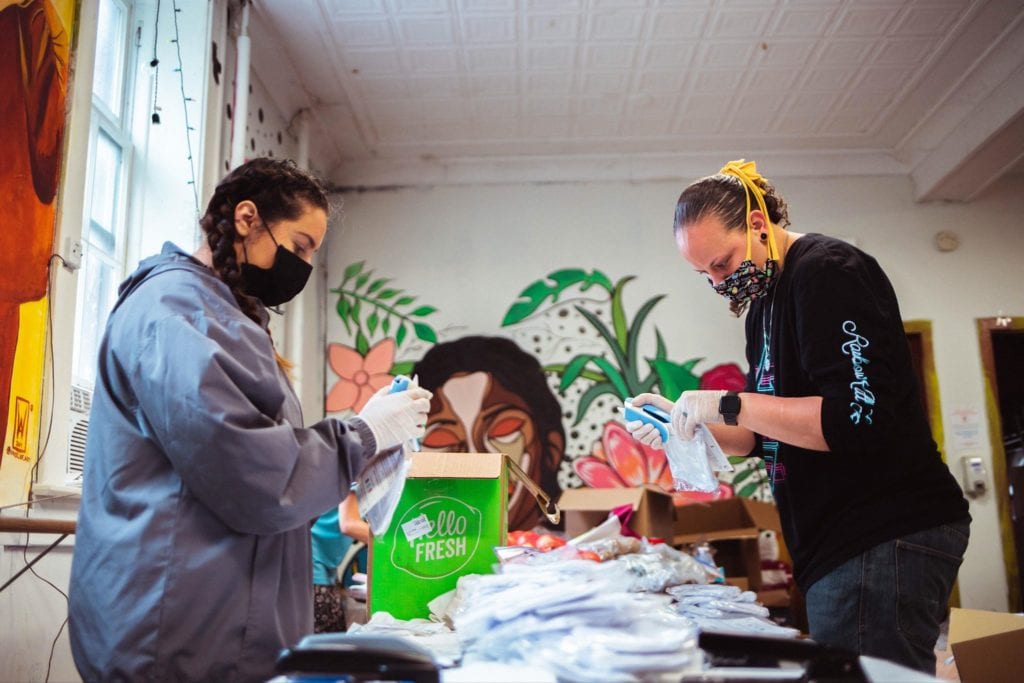 "The mission of Healthy Hood has not changed," Seobia Rivers, Healthy Hood's co-founder, Chief Development Officer and Fitness Director told me. "It's still to exercise the body, educate the mind, and awaken the conscience."
And what started off with affordable exercise classes in 2014 has grown into what Estelle Lozano calls "an umbrella of resources in collaboration with non-profit, corporate, private and public organizations."
That umbrella opened in direct response to the COVID-19 crisis when Healthy Hood created a program called "We Got Us." Powered by partnerships and a network of rapid-response volunteers, they worked to provide relief for the unique and hard-hitting impacts of the pandemic. 
"We started by providing food and PPE to our most vulnerable, high-risk families and the elderly," Estelle Lozano explained. From there, the program grew into a hotline – an easy way for anybody across the city to call and request services.
Those services ballooned into everything the community needed—sure, still groceries and PPE, but also hot meals, free digital fitness classes, free digital mental health programming, jobs for young people in partnership with IDHS, and free COVID-19 testing in partnership with CORE.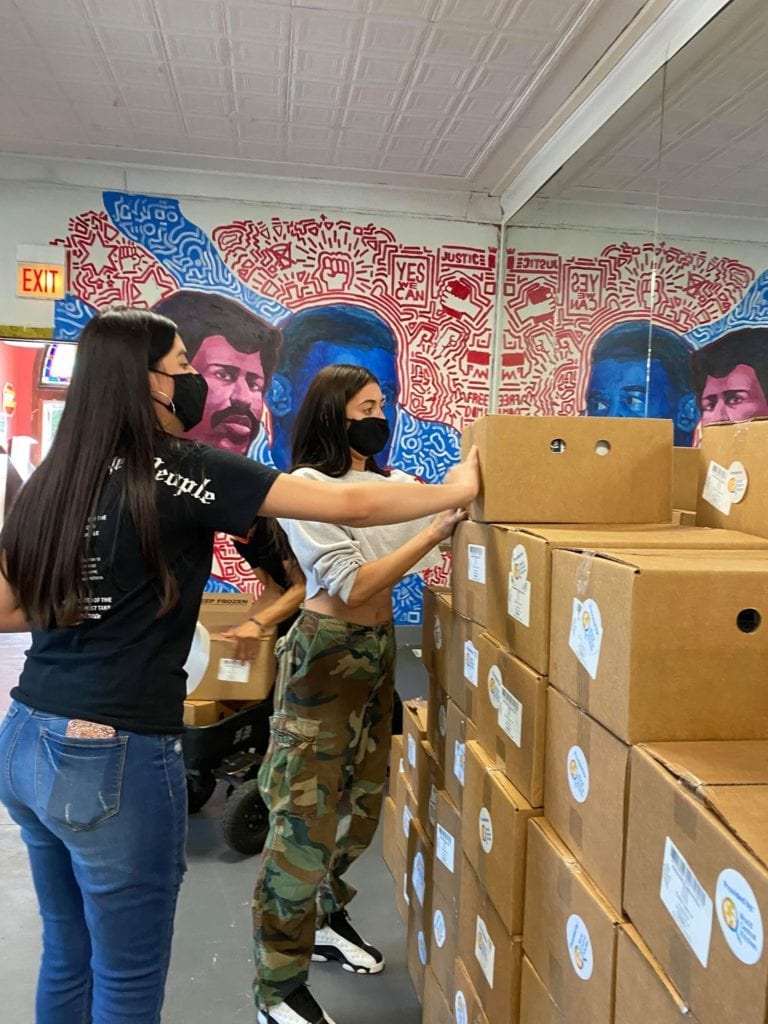 Groceries, jobs, testing – these programs were immensely important in the community, Estelle Lozano stressed, for a litany of reasons. Almost 30 percent of the communities Healthy Hood serves were out of work almost instantly with the loss of service industry jobs, she said.
"And when looting and rioting closed down the community grocery stores for almost a month, Healthy Hood created satellite sites in order to feed and provide for those communities … We're feeding and supplying around 3,000 people every week."
But when the pandemic is behind us, Estelle Lozano explained that the five major diseases that impact the community – heart disease, high blood pressure, cancer, diabetes, and stroke – will still have a disproportionate impact there.
That's when wellness and mental health programming will bubble back to the top of the priorities list.
Fitness programming continued throughout the pandemic, starting with wildly popular Instagram LIVE classes that included fitness, meditation and cooking, but like many gyms, they butted up against digital burnout, Rivers said.
"We were finally able to start our outdoor classes this week with the limit of 10 people," she explained, noting that the ultimate goal is to host outdoor classes with a live streaming element to help impact communities nationwide.
And the free mental health programming—Get Yo Mind Right, piloted this year—will grow this year to touch more lives.
Like many programs with big plans for 2020, things shifted quickly for the in-person mental health care the program first planned to offer. "What's been so interesting about the pandemic is that it really has pointed out how to grow alternative means of congregating," Estelle Lozano said.
As of the beginning of June, Healthy Hood and its partners were able to set up a digital platform that was HIPAA compliant as well as safe and easy for the recipients of mental health services to meet. The program is now a mixture of one-on-one sessions that are done remotely and group sessions that are done through Skype or Zoom.
And that program hinges on the help of volunteers, but also serves soon-to-be licensed therapists.
"In order to become a licensed therapist, you need about 100 or 150 hours that are pro-bono," Estelle Lozano explained. "[Get Yo Mind Right] allowed us to really make inroads with organizations across the city and clinics and we're able to get the kind of mental health services that we need to provide and provide our partners with the time they need."
She added that the program also provides an important opportunity for mental health professionals to work within communities of color, an experience not typically provided by schools and programs within the U.S.
And these mental health services serve a deeper need for the community – They're preventative and especially so for a community impacted by financial stress. Mental health medications are expensive, often not covered by insurance and often the people that Healthy Hood serves, Estelle Lozano says, don't have insurance.
With all of these programs, and ways to help Healthy Hood your question may be "Where should I start?" Start here.