aSweatLife's Free Digital Workout Schedule for the Week of August 17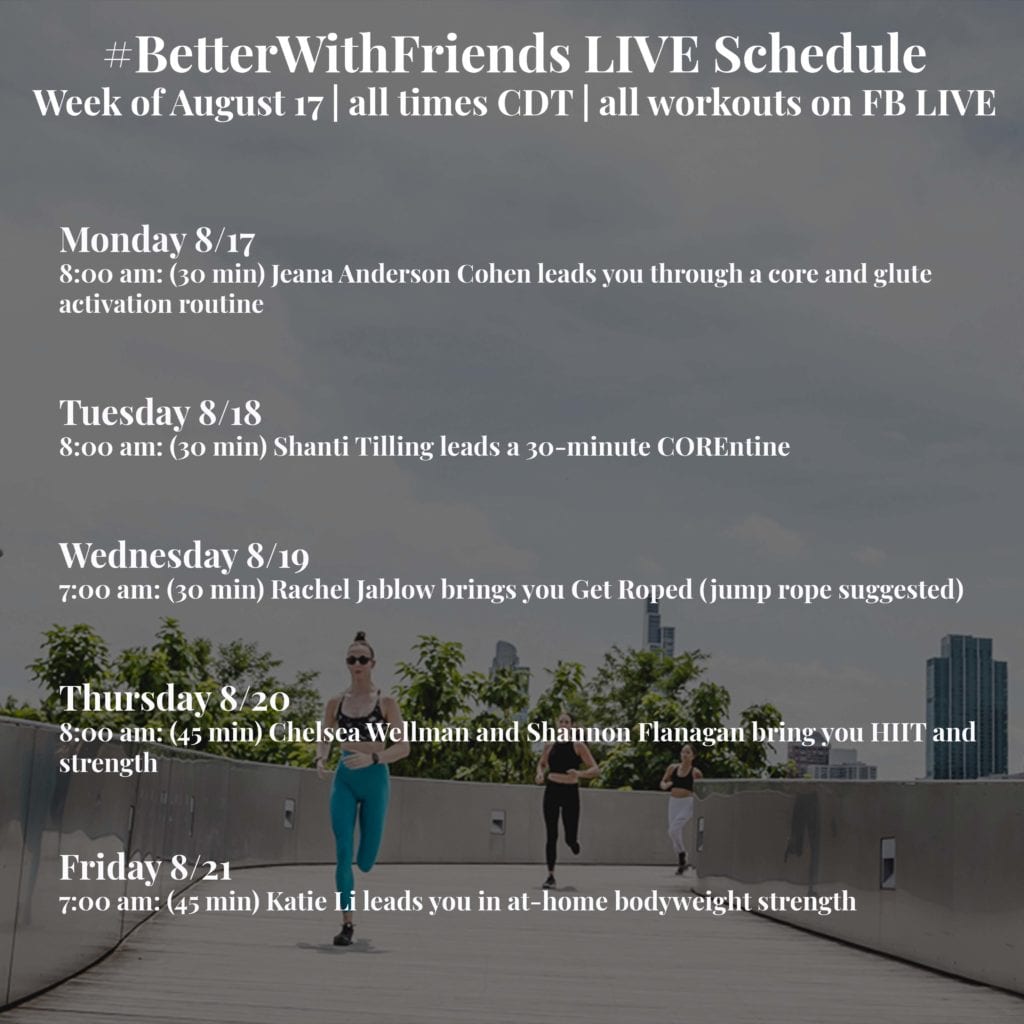 This week, we're bringing you an assortment of workouts. During our daily Facebook LIVE workouts you can expect everything from an activation routine, to a workout coming at you from Punta Mita, Mexico to a workout featuring a jumprope (you're going to love it) to some good old fashioned HIIT.
This schedule is stacked with fit pros and trainers you'll love who will bring you lots of ways to move on Facebook LIVE. You'll also catch two of the fitness pros co-presenting the virtual running series (with some of your favorite men from the Bachelorette) leading a class together – Chelsea Wellman and Shannon Flanagan.
And if you're in chicago and have a hankering for something IRL in #Chicago, safely mask up for pay-what-you-can workouts with Gideon Akande at Maggie Daley Park Monday, Wednesday and Friday at 6 pm. You can also catch us at #Sweatworking at Healthy Hood in Pilsen Tuesday 8/18.
Here's your digital workouts schedule
Remember – all of these workouts will take place on aSweatLife's Facebook LIVE and all the times listed at Central.
Monday 8/17:
8 am: (30 min) Jeana Anderson Cohen leads you through a core and glute activation routine
Tuesday 8/18:
8 am: (30 min) Shanti Tilling leads a 30-minute COREntine
Wednesday 8/19
7:00 am: (30 min) Rachel Jablow brings you Get Roped (jump rope suggested)
Thursday 8/20
8:00 am: (45 min) Chelsea Wellman and Shannon Flanagan bring you HIIT and strength
Friday 8/21
7:00 am: (45 min) Katie Li leads you in at-home bodyweight strength