Four Hacks (And One Recipe) for Portable, Tasty Sides for Your Socially-Distanced Barbecues
This piece was written in partnership with Farmer's Fridge. As always, we only write about products, brands, and experiences we truly love.
With eating at restaurants and cheers-ing in crowded bars off the table this summer, friends and families are going old-school with their summer gatherings: the trusty outdoor barbecue or picnic in a local park. And while sitting on a blanket outdoors with your friends a safe distance apart sounds idyllic, there's always the issue of bringing a dish that's portable, easy to eat, and won't get soggy or wilted in the hot summer sun.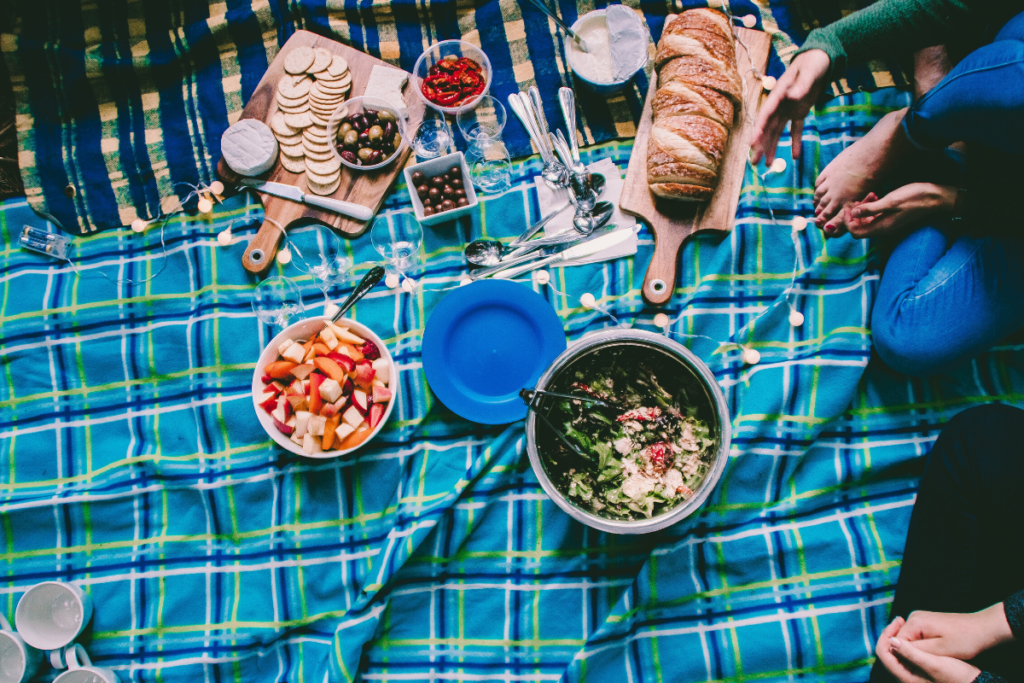 Meghan Hurley, Head of Brand Marketing at Farmer's Fridge, shares her four must-know hacks for the best side items for your socially-distanced gatherings this summer.
Add a sweet or savory element to complement a meaty main course
For many barbecues or picnics, the host often takes care of a main course that's typically meat-centric—think ribs, burgers, or hot dogs on the grill. With that in mind, Hurley suggests going sweet or savory in your side dishes.
"In terms of sweet, one of my go-tos lately has been individual containers of strawberries, blueberries, or raspberries—berries are just so delicate, decadent, and delicious," she shares.
Another recent hit: Mexican street corn, served in individual cups or jars.
"I've been missing baseball games, and at the White Sox stadium, they do street corn in a cup," Hurley says. "I've been doing deconstructed elote in individual containers, and it's been perfect."
Consider making individual servings of your side dish.
Not only are individual servings more convenient for serving and eating, but they're also a better way to avoid sharing germs when serving potluck-style.
"One thing that we've done is used the Magnolia Bakery bread pudding recipe that we found online, and we made that into individual desserts—in its own container, individually packaged." And as an added bonus, it doesn't melt, Hurley adds.
Package your side dish so it's leak-proof and sturdy
Nothing's worse than unpacking your culinary masterpiece and seeing that food or liquid has leaked everywhere or even worse, is crushed from being packed weirdly.
Plus, if you're doing an outdoor activity (like a hike, for instance), you'll need a robust dish that can hold up when transported in a backpack for longer periods of time.
"I've been bringing our Farmer's Fridge salads on hikes, or re-using those containers to pack a layered salad," Hurley recommends. "It's pretty easy to keep at temperature and hike until you're ready to eat." (And if you're doing that, make sure you're layering your mason jar salads the right way.)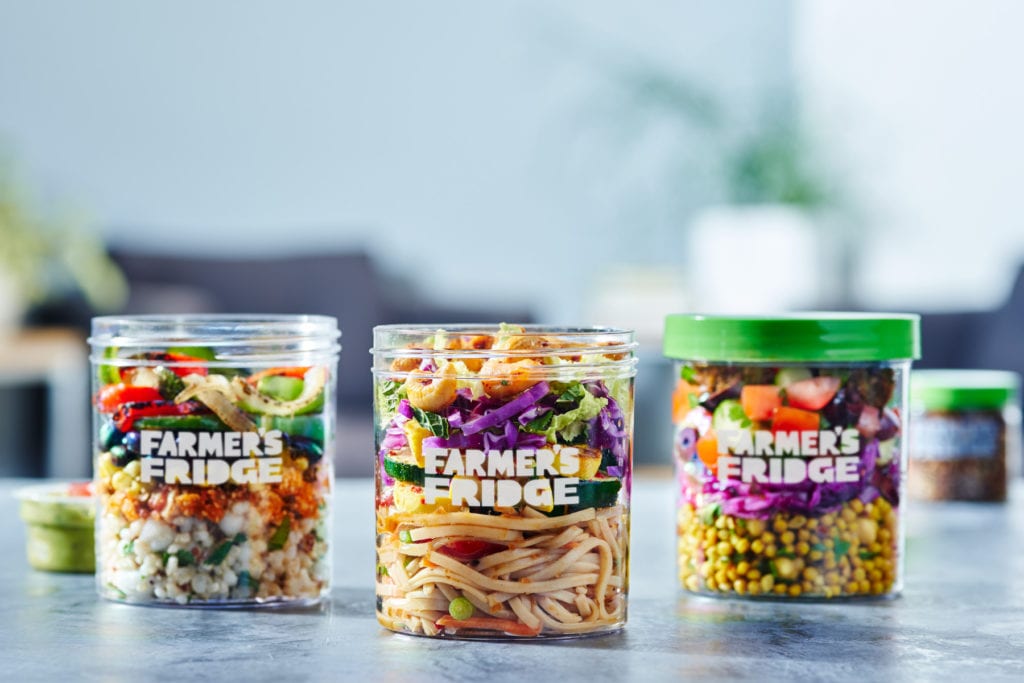 Want to be a little more cautious? Hurley recommends pre-cut fruits and cheese that are less likely to spill or leak.
Not a chef? You can still be a hero.
If you're not someone who finds joy in recipe sourcing and grocery shopping, Hurley knows how you can still be the most popular person at a socially-distanced barbecue.
"My recommendation is always to offer to bring alcohol!" she laughs.
Or, if you're set on bringing food, take advantage of some of your grocery store's delicious prepped sides.
"There's no shame in the grocery game!" Hurley stresses. "I will bring guac from the Whole Foods produce section, and if you bring that, people are just as happy as if you made it at home. Or the spinach-artichoke dip from Costco! It's so delicious, and instead of trying to figure out that recipe, you can grab a fan favorite from the store and everyone's just as happy—especially if you grab a fancy cracker or local chip to go with it."
Try this: Farmer's Fridge Harvest Salad
This hearty, healthy salad packs and transports well; plus, it can hold up to the summer heat when enjoying socially-distant barbecues or picnics.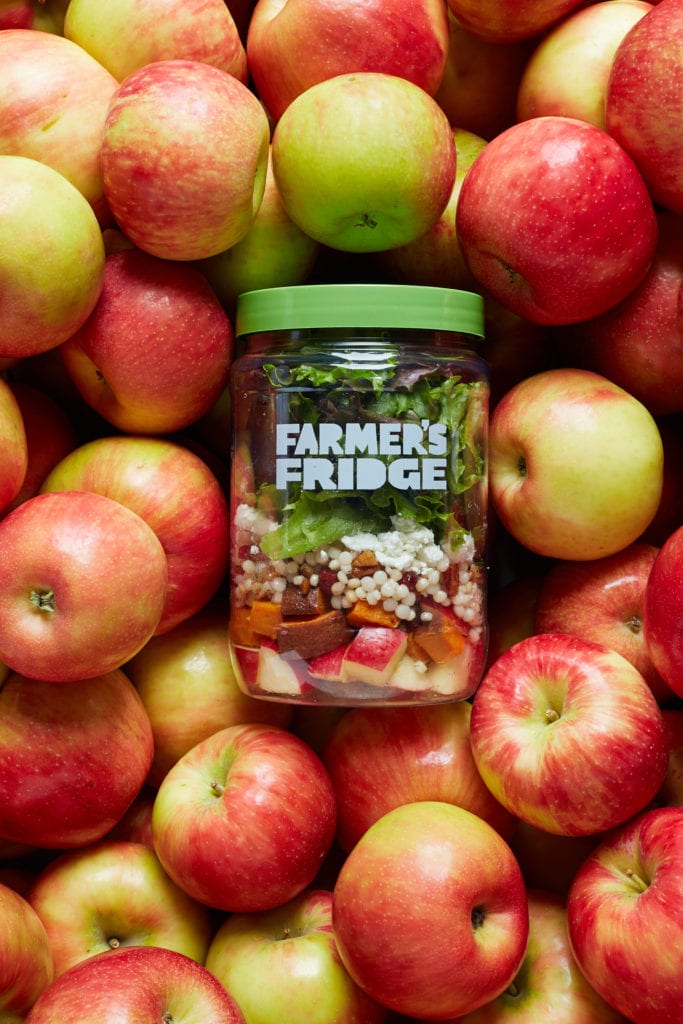 Ingredients
½ cup sweet potatoes, diced in ½ in. cubes
Pecans, diced
Pearled couscous
Apple cider vinegar
Dried cranberries
Mixed greens
½ cup Honeycrisp apples, diced in ½ in cubes
Goat cheese
Balsamic vinaigrette
1. Roast Sweet Potatoes: Preheat oven to 400 degrees. Spread diced sweet potatoes in an even layer on a baking sheet. Drizzle with oil and a pinch of salt. Mix to evenly coat the potatoes. Bake until potatoes are fork tender with golden brown edges, about 15-18 minutes. Remove from oven and cool.
2. Toast Pecans: Turn oven down to 350 degrees. Spread the diced pecans in an even layer on a baking sheet and just until aromatic, about 5 minutes. Remove from oven and cool.
3. Make Cranberry-Pecan Couscous: In a saucepan, bring 1 cup of pearled couscous and 1 ¼ cup of water to a boil. Turn down the heat and simmer, covered, for about 10 minutes until the water is evaporated and the couscous is fluffy and tender. Remove from heat and toss with a drizzle of oil of your choice.
4. Once cool, add 1 TBSP of apple cider vinegar, 1 cup of dried cranberries and ¼ cup of toasted pecans to the couscous and stir. Salt and pepper to taste. Cover & refrigerate any extra cranberry-pecan couscous. It's a delicious side dish to any fall/winter dinner!
5. Assemble Harvest Salad: On a bed of mixed greens, add 1/2 cup of cranberry-pecan couscous. Top with diced Honeycrisp apples and roasted sweet potatoes. Finish with creamy goat cheese crumbles. Serve with balsamic vinaigrette and enjoy!
Want to bring some Farmer's Fridge with you to your next socially-distanced outing? Customers in Chicagoland, Indianapolis, New York City, and New Jersey can take advantage of delivery to feed everyone at the party. Click here to get $10 off your first Farmer's Fridge delivery.