Swing by #TrainersConnect 2/25 for a Kettlebell Workout at OTG Bootcamp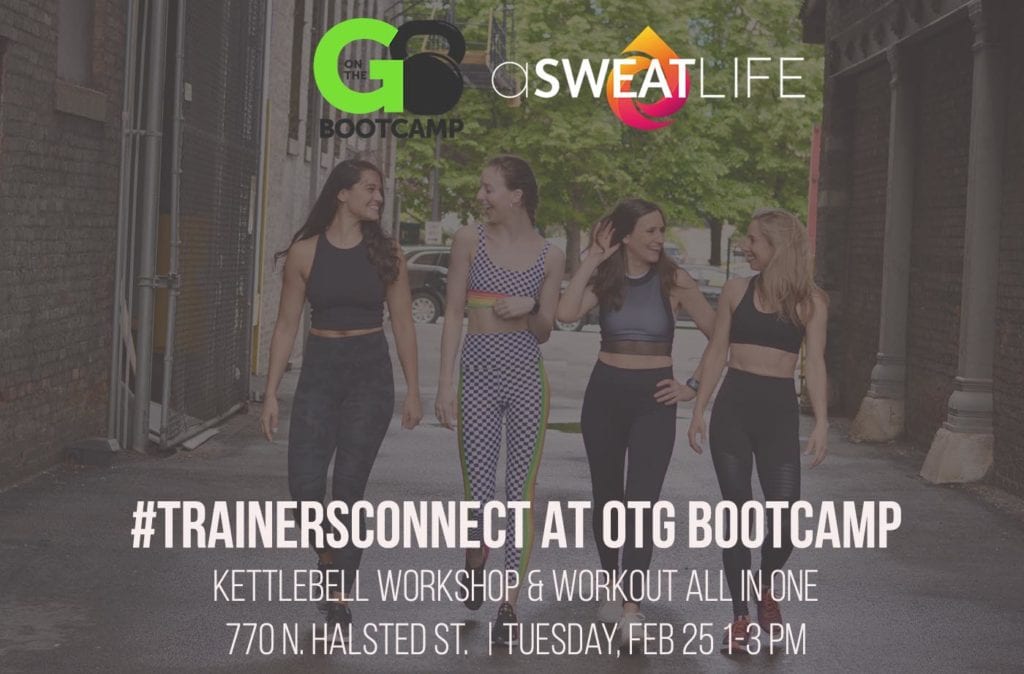 Get your ticket to #TrainersConnect on 2/25 right here.
OTG Bootcamp, home of the 30-minute kettlebell workout and Spartan SGX Training Program, has been a part of the fabric of fitness in Chicago for over six years. On February 25, we're introducing the #TrainersConnect community to it through a very unique workshop and workout combination. We hope you'll swing by from 1-3 pm for this kettlebell driven #TrainersConnect experience (this and all subsequent kettlebell puns most definitely intended).
At OTG, you'll find a dedicated team of coaches who focus primarily on kettlebell skills and Spartan SGX training. We couldn't think of a better workshop and workout combination for #TrainersConnect than to learn from Courtney Waterbury, the owner and visionary behind this space. In addition to learning kettlebell drills, skills and helpful cueing techniques to apply to your own training, you'll get in a sweaty workout utilizing everything we learn from the workshop. We'll end the afternoon with snacks and plenty of time to get to know other #TrainersConnect attendees.
More about the workshop and workout at OTG Bootcamp
At 1 pm, we'll kick off #TrainersConnect with the workshop portion of the day first, led by head coach and owner, Courtney Waterbury. Courtney is Dragon Door Russian Kettlebell Certified instructor, Spartan SGX L2 certified, Spartan Obstacle Specialist, and Dr. Sear Health & Wellness Coach.
She'll go over the foundations of the hardstyle plank (the foundation of being able to move a bell, according to Courtney), the hinge, deadlifts, the hike back, the swing, and kettlebell cleans.
We'll learn from Courtney and put our skills to the test by coaching a partner in part of the workout.
We'll end the workshop and workout portion of #TrainersConnect together with a 20-minute workout. With a participatory workshop like this, be prepared to sweat the entire time.
More about OTG Bootcamp
OTG believes in approaching your health and fitness as a life style change. It's not about crash dieting and spending hours in the gym because, let's be real, who has time for that. OTG's coaches will teach you sustainable changes to help you learn new tools for your tool belt so you're not constantly gaining and losing weight as well as giving you a fun and safe atmosphere to crush your goals.
After attending #TrainersConnect, you'll also receive a unique code to come back and visit again during the month of February on your own time, and continue to drill new and improved kettlebell skills.

Details for #TrainersConnect at OTG Bootcamp
What: A #TrainersConnect workshop + workout where you'll get some kettlebell knowledge to keep in your back pocket, and an afternoon of community with other fitness professionals in Chicago
When: Tuesday, February 25 from 1-3 pm
Where: OTG Bootcamp, 770 N. Halsted St.
Will there be food? You bet! We'll have snacks for after the workout to enjoy!
Where do I snag a ticket? Right here!