Gift Guide #6: For Your New Year's Resolution
This post contains affiliate links. As always, we only recommend products, brands, and experiences we truly love ourselves!
If you're a regular on aSweatLife.com, you know our fanatical devotion to goals—talking about them, helping others achieve them, setting them, even occasionally failing at them. And if you're new around here, well, you've been warned.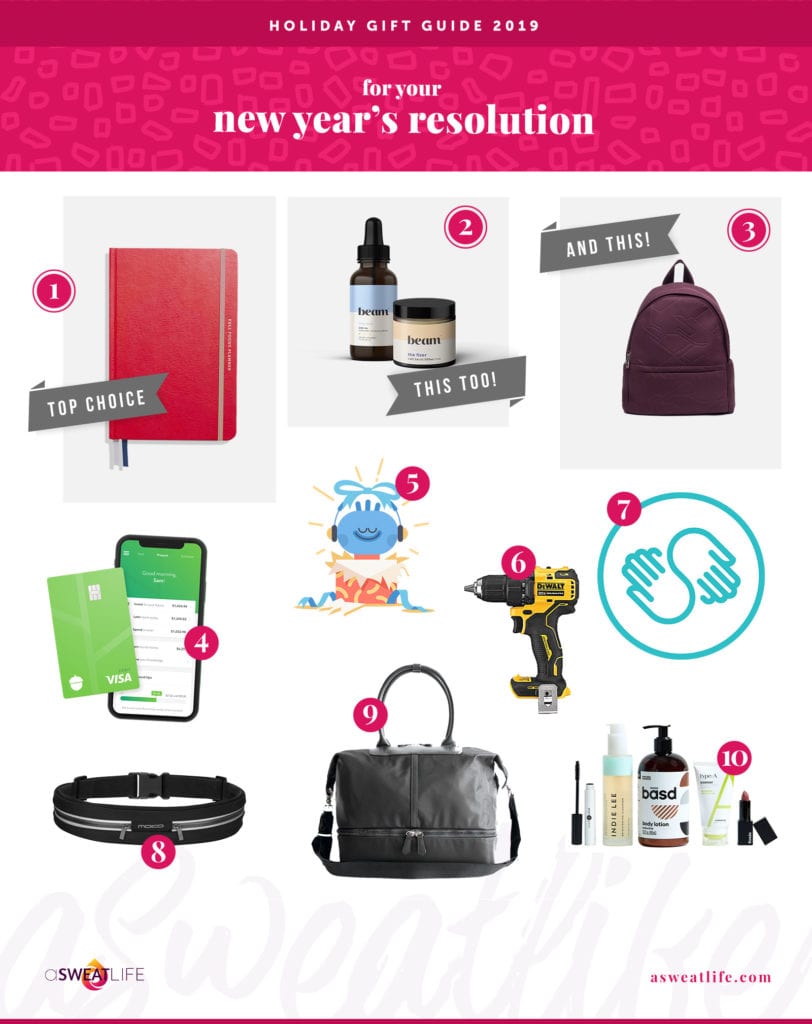 1. Bold Line Full Focus Planner, Full Focus Planner 2. Fix You CBD kit, Beam 3. Maya backpack, Go Dash Dot 4. Acorns gift card 5. Headspace subscription 6. Power drill, DeWalt 7. Talkspace membership 8. Running belt, Moko 9. Julia Everywhere Tote, Petit Blue Goods 10. Clean Beauty Starter Kit, Credo
Whatever goal has been set, your giftee is going to need a plan to get there—and the end of the year is PRIME planner-buying time. We love the Full Focus Planner because it's specifically made for goal-setters and goal-getters. The planner has space to set clear, annual goals (perfect for New Year's resolutioners), and it even helps you prioritize them so you never get overwhelmed or lose focus of what you're working towards. As big self-care advocates, we also love the space included to list your daily rituals so you stay grounded and healthy even in the midst of a busy season. If we HAD to choose a color, we'd probably go with something from the Bold Line, but honestly, we'd be thrilled to see any of them end up in our stockings.
Fun fact: vowing to exercise more is the most common type of New Year's resolution. If someone you're shopping for wants to run faster, lift heavier, or finally try that boxing class they've always been scared of, they're going to need a little bit of help recovering (after all, remember how sore YOU were after your first barre class?). Beam, a new CBD brand, has the perfect gift for that: the "Fix You" bundle, filled with CBD oil and CBD salve for the post-workout soreness. Or, you can be a true friend and upgrade to the "Beaming" bundle, which includes all that plus six CBD-infused protein bars to help repair those muscles. It's a thoughtful gift for someone just starting a workout routine.
How about a multi-tasking New Year's resolution gift? We've got that too. The Maya Backpack from Go Dash Dot works for a ton of goal-setting scenarios: a goal to get to work on-time with your laptop AND your gym shoes in the same place? Check. A goal to finally commit to a professional-ish wardrobe and ditch the frayed Longchamps you've had since high school? Check. A goal to take more weekend trips and embrace carry-on only because, minimalism and baggage-fees? Triple check. This bag does it all, and it looks good doing it.
For anyone who impulsively signed up to run a marathon in 2020, this cheap running belt will make the user think of you over many long-run miles during training. Know a friend who's pledged time and time again to clean out her bathroom cabinet and finally switch to clean beauty? This clean beauty starter kit from Credo features clean deodorant, cleanser, body lotion, mascara, and lipstick—plus, we love a fun sample-size beauty kit for a gift, anyway.
Jeana feels her best when her brain is learning something new; if you've got a friend who's musing about going back to school for a New Year's resolution, or switching careers, or otherwise stretching her brain in new ways, a Skillshare subscription could be the push she needs to take the leap. Got a friend who's planning to buy her first home in 2020? Get that woman a tool kit or her very own power drill—home improvement waits for no man. Or, if you know a friend is hoping to make big money moves, we love the idea of empowering her to invest via an Acorns gift card (the gift that keeps giving interest, year-over-year!… that was an investment joke).
For the friend who's been promising to try meditation for *years* now, make it a little easier for them with the gift of a Headspace subscription (it's been one of our regular go-to apps when we've dabbled in regular meditation practices). And if you know someone close to you is going through a tough time (enter Michael Scott .gif "I'm going through a little bit of a rough patch. Whole year, actually."), hooking them up with a Talkspace membership might be a mental health savior. After all, even if you're interested in therapy, figuring out how to find a therapist can be really overwhelming. Talkspace makes it a little less intimidating and a lot more convenient with online and video therapy sessions.
Finally, for a friend who has a major professional goal coming up—whether it's the promotion she's been eyeing forever, a new professional certification, or switching to a completely different field, we love this weekender bag as a little bit of motivation. It's professional enough for office-to-gym, and roomy enough for business travel—plus, the vegan leather screams "corner office material."
Today's giveaway: $225 worth of product from Full Focus Planner and Go Dash Dot
Today's giveaway prize includes:
From Full Focus Planner: 1 Bold Line Full Focus Planner, valued at $50
From Go Dash Dot: 1 Maya Backpack, valued at $176
Ready to enter? Here's the giveaway!