Gift Guide #10: For A Good Cause
This post contains affiliate links. As always, we only recommend products, brands, and experiences we truly love ourselves!
Fam, we did it. We've explored gifts for nights in, for fun nights out, for working out, for going on vacation, for mystical wellness, for every sign of the Zodiac, and even more. We hope you enjoyed reading these as much as we enjoyed putting them together!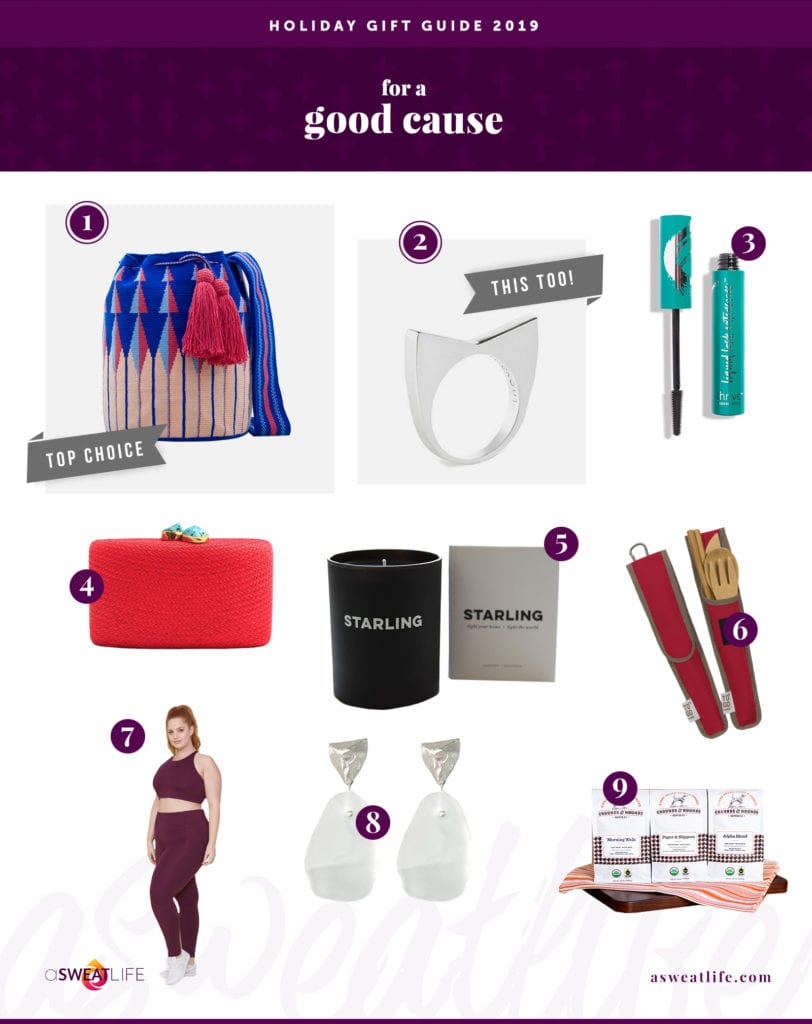 1. Celerity Bag, SUSU Accessories 2. V Ring, Knockout 3. Liquid Lash Extensions Mascara, Thrive Causemetics 4. Jen Clutch with Turquoise Stone, Kayu 5. Holiday Candle, Starling 6. Bamboo Utensil Set, To-Go Ware 7. Sports Bra and Compression Leggings, Girlfriend Collective 8. Tip of the Iceberg Earrings, Cled 9. Three Blend Starter Kit, Grounds and Hounds
SUSU Accessories (which typing out, made Kristen immediately want to sing "Sussudio, btw) features a wide range of completely handmade, beautifully crafted bags and totes to choose from; even better, they employ indigenous Colombian women to knit the bags using their native single-string technique. The bags are vibrant, colorful, and gorgeous, and the heart that goes into making each one is clear from the moment you swing it over your shoulders. The colorway in this Celerity Bag is our favorite, but really, you can't go wrong (and if you scroll to the bottom of this post, you can enter for a chance to win a SUSU bag yourself!).
We're also loving the V Ring from Knockout. Knockout's not your typical jewelry company; they invented the concept of self-defense jewelry to give you rings "with an edge," in case you ever find yourself in a potentially dangerous situation. They donate five percent of all profits to the Mount Sinai Sexual Assault and Violence Intervention Program to support survivors (talk about a good cause), and we were so excited to host them at our pop-up holiday shop on November 23 when we heard more about this powerful company.
For jewelry that's a little less edgy but just as modern, these Tip of the Iceberg earrings are truly one-of-a-kind and are inspired by the impact of climate change on the Arctic and Antarctic ecosystems; a portion of all proceeds go to charity. This clutch from Kayu holds the essentials (#phonewalletkeys) and is made by artisans in the Philippines who are paid a living wage. For something your giftee will REALLY use every day, this mascara from Thrive Causemetics gives you that lash-extensions lift with none of the maintenance; Thrive also supports a ton of charities with portions of their proceeds.
More of a coffee-every-day person than a makeup-every-day? The dog lovers of Team aSweatLife (aka, all of us) flipped out when we discovered Grounds and Hounds, which supports rescue organizations and features coffee with adorable names like "Paper and Slippers" or "Morning Walk." Grab the Three Blend Starter Kit to find your favorite. We're also gifting co-workers and friends notorious for takeout orders with this set of bamboo To-Go Ware to cut down on our plastic consumption.
Girlfriend Collective has been on our radar for awhile now (we love their commitment to diversity and inclusivity on their website models), and we're using the holidays as an excuse to gift a friend their new go-to pair of leggings (we might even throw in a matching sports bra, if we're feeling generous). In terms of a good cause, GC is super transparent about the materials in their leggings, from how it's sourced to how it can be recycled, and that's becoming more and more important to us as consumers (especially after reading this piece on eco-friendly workout gear).
We predict we'll be lighting this holiday candle from Starling allll winter long—and each time we do, we'll know that we're helping provide solar energy to communities in need around the world.
Today's giveaway: One handmade bag from SUSU Accessories!
Today's giveaway prize includes:
From SUSU Accessories: One handmade "Waterfall" bag, valued at $320, from the "Deep Ocean" collection from SUSU Accessories. This versatile bucket bag can be used as a cross body or as a shoulder bag. Our Mochila is hand knitted half point crochet with hand-woven straps. 100% fair trade!
SUSU means what travels with you in the Wayúu language. This SUSU is the perfect accessory to complement any outfit or to make a fashion statement.
Dimensions
· Diameter: 22cm
· Height: 27cm
·        Max Strap drop: 57.5cm adjustable
This giveaway is now closed. Congrats to Megan!