Gift Guide #5: For Every Sign of the Zodiac
This post contains affiliate links. As always, we only recommend products, brands, and experiences we truly love ourselves!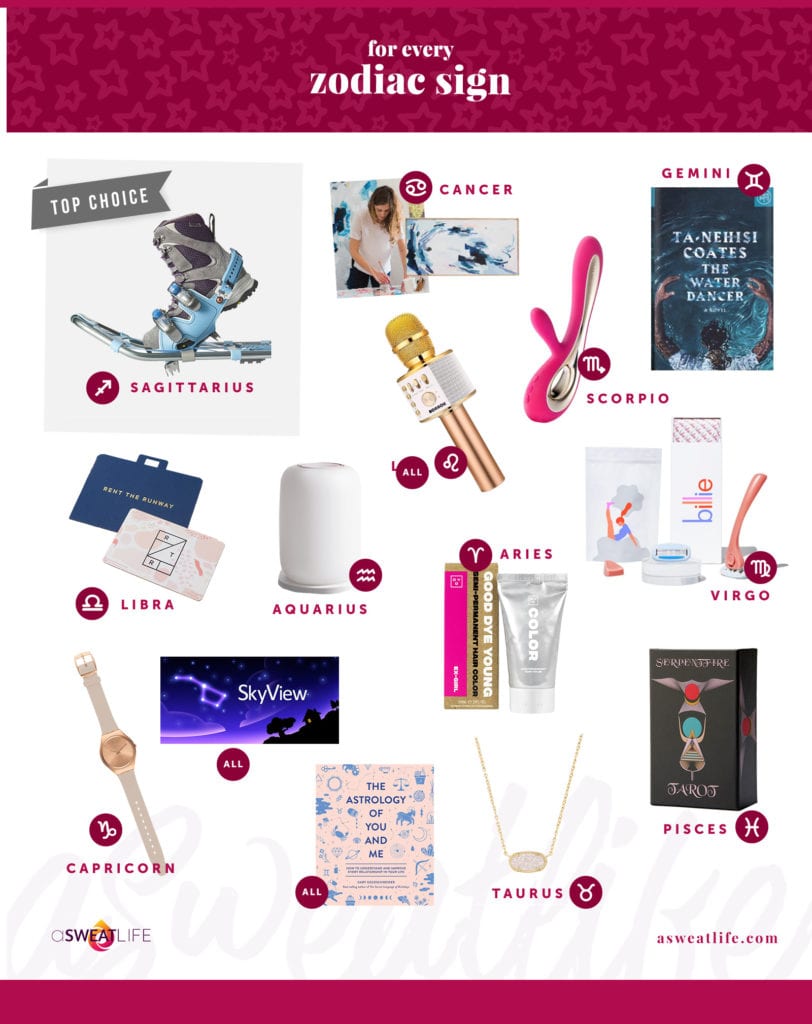 Sagittarius: Winter Walker Snowshoe Set, L.L. Bean · Cancer: Commissioned Art, Minted · Scorpio: Soraya, LELO · Gemini: Book of the Month Club subscription · Leo: Wireless Bluetooth Karaoke Microphone, Amazon · Libra: Gift Card, Rent the Runway · Aquarius: Glow Light, Casper · Aries: Good Dye Young Semi-Permanent Hair Color, Sephora · Virgo: Razor Subscription, Billie · Capricorn: Skinrosee Women's Watch, Swatch · All: Skyview app subscription · All: The Astrology of You and Me, Paper Source · Taurus: Elisa Gold Pendant Necklace, Kendra Scott · Pisces: Tarot Cards, goop
"But wait," I hear you saying, "I don't know everyone's Zodiac signs on my gift list." Totally get it. We're stocking up on a few copies of The Astrology of You and Me for those exact moments. Whatever sign your giftee is, they'll be able to use this book (which is really more of a manual) to improve their relationships with everyone in their life based on their respective Zodiac signs. It's also an ice-breaking coffee table book and super fun to flip through on your own before you (sigh) wrap it up and tie a bow around it. (Pro tip: buy the book at Paper Source or another stationary store so you can get said wrapping paper and bow at the same time.)
Ready for the rest? Let's break this down sign by sign.
For the Sagittarius: Winter Walker Snowshoe Set from L.L. Bean
The Sag is all about adventure, and cold weather won't dampen that indomitable spirit. This snowshoe set from the outdoors-people at L.L. Bean includes poles and a storage bag that can stand up to the elements. An afternoon of snowshoeing is the perfect winter adventure for someone who lives in the flatlands of the Midwest or just plain doesn't want to risk tearing an ACL (speaking for ourselves here). At aSweatLife, we're always thinking about ways to challenge ourselves to get outside more in the winter despite the cold, and we have a feeling this snowshoe gift will be making its way down our metaphorical chimneys next month.
For the Capricorn: Skinrosee Women's Watch from Swatch
Capricorns appreciate a solid investment piece that's luxury and high-quality. To us, that means a Swiss timepiece in a timeless (HA) color combination.
For the Aquarius: Glow Light from Casper
This water sign loves the latest, the newest, the most cutting-edge products, so we veered towards a high-tech gift that'll help them hack their sleep: the Casper Glow Light. It gently wakes you up by brightening on gradually, and at night, you can take it of its stand as a portable nightlight. Our favorite part—the light is soft, not harsh, so during those midnight bathroom trips, you'll never squint at the brightness.
For the Pisces: Tarot Cards from goop
Ah, Pisces—always dreaming, always living in her own fantasy world. Tarot cards encourage the Pisces to explore these alternate realities and apply them to IRL interactions. Consider it the perfect activity for your crew's next girls' night in. (Also, these are insanely gorgeous in design.)
For the Aries: Good Dye Young Semi-Permanent Hair Color from Sephora
Aries are the trend-loving teenagers of the Zodiac signs, so we love the idea of gifting them something completely impractical and totally fun that might be passé in just a few months. These temporary dyes are vibrant, fun, and claim that "the coloring experience is as self-caring as it is self-expressive." SOLD.
For the Taurus: Elisa Gold Pendant Necklace from Kendra Scott
From luscious throw blankets to dozens of candles lit nightly, Taurus loves a good luxury item. For the lady who's all about treating herself, a shiny, statement making necklace goes with anything but stands out when worn on its own. We're partial to the iridescent drusy color.
For the Gemini: Book of the Month Club subscription
Geminis are the sign of communication (and maybe, just maybe, might be prone to a little bit of gossip—but don't tell them we said that). Play into that with a subscription to Book of the Month club; they can choose from five best sellers each month to decide what's appealing to their dual personality.
For the Cancer: Commissioned Art from Minted
Chances are, your most nostalgic, slightly weepy friend is a Cancer. Show them you appreciate their sentimental sign by commissioning a custom art piece from Minted. Whether it's their childhood home, a beloved pet, or a scene from their time abroad in college, this gift is sure to hit them straight in the feels.
For the Leo: Wireless Bluetooth Karaoke Microphone from Amazon
A Leo never shies away from the spotlight, so it's only fitting that you gift them this microphone in their signature gold. Perfect for hosting karaoke night, this microphone connects to your phone over Bluetooth so you can belt out your favorite jams. Your only problem will be trying to wrest the mic away from the Leo in question.
For the Virgo: Razor Subscription from Billie
Virgos are notorious for being detail-oriented, practical list-makers. Take one thing off their to-do list by signing them up for a razor subscription from this aesthetically-pleasing brand. The colors are way chicer than your average drugstore razor, and Billie also sells creamy moisturizers and shaving lotions to round out the kit. Is it the most wild gift you'll ever give? No—and that's exactly why a Virgo will love it.
For the Libra: Gift Card from Rent the Runway
For the consummate hostess and entertainer, a Rent the Runway gift card (or subscription) goes a long way towards ensuring they're never seen in the same outfit twice. Libras love beauty and clothing, so let them lean into their luxurious side with this (practical) indulgence.
For the Scorpio: Soraya from LELO
Speaking of the most wild gift you'll ever give… hey, Scorpios are a passionate bunch! This NSFW gift is for the friend who's always down to dish about her hookups at brunch (just maybe make sure you're giving this to someone you know well, and not just any old friend on your gift list who might not fully appreciate this giving gesture).
For anyone who's Zodiac sign obsessed: Birthdate Candles and SkyView App subscription
If you're anything like me, you have to Google your own star chart about once a week when trying to remember if you're a Taurus rising or have a Gemini moon. These candles are so cool because of how personalized they are. Enter your friend's birthdate and you'll get a fully customized candle, complete with strengths, weaknesses, a personality description, a ruling number and ruling planet, and a CUSTOM SCENT for that particular birthdate. BRB, ordering for myself.
Or, if you're on a budget (or just plain forgot until the last minute), the SkyView app costs a grand $1.99 for the pro version, and it's super fun to take outside and use to find all the planets and constellations your hearts desire.
Today's giveaway: The Astrology of You and Me from Paper Source
Today's giveaway prize includes:
From Paper Source: Hardback copy of The Astrology of You and Me
This giveaway is now closed. Congrats to Sammie K!