Gift Guide #9: Last Minute Crowd Pleasers
This post contains affiliate links. As always, we only recommend products, brands, and experiences we truly love ourselves!
This gift guide is a test of how well you really know yourself. Did you start your holiday shopping in October, like Kristen? Or are you constantly dashing out to a holiday party, cursing yourself because you didn't remember to get a candle or whatever for a White Elephant and you just grabbed a re-gift from the back of your closet?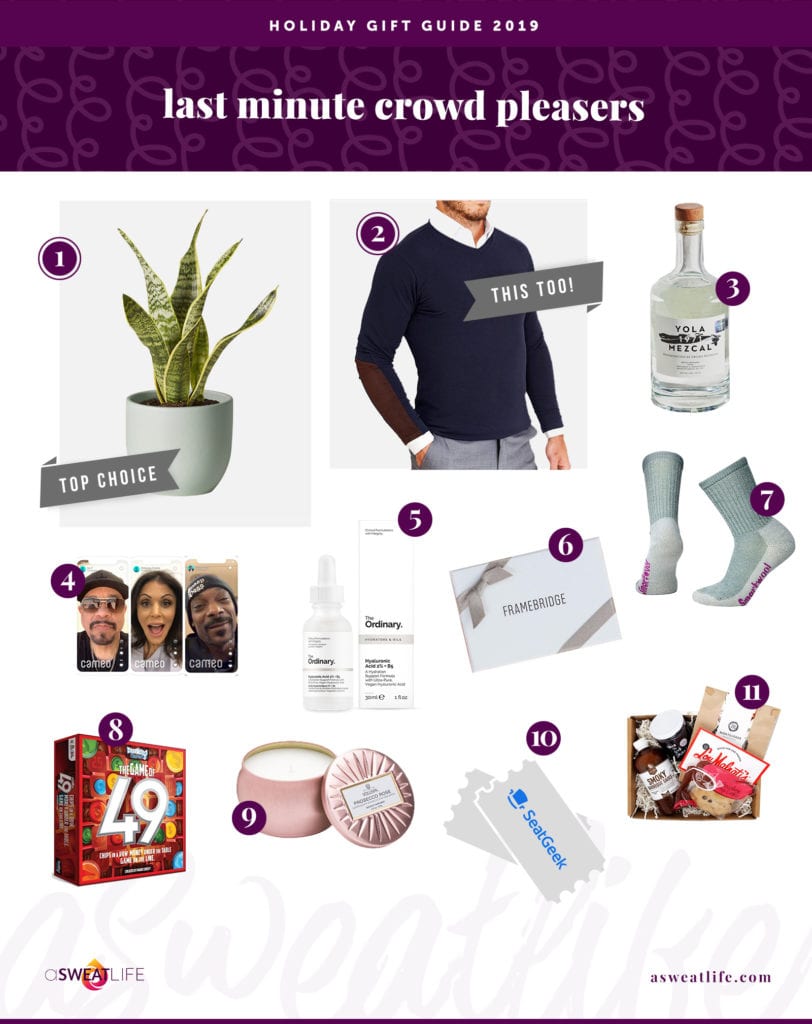 1. Plant subscription, The Sill 2. Navy v-neck sweater, State and Liberty 3. Mezcal, Yola 4. Cameo 5. Hyaluronic acid, The Ordinary 6. Framebridge gift card 7. Crew hiking socks, Smartwool 8. Game of 49, Amazon 9. Prosecco candle, Voluspa 10. SeatGeek gift card 11. Little Bit of Chicago gift box, Foxtrot
Plants might be the defining millennial trend of 2019, and we're HERE FOR IT. The Sill perfectly captures the trendy looks of our favorite plant ladies on Instagram with their modern palette of ceramics and the way they easily categorize their plant selections (like Plants for Beginners, Low Light Plants, or Pet-Friendly). They're really easy to order online, and when we received ours in the mail, we were blown away by the secure packaging—no specks of dirt escaped, nor did any leaves get smashed. Surprise a friend with a plant delivery, or if you know they're building their jungle, sign them up for a monthly subscription. The Sill gets two green thumbs way, way up. (Psst… scroll to the bottom of this post to enter for a chance to win a subscription from The Sill!)
Yes, yes, we know we just made fun of candles as last-minute gifts above, but honestly, we've also never been disappointed by receiving candles as gifts (this one from Voluspa is *luxurious*). In that same vein, you can never go wrong with tequila (a straight-from-Jeana sentiment); Yola Mezcal is bottled by women, so we'll toast to strong women and stronger drinks.
For Da Bears-lovin', winter-coat-wearin', "Summer makes it all worth it," diehard Chicagoan, give them their favorite parts of the city with this Little Bit of Chicago gift box from Foxtrot. We're also loving another brand with a storefront in Chicago, State and Liberty, for athletic-fit dress clothing any guy will fall in love with (we're digging this sweater in particular).
Everyone knows that winter = dry skin, so we're stocking up on a few bottles of The Ordinary's Hyaluronic Acid to hand out as stocking stuffers and party favors (you really can't beat that price). And socks are quintessential last minute gifts because they check all out last minute boxes: easy to procure? Check. Reasonably priced? Check. Something everyone uses? Check. Something everyone hates spending their own money on? CHECK. These Smartwool hiking socks are perfect for the Dumbledores on your list (plz comment if you get that reference).
This board game came highly recommended by aSweatLife OG Dani, who says it's "a super fun and complex game for all ages—plus, a local Chicago brand." Another fun thing we're gifting last minute? A Cameo from a beloved C-List celebrity. Kristen gifted her boyfriend a Cameo from T.J. Lavin of MTV's The Challenge for their anniversary, and it was such a hit she's now browsing the app daily trying to find another Bachelor has-been or former The Office cast member who will bring half as much joy. Cameos come from a variety of budgets, so you're sure to find someone in your price range.
Finally, if nothing on the Internet is really hitting that "perfect gift" spot in your heart, an IOU for concert tickets or a sports game make for a great experience to share. Or, if you've recently made a memory with this person and you commemorated it with a picture, why not get that pic framed with Framebridge? This also makes a great gift for parents or older relatives; one of our Ambassadors told us "I took my father's wedding photos, and then gave them a giftcard to get a large print of their favorite photo. The gift receiver uploads any photo they want online, and then they get to pick how they want it framed – and then Framebridge does the work of framing and sending it to the person."
Today's giveaway: A Three-Month Subscription to The Sill!
Today's giveaway prize includes:
From The Sill: One three-month subscription, valued at $105
This giveaway is now closed—congrats to Taylor A!