These are the Best Pumpkin-Flavored Finds at Trader Joe's, According to a Dietitian and Pumpkin Expert
If ANYONE knows what a good pumpkin flavored snack, dessert, or meal is, it's Maggie Michalczyk, a dietitian in Chicago, the blogger at Once Upon a Pumpkin (hello pumpkin recipes galore), and author of the Once Upon a Pumpkin Cookbook, which has 50 creative and delicious pumpkin recipes so you can literally nosh on pumpkin every meal of every day all season long. (And after fall too!)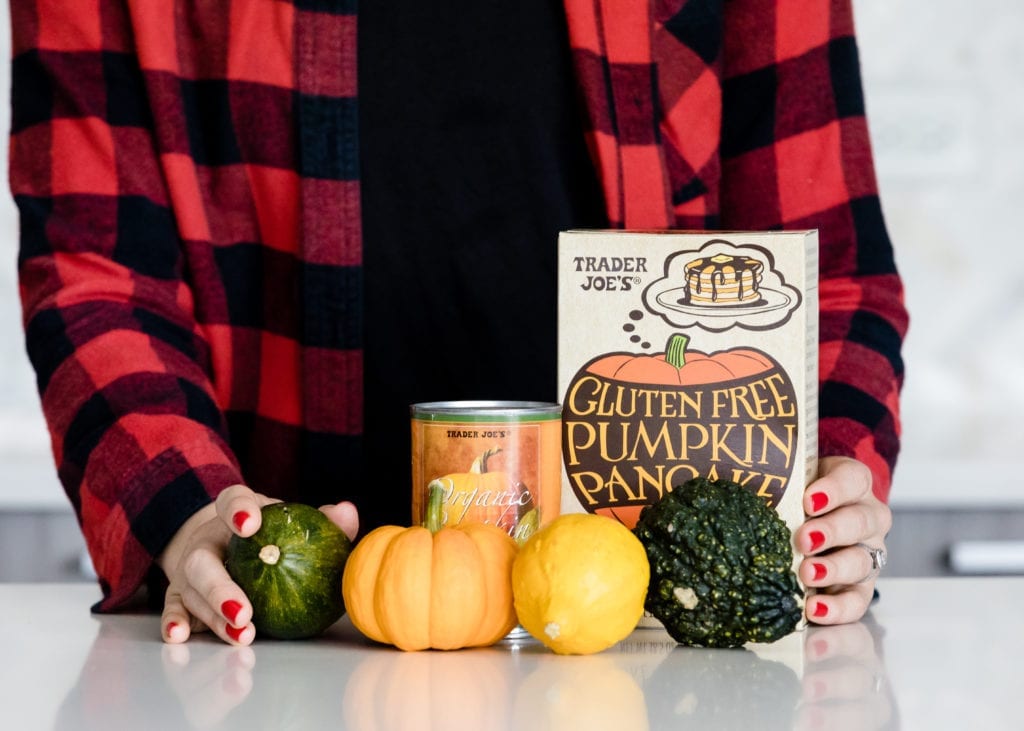 So, naturally when I knew I was writing a roundup up the best pumpkin-themed products from Trader Joe's, I hit her up. And she did not disappoint! If you love pumpkin—PSL, Pumpkin Cold Brew, and pumpkin itself for soups, salads, desserts, shakes, and more—here are the best options you can get during your next TJ's trip. There's some great variety in here, too—even pumpkin skin-care is included! And here we go:
Hello PSL at home! (Sans the sugar load.)
"This pumpkin pie spice is perfect for sprinkling on literally anything and everything for the season, and TJ's makes one of the best pumpkin pie spices on the market," Michalczyk says. It's made up of signature spices, like cinnamon, ginger, citrus, nutmeg, cloves, and a touch of cardamom. Sprinkle over salads, squash, cereal, cookies, oatmeal, and more.
Yeah, you might love plain cream cheese—or if you're like I am, you order an everything bagel with low-fat scallion cream cheese and lox—but this pumpkin pie cream cheese gives that bagel a sweeter flavor for your morning meal.
"Spread on bagels, English muffins, toast and more all season long! This pumpkin cream cheese truly embodies the taste of fall," Michalczyk describes. And what's more, you can also spread it on a pumpkin flavored bagel, like Dave's Killer Bread's new pumpkin bagel for the season.
"An OG Trader Joe's pumpkin product, pumpkin butter can be used on just about anything (think pancakes, waffles, toast, muffins, etc.)! You don't need a lot to get a little pumpkin sweetness," Michalczyk says. So, don't go too crazy (hello sugar), and use it this holiday season for topping cheese on your charcuterie and cheese board.
"I love adding a little swirl on top of my peanut butter toast and it's made with REAL pumpkin," she adds. Yum. 
As the air gets crispier and drier, skin becomes less hydrated, and you need to change your skin-care and self-care products to keep skin moist and taut. You might be surprised to know that pumpkin can be used on your skin, too.
"New this year the pumpkin spice face mask from TJ's will leave you with an autumn dewy glow and extra soft skin. I'm so impressed and recommend buying multiple because you will love it," Michalczyk says.  
Okay, so the cauliflower gnocchi made quite the statement, but this pumpkin ravioli is JUST as good.
"Make a cozy dinner on a fall night with pumpkin ravioli from TJs. It's ready in under five minutes and tastes delicious with an olive oil, parmesan cheese, and toasted pumpkin seeds on top," Michalczyk says. 
Okay, ice cream on a cone just reminds me of childhood, and it's so fun to hold it, utensil free, and let it make a mess all over your mouth. (Or face in my case.)
"I love that these are mini, and it's the perfect portion size when you're in the mood for a pumpkin treat but don't need a lot," Michalczyk says. The ginger gives them a little extra spice, too, and some good anti-inflammatory and digestive benefits. 
Since some fall nights can be COLD, this rich, creamy soup will really stick to your bones and warm you up fast.
"Smooth, creamy and hearty pumpkin bisque makes for a delicious autumn meal. Pair it with a side salad or a source of protein for a filling and nutritious meal," Michalczyk advises. 
Let this moisten your skin this season and give it a yummy scent that'll smell so good you'll almost want to lick it off. But actually don't.
"Super thick and will leave your skin feeling super smooth with the scent of pumpkin, this body butter is perfect to hydrate skin for cold weather dryness. TJ's sure knows what they're doing when it comes to skin care," she says.
A pumpkin pancake and waffle mix is perfect for fall mornings when you want something decadent tasting but also healthy!
"Both Trader Joe's mixes are delicious and make for the perfect weekend fall brunch meal," Michalczyk says. And a tip? "Add more pumpkin puree to the batter for super fluffy pancakes," she adds. Plus, you'll get even more antioxidants and fiber!