11/6: Ditch your desk for co-working with aSweatLife at Exchange312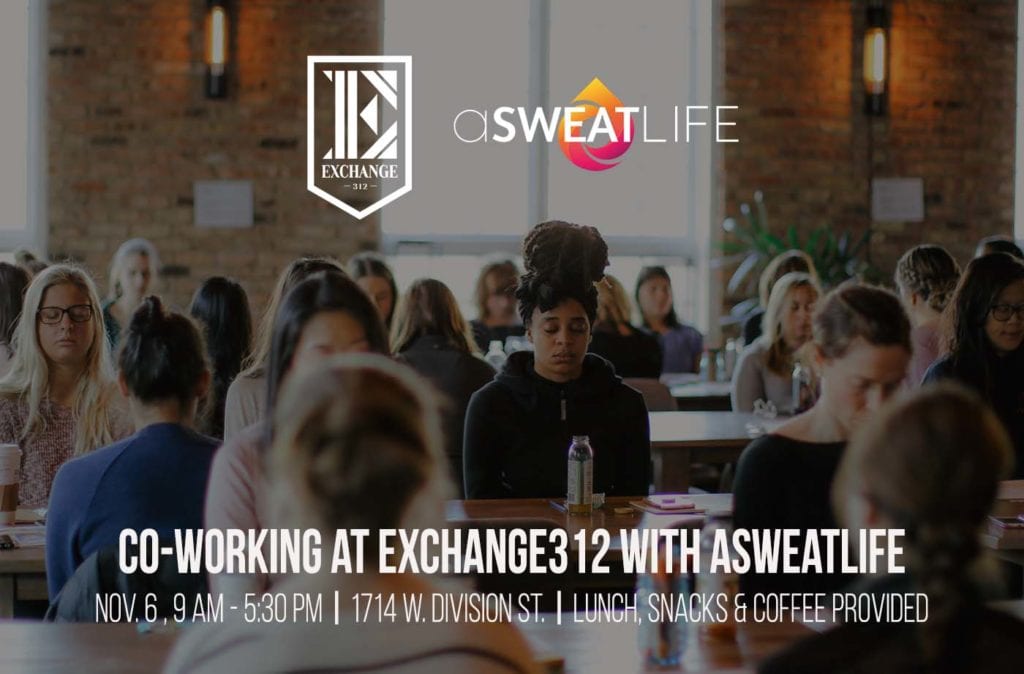 [
Save your spot for co-working at Exchange312 any time during the day from 9-5:30 pm, Wednesday November 6 with a mindful lunch break!
]
The aSweatLife team works from home on Wednesdays and it's a tradition that we've heard more and more busy professionals share. When we mentioned that to our friends at Exchange312, they were excited to invite us in to WFExchange312, instead of WFH.
Because we believe #EverythingIsBetterWithFriends, we're inviting YOU to grab your headphones and set up shop at one of our favorite zones of productivity in the city, Exchange312.
You can come and go as you please all day starting at 9 am, but plan to take a little, mindful break during the lunch hour when we'll invite you to close your laptops and your eyes to just breathe. And that mindful lunch break will be led by the owner/founder of tiny space to breathe, Alma Omeralovic!
(Get your ticket to the day of co-working here! It comes with lunch, a workshop, and lots of new friends.)
More about Exchange312
By day and by night, Exchange312 is a versatile event space and venue with an in-house production team that can put together an experience for whatever your needs may be, and can accommodate up to 150 people.
When the space isn't booked for a day-long event, it also provides the perfect backdrop to a productive morning or afternoon. Situated right by the Division and Ashland Blue Line stop, it's easy to get to. And once you're inside, you'll find a welcoming and calm atmosphere tucked away from the hustle and bustle of Division Street. We'll have snacks and beverages for you to enjoy throughout your day of co-working in this gorgeous space.
Give me all the details about co-working with aSweatLife 11/6:
What? Co-working with aSweatLife as part of our Wellness Wednesday series we created in partnership with Exchange312
When? Co-working will run from 9 am-5:30 pm November 6. Lunch will be from 12-1 pm with a mindfulness break during the lunch hour
Where? Exchange312, 1714 W. Division St
What should I expect? A day to work from a new home-away-from-home, at Exchange312 alongside Team aSweatLife! There will be light snacks and beverages provided throughout day, and a mindful lunch break mid-day.
What do I need to bring? Bring your ID for check-in (you'll only need to show it once and we'll give you a wristband)
Where do I grab my ticket? Here!