10/19: The #Sweatworking Fall Adventure Presented by CLIF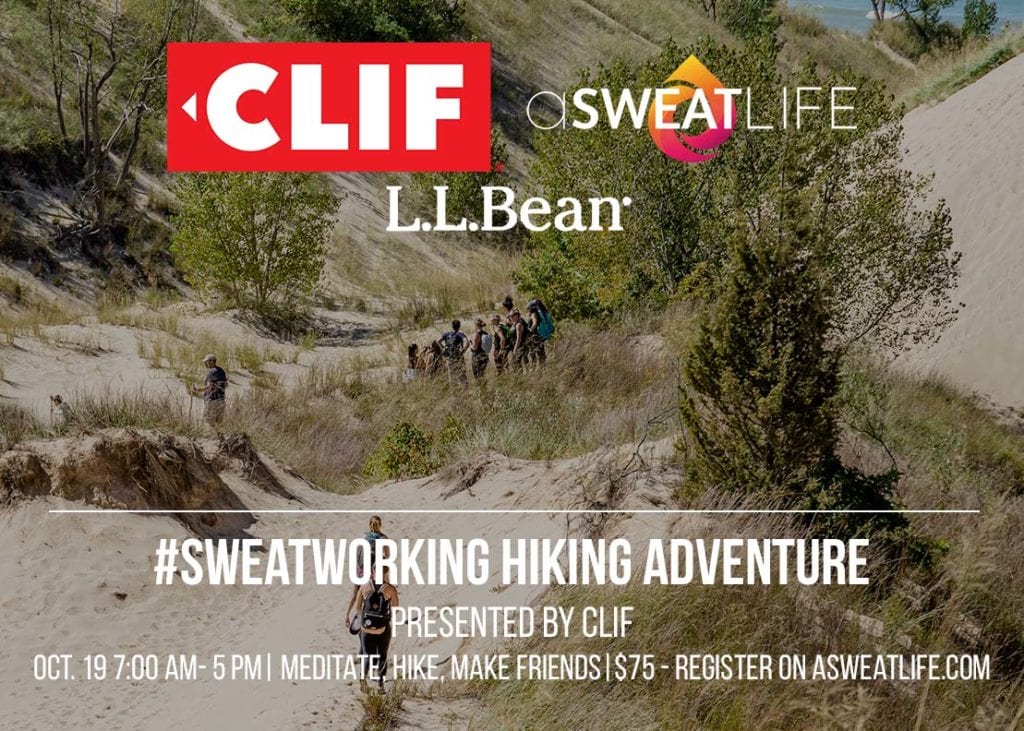 [Take me straight to tickets for this #Sweatworking Fall Adventure Presented by CLIF!]
Every fall, we start day dreaming about the crunch of leaves under our hiking boots, the crisp smell of fresh pine wafting through the air, and the soft feel of flannel against our skin. After a hot girl summer, hiking girl fall is exactly what our bodies and minds crave as a way to reset and center ourselves with nature as our backdrop.
That's why, on October 19, we're taking our #Sweatworking Fall Adventure with CLIF to Indiana Dunes National Park, where we'll wander, roam, and hike through the great outdoors, all while making new friends and being outdoorsy AF.
We'll leave Chicago bright and early to carpe diem, meeting at Ethos Training Systems at 7 am before taking a bus out to the dunes. Once we arrive, we'll kick off with some meditative breath work to disconnect from our busy city brains a bit. Then, we'll hike for a few hours, stop for a picturesque picnic lunch that we'll provide, and head back to the city to make it home by 5 pm. Throughout the day, we'll be fueled by CLIF Bar and their deliciously filling Whole Lotta Bars to feed our sense of adventure. Trust us, we've got the snack part of the day covered.
And to gear you up even further for the rest of your fall adventures, we're bringing in our friends from L.L. Bean to share how their gear can help you BeAn Adventurer. They're bringing an insane prize package with them as a giveaway for a social media challenge, so make sure to pack your portable phone charger, y'all.
Ready to adventure? Here's all the details in one place!
Details of the #Sweatworking Fall Adventure!
What: A full day of hiking, snacking, outdoors-ing, and making friends with CLIF Bar
When: Saturday, October 19th, at 7am—there will be breakfast for you on arrival at 7 am, and the bus will depart promptly at 7:30 am so please be on time!
Where: Meet us at Ethos Training Systems, 314 W. Institute Place. From there, we'll take a bus to and from the Indiana Dunes National Park, and we'll drop you off back at Ethos at the end of the day!
Food: Yes! We'll have you covered for all meals, including breakfast, lunch, fruit, and CLIF bars.
Tickets: Space is limited, so grab your ticket here today!