Jill Dailey, Founder of The Dailey Method, On Leading with Vulnerability, Working with Women, and the Future of Boutique Fitness
It's not often you get to meet with one of the OG stars of boutique group fitness, let alone the owner of the first barre studio to grace the West Coast. But that's exactly what happened during last month's MINDBODY BOLD Conference, when I got to sit down with Jill Dailey, founder and CEO of The Dailey Method.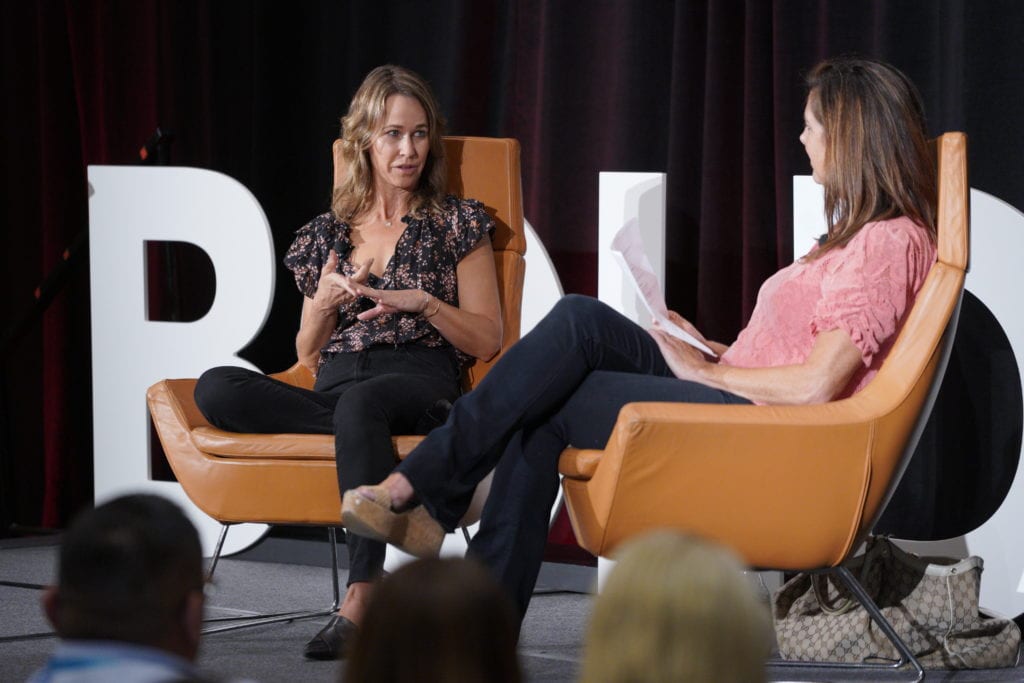 Dailey danced growing up and originally attended UCLA as a dance major before transferring to The University of Colorado Boulder for Kinesiology. She began to train as a Pilates teacher and eventually flew to New York, where she was an early trainee in the Lotte Berk method. During that time, Dailey worked privately with many clients for one-on-ones, and the energy required for that started to take its toll on her; she began to consider a shift towards group fitness.
"I'd never taught group fitness, and I'd been teaching one-on-ones for eight years. I told my husband at the time, 'I think I want to stop doing this and open up a barre studio.' He was super supportive, which was awesome, and so we opened up the first barre studio on the West Coast."
That was in the summer of 2000, and Dailey opened her studio in the Marina District in San Francisco to immediate success and popularity through word of mouth. It was so popular, in fact, people were driving 45 minutes to come take class; Dailey began to consider opening more locations.
"There wasn't really any boutique fitness [at this time]; there was very, very little of this type of studio. It was pretty unique," she remembers.
Female-founded, female-led
After Dailey bought her male partner out two years ago, her colleagues became overwhelmingly female.
"I just think the vulnerability and authenticity you can get from women—that's how I try to lead and how I try to show up. I really feel like the team that I have shows that," says Dailey. "It's really what keeps the fire going, is that we're able to be really open with one another. I definitely prefer that it's a team of women."
The Dailey Method clientele is by and large female, and Dailey focuses on reaching women at all stages of their life: young adult women, new moms, and active agers are all regulars at The Dailey Method. In fact, with their Dailey Baby and Dailey Gentle classes, Dailey points out that there's a spot for you at The Dailey Method whether you're two months old or 90 years old.
And when looking towards the future, Dailey prioritizes helping women over bottom-line numbers or expansion quotas to hit.
"My goal is to continue to empower women, to continue to build up women in their lives, whether that's through helping people have their own studio, or being part of a studio that women come into that I get to teach, or the online platform where women can do it on their own," she says. "Just empowering women to feel stronger, to be more confident, to feel better in their bodies, that's really my primary goal, and it has been for a really long time."
How Dailey views the group fitness boom today
The big difference from when Dailey first opened her doors 19 years ago? There are a lot more group fitness classes to choose from in 2019 than there were in 2000.
"When I opened up, there were hardly any other boutique studios…today, the saturation and the competition is massive," Dailey explains. "[Back then,] all you had to do was deliver a really, really good class, and you could do well. That's not how it is anymore. You have to have social media, you have to have marketing, you have to have great business sense … it's more challenging."
Still, even with other brands building barre studios on every block, Dailey believes there's enough room for everyone to succeed in the boutique fitness industry.
"Even with the saturation, I try never to use the word competition, because I don't see any other studio as being a competitor—we're in this together," Dailey tells me. "But it does make you work harder. I think [the competition] has really raised the caliber of the offerings that are out there, which is a good thing. And I do believe that there's room, because so many more people are making this a part of your life."
"To me it's all about product," she continues. "If you are delivering your best product, if you are involved in the product, if you are passionate about your product, that's what's going to show through. That's been our strongest focus for 19 years—how do we make this the best possible for you, for your body, for your longevity, for your health?"
How Dailey sees community and on-demand meeting in the middle
When asked about future trends in group fitness, Dailey is quick to acknowledge the moment that on-demand video is having.
"I know that video on-demand is the way of the future, but I also don't think fitness studios are ever going to become irrelevant because of that need for community," Dailey says confidently. "When you're going some place that's making you healthier, that's really where you can get community, because you feel like you're with these like-minded people that are in a space that's building you up."
Dailey prioritizes creating a strong community through small, meaningful connections, like ensuring a staff member smiles at every single member as they walk through the door.
"Know them by name, use their name in class, make them feel like they are part of this," Dailey emphasizes.
Dailey also thinks there's more room for recovery and gentle movement in today's fitness industry; gym-goers might be burnt out on going all out, all the time, and realizing that prioritizing mobility and recovery are key to longevity in the studio and an injury-free life.
"My trend is making it accessible to everyone," Dailey says. "I feel like there's a trend right now where people want to work out harder, and I think there's definitely a place for that, like in our Cycle classes. But for me, adding in more meditation, the Dailey Release classes we have, gives a balance in which you're taking clients to the full spectrum—that's where you can really affect their well-being."
Want more The Dailey Method in your life? Join their Align + Shine challenge and take as many classes as you can from September 9 to September 29. In conjunction with the challenge, you can get 50 percent off your first month a Dailey Online subscription, and you can also opt to purchase a wellness guide with four weekly workout plans and 21 days of meal plans (with vegan and paleo options) that include recipes and grocery lists. And best of all, everyone who registers at the link above is entered to win 3 weekly giveaways or a one hour 1:1 coaching session with Jill herself! Click here for details.
Let us know!
Did this post help you get closer to achieving one of your goals?