What You Can Expect from the #SweatworkingWeek Closing Pep Rally
Our brains are all *exploding head emoji* as we get closer and closer to the start of #SweatworkingWeek June 9-14. There's a LOT going on, from hikes to Rollerblading to water aerobics and more.
Because the week is all about fun and building team spirit with friends old and new, we're closing out the week in a brand new, extremely elevated, packed-with-fun way. We're finishing #SweatworkingWeek with our first-ever Closing Pep Rally, partnering with Michelob ULTRA and the Chicago Athletic Association Hotel to help you kick off summer and put a bow on the best #SweatworkingWeek ever.
Here's what you can expect from our Closing Pep Rally at the Chicago Athletic Association on June 14.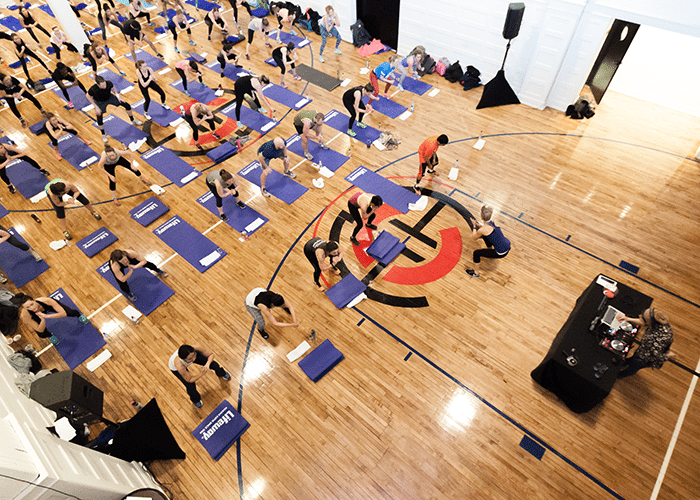 A workout with professional athletes (and free tickets to their game)
This is a first for #SweatworkingWeek: we're bringing in the professional players of the Chicago Red Stars women's soccer team to teach us a little fancy footwork. If you came to our recent basketball workout with David Carson at the Chicago Athletic Association, this workout will be same-same, but different. We'll do beginner-friendly drills, learning the basics of dribbling, passing, and shooting. Except some friendly competition (emphasis on the friendly) and a lot of high-fives as you relive your youth soccer glory days.
And as a bonus, signing up for this workout will also get you two complimentary tickets to the Chicago Red Stars' game on July 21. Why is this game so important? It's the one where all of their star players (like Julie Ertz) will be back after their World Cup journey. Join the rest of the fans as you welcome them home from a (fingers crossed) World Cup win.
Get your ticket to the soccer workout and reserve your two FREE game tickets here.
Two studios that have never been to Chicago before: Y7 Yoga and 305 Fitness
You've seen Y7 yoga all over the 'gram as your friends in New York and Los Angeles post that uber-photogenic "all the way up" stairwell or the "A Tribe Called Sweat" mural. Your chance at a grammable moment comes on Friday, June 14. We're flying them in from New York to teach the first-ever Chicago Y7 yoga class with their signature soundtrack and powerful flows. And hint hint, this just might be a preview of something to come…
Looking to heat up your Friday night? 305 Fitness is bringing the high energy straight from Miami to help you make sweat sexy. This dance-party workout comes complete with a live DJ, clubbin' vibes, and mood lighting to help you release your inhibitions. Intimidated at the thought of dancing in front other (gasp!) other people? Banish those worries from your brain—305 Fitness is all about inclusivity, body positivity, and most importantly, FUN.
Get your Friday night dance party on here.
One entirely new take on our classic #SweatworkingCrawl
You've been to them, you've sweated through them, and maybe you thought you'd seen it all when it comes to our signature #SweatworkingCrawl workouts (where we take on a 30-minute workout at three different studios). But then, you'd be wrong.
For this Friday night pep rally, we're bringing FOUR of our favorite studios to Maggie Daley Park for something we've never done before: an all-outdoor studio crawl. You'll work your way through four of Chicago's most-loved studios: Bare Feet Power Yoga, SHRED415 (the founders of which we just had on our podcast, by the way!), The Barre Code, and SALT. Their talented instructors will serve up cardio, upper body, lower body, and a calming yoga flow.
Ready to crawl it out? Get your ticket here!
A Beyoncé-approved musical guest to kick off the Pep Rally party
We don't want to give too much away, but if you sign up for one of the outdoor workouts (aka the soccer workout or the mini studio crawl), you just might get escorted down Michigan Avenue with the live musical stylings of a Beyoncé-inspired band. And if you're doing Y7 or 305 Fitness, don't worry, they'll make quite an entrance into the Chicago Athletic Association Hotel basketball court where you'll be working out.
A potluck-style feast with your favorite cookout foods
We wouldn't let you go hungry after all that work, now would we? We're finishing the night with a potluck-style cookout, and the best part? You're responsible for NONE of the dishes, since we're bringing in some of the best food in the city. Enjoy hot-off-the-grill Beyond Meat burgers, smoothie samples from Graze, and more treats from Lifeway and Safe + Fair.
What else will we have at the Pep Rally at Chicago Athletic Association?
Beverages from Michelob ULTRA, food and drinks from our partners throughout the week, mini treatments from Delos, localized cryotherapy from RevitaLab, and much, much more. Celebrate all the fun you've had all week and officially kick off summer with us—we'll see you there!