Meet Us at CycleBar River North to Open This Gorgeous New Indoor Cycling Studio 6/25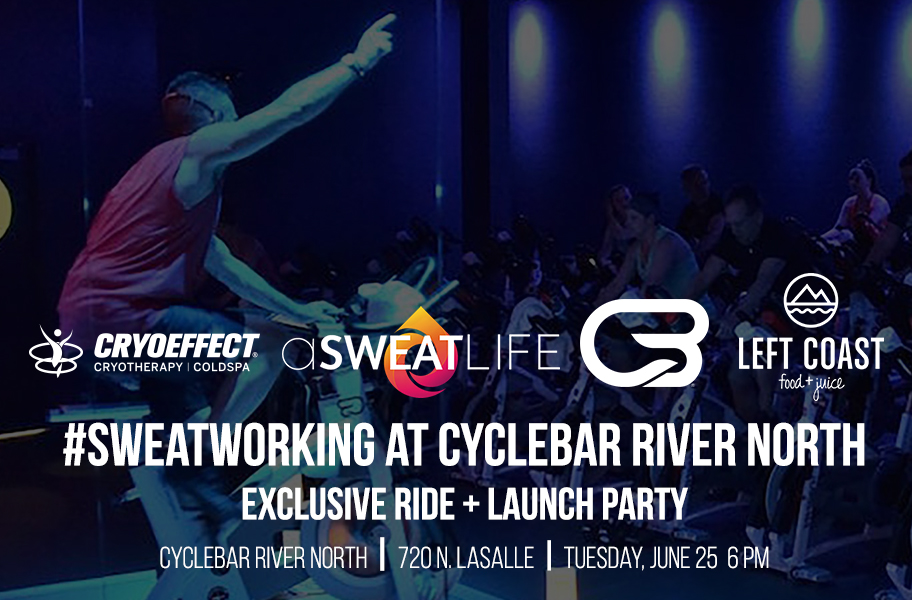 (Get your ticket for our CycleBar River North ride and launch party!)
Spinning studios are some of the OG group fitness classes (after Jazzercise, of course), but somehow, new studio owners keep finding ways to innovate on the concept. Some studios are numbers-focused and own the idea of healthy competition; others light candles and speak in mantras, leaving you feeling empowered and confident in your choices.
CycleBar River North will combine the best of those studios and add in their own unique emphasis on music, instructor-driven class experiences, and more. We couldn't be more psyched, and we'll be taking over the studio on Tuesday, June 25, to rock our rides as a team.
Here's what's happening at CycleBar River North on June 25:
Meet us for an exclusive aSweatLife ride at 6 pm on Tuesday, June 25 as the brand-new CycleBar River North opens its doors at 720 N. LaSalle, right at LaSalle and Huron. We'll christen the new bikes and rock our rides as a sweaty team, encouraging each other to pedal faster, turn up that resistance knob, and crush the arms section in this 45-minute class. This Classic ride will showcase the studio's signature style and get you excited for all this new spin studio has to offer.
And it wouldn't be a party without more friends, so we're bringing in some of our favorite brands to keep the celebration going. After your ride, you'll enjoy food and drink from Left Coast. You'll also get to enjoy recovery services from CryoEffect, who will be rolling their equipment over from next door for CryoFacials and localized cryo.
Hit me with the details!
What: An exclusive aSweatLife ride to celebrate the launch of CycleBar River North
Where: CycleBar River North, 720 N LaSalle (at the corner of LaSalle and Huron)
When: 6 pm
What should I bring? Just yourself and your favorite workout clothes!
Where do I get tickets? Right here!