Meet Us at evolveHer on 4/18 for a Breakfast-and-Learn on Gut Health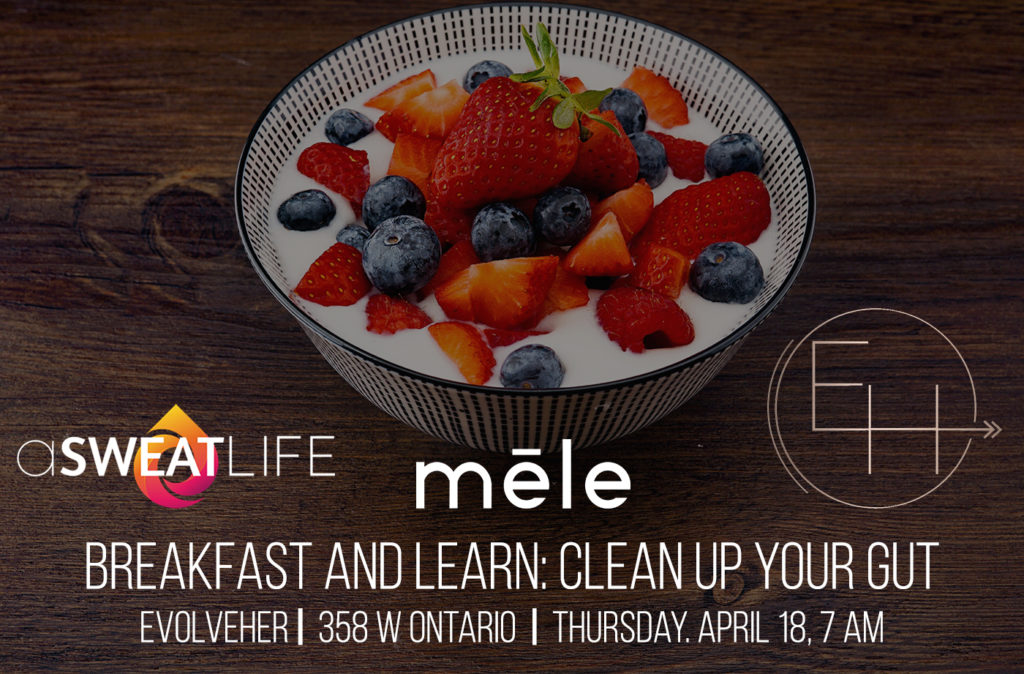 (Get your ticket to this breakfast-and-learn right here!)
When you think about spring cleaning, you probably think about your counters, your closets, your cabinets, and maybe, if you're really outside of the box, your digital devices. But for this month's breakfast-and-learn, we're giving a MAJOR twist to spring cleaning by partnering with mēle and wellness chef Alia Dalal and Registered Dietitian Nutritionist Olivia Wagner to talk about cleaning up your gut health.
From kombucha to probiotics, gut health is a major part of wellness these days, but it's also one of the most confusing areas to try and decipher. Should I be taking a probiotic? Why does my tummy sometimes feel like I just ingested an entire catering tray of burritos, but all I had was a salad? How does my gut health affect my entire body? Is this one instance where having bacteria is a good thing?
What to expect from this Breakfast-and-Learn
On 4/18, we'll head to evolveHer in River North to get the answers to these burning questions. We'll bring in Chef Alia Dalal and Registered Dietitian Nutritionist Olivia Wagner to give us the lowdown on all things gut health. During this morning workshop, you'll learn the basics of gut health and digestion from a holistic health perspective (including traditional Chinese medicine and Ayurveda), and we'll focus on giving you actionable steps and foods to add into your everyday nutrition for the healthiest gut ever.
Alia Dalal is a trained chef and TV host who helps people live better by eating sustainable, whole foods.  Considered a leader in healthy cooking in her hometown of Chicago, she shows that eating well can be fun and accessible to people of all ages and cultural backgrounds.  You can find Alia as a guest host of Chicago's Best on WGN, a Midwest Emmy-award winning food show about local dining treasures.  She graduated from the renowned chef's training and nutrition program at the Natural Gourmet Institute for Health and Culinary Arts.  Dedicated to spreading her love of the kitchen and good food, you can currently find her designing and teaching all of the culinary programming at the World of Whirlpool Experience Center in downtown Chicago.
Olivia Wagner is a functionally-trained and integrative Registered Dietitian Nutritionist, Certified Health Coach, ACSM certified Personal Trainer, and Certified LEAP Therapist.  She is the owner of Liv Nourished Nutrition, a virtual and in person Functional Nutrition Private Practice based in Chicago.  She is board certified in functional nutrition therapies through the Integrative and Functional Nutrition Academy and she is currently training in Mindfulness Based Eating Awareness Technique MB-EAT. Olivia is passionate about a whole food approach to nutrition and has a knack for developing easy- to prepare, innovative, and wholesome recipes to support  health, functional healing, and fun with food.
And to start our day off on the best note possible, we'll have coffee and light bites from Foxtrot and mēle on hand.
About mēle
mēle is a balanced meal in a shake made of real freeze-dried fruits, veggies, nuts, and protein. The company's proprietary formulas provide the optimal balance of complex carbs, healthy fats, fiber, and omegas, which collectively boost productivity, promote gut health, and decrease hunger. It's non-GMO, soy-free, and preservative-free—plus no added sugar. They'll be bringing their three flavors—Supergreen, Rawberry, and Cocoa-nut—for you to try out. Their shakes are easy to make by mixing a mēle packet with 8 ounces of water in a shaker bottle. Mix, shake, and go!
Get the details for this Breakfast-and-Learn!
When? Thursday, April 18 from 7-8 am
Where? evolveHer, 358 W. Ontario St. #3W Chicago, IL 60654 in River North
What do I need to bring? Just yourself, unless you'd like to also bring paper and a pen to take notes with! We won't be getting sweaty at this event.
How do I snag a ticket? Right here, thanks for asking!