Nov. 18: Celebrate The Opening of REVITALAB Chicago and RUNAWAY Chicago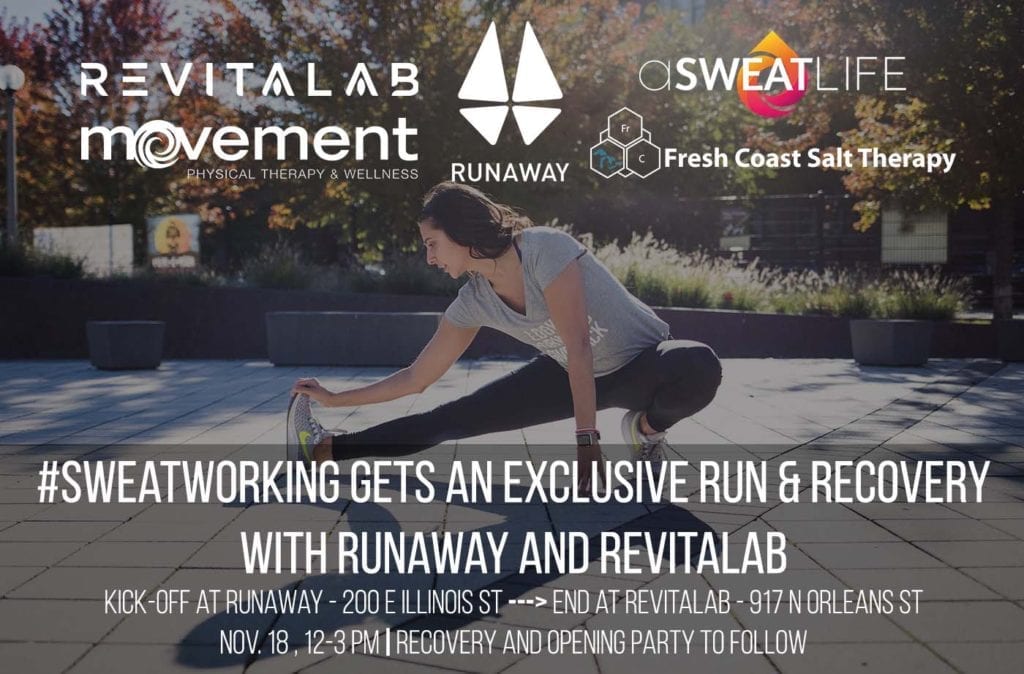 (Register for the workout here)
Two of our Chicago fitness friends are in the process of celebrating opening their doors: REVITALAB and RUNAWAY. Why are we pairing these two friends up? Two reasons. 1. Because #EverythingIsBetterWithFriends and 2. because they're two sides of the same coin.
RUNAWAY will get us moving as they preview what you'll see in their studio walls where they'll build stronger runners with a unique mix of left-brain and right-brain. You'll see creativity in their music and in your training, but you'll also see the science of becoming a better runner come to life.
REVITALAB is a home for recovery that includes in its walls a few incredible ways to sweat, chill and relax. You'll find its signature cryotherapy chamber and localized cryotherapy; NormaTec recovery technology; and infrared sauna. You'll also sneak a peak at Fresh Coast Salt – an experience that feels like spending a weekend at the beach; and you'll get an overview of the offerings from the in-house physical therapist Movement Physical Therapy.
Here's what you can expect from the workout:
We'll start Sunday, November 18 with a workout that RUNAWAY will lead to showcase the classes you'll find when the studio opens its doors in Streeterville. We'll do the workout the RUNAWAY team is terming an HERE + THERE. You'll get in a fun run that will not only showcase picturesque places to run in Chicago, but also RUNAWAY's proprietary training method, AMP (Adaptive Musculoskeletal Periodization), created to help you reach running goals while still being able to mix and match your classes.
What you can expect from the after:
Our friends at REVITALAB will showcase a taste of the recovery they have in their walls including Cryotherapy, Fresh Coast Salt therapy, NormaTec boots, Infrared sauna and more. You'll have access to mini treatments, snacks from friends of aSweatLife and more.
You won't want to miss this after party – we'll toast to a great workout, REVITALAB's opening, and – obviously – friendship.
Can't make it to the run? You CAN join us at REVITALAB Launch party.  
You can come to the after party if you're in the mood for just a Sunday fun-day and in NEED of some recovery. We'd love for you to pop in, have a snack, recover and meet some friends. Let us know you're coming here.
Let us know!
Did this post help you get closer to achieving one of your goals?