Dec. 17: This Festive Breakfast-and-Learn Brings Joy to YOUR World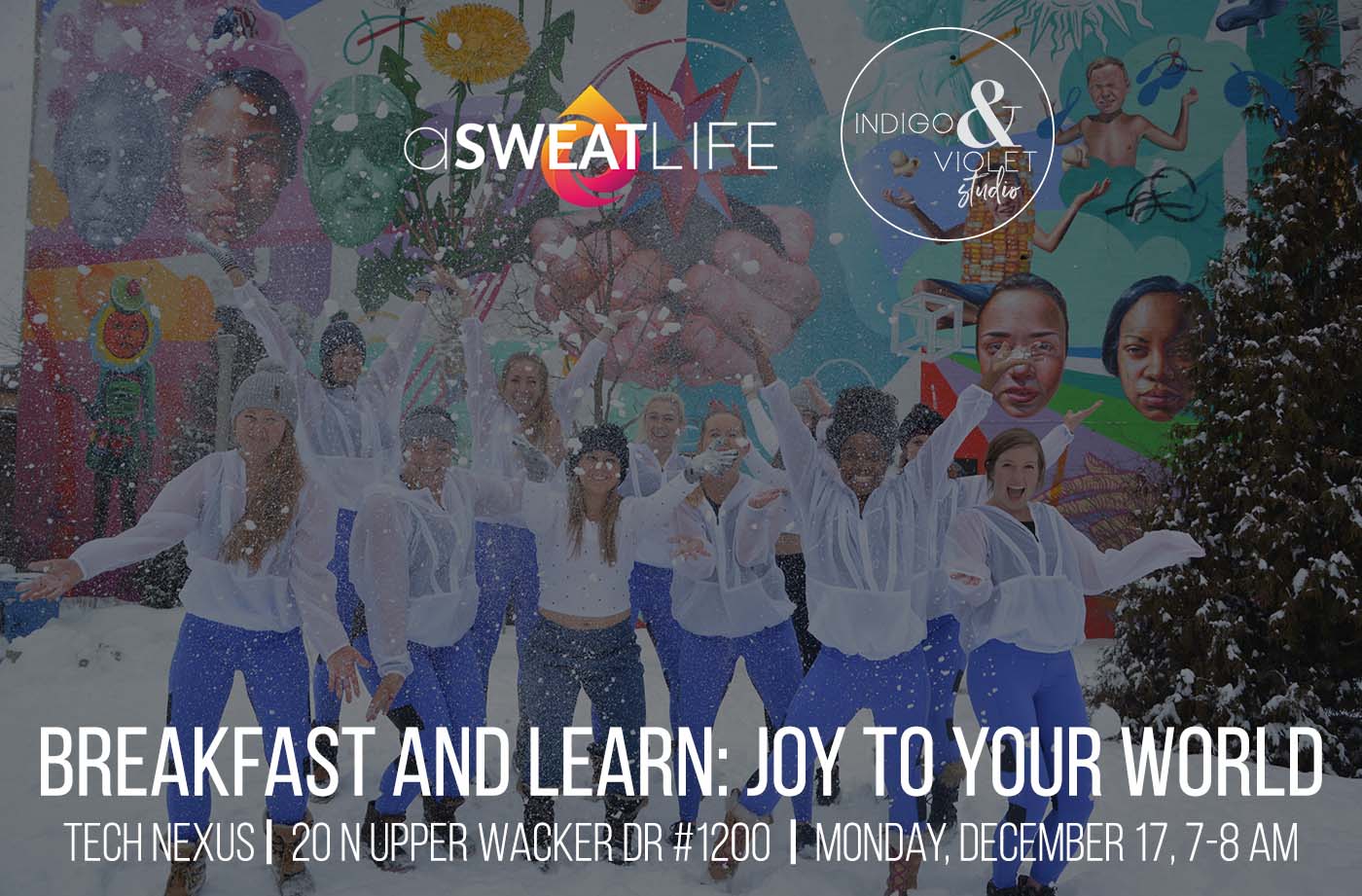 (Grab your ticket to the breakfast-and-learn now.)
The last two months of the year tend to feel like they last forever and fly by in a whirlwind all at the same time. From back-to-back holiday parties, to shopping for loved ones, to physically traveling from place to place for every holiday obligation, it can feel impossible to take a breath for yourself amidst it all.
We're hosting our breakfast-and-learn at Tech Nexus, a collaborative co-working space in the historical Civic Opera Building. And for December's breakfast-and-learn, we couldn't think of a better theme than to merge two very prominent topics during this very busy season: spreading love to those we care about and developing skills to practice self-love at the same time.
What to expect from the "learning" portion of the breakfast-and-learn:
We don't often talk about how self-love comes into play during the holiday season. While it's the season for giving, your ability to give selflessly can only extend as far as you're able to give to yourself. And by "giving" we don't necessarily mean treating yo'self to a new pair of leggings with every purchase for someone else (although, we're not saying you shouldn't treat yourself either). But the focus of this breakfast-and-learn's workshop will offer you actionable ways to give yourself other valuable tools this time of year, like positive self-talk, time for yourself to decompress, and generosity towards your brain and body.
Jeana Anderson Cohen, aSweatLife's founder and CEO, and Cydney Crain Post, yoga instructor and writer for aSweatLife, will lead this workshop.
What else you'll get at this breakfast-and-learn:
In addition to the workshop, we'll send you into your day and the rest of the holiday season with the perfect small gifts for others you care about – or gifts to give yourself to help you remember that self-care is just as important this time of year, too.
You can create your own DIY trail mix bag full of some of our favorite snacks and holiday-inspired delicious goodies, including all the best flavors of BarkThins – our favorite addition to any trail mix selection.
Or you'll be able to make your own natural face mask at the pampering station in a small to-go kit – the perfect small gift to surprise a friend with or to keep on hand when you need a self care morning or evening to yourself.
Indigo & Violet will also be on site to bring you all the goods for a DIY holiday card making station. Here, you can design a card for one special person who perhaps didn't make your holiday gift list, someone in your life who wouldn't expect a gift from you, or someone random you'd like to surprise.
Get the details for this breakfast-and-learn:
When? Monday, December 17 from 7-8 am
Where? Tech Nexus, 20 N Upper Wacker Drive #1200
What do I need to bring? Just your festive self! You won't be getting sweaty at this aSweatLife event, so you can wear whatever you'd wear to work afterwards.
How do I snag a ticket? Right here and below, thanks for asking!