Meet us at World of Whirlpool and Learn to Meal Prep Like a Pro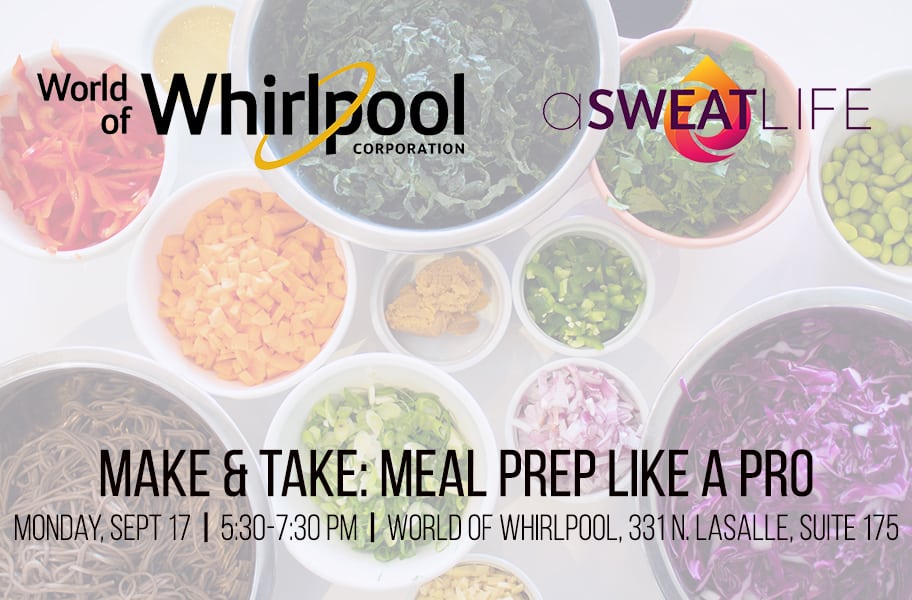 (Get tickets to the first workshop on September 17 at Whirlpool Worldwide here)
Meal prep always sounds like a great idea, until it comes time to do it. What can you make that you won't get tired of eating every single day? How can you keep things fresh? Why does salmon taste so good but smell so bad? Who has the time to spend hours in the kitchen when season 2 of Netflix's "Ozark" was just released?
Maybe you need a little help with accountability to actually make meal prepping happen, or maybe you're already a religious meal-prepper and need fresh ideas. Wherever you are on the spectrum, you could probably use a life hack (or four) to take it to the next level.
Enter: aSweatLife and the World of Whirlpool, bringing you a meal prep workshop that will send you home with fresh ideas and meals for the week in just two hours.
During these Make & Take meal prep workshops, Whirlpool Worldwide's expert chef will show you the craft of prepping easy, healthy and exciting recipes. You'll get to prep your own meals for the week in World of Whirlpool's Experience Center in downtown Chicago and walk away with five packed meals for the week.
At World of Whirlpool, you'll have interactive experiences throughout every designed set-up. Each space is curated to demonstrate various life hacks you've always been curious about. If you're wondering about the key to perfecting zoodles, how to extend the life of your produce, or how to get the most of your dishwasher, you'll likely come across a lightbulb moment with the answer here.
The first meal prep workshop will be on Monday, September 17, and spots are limited so you'll want to grab your spot soon.
But not to worry, we have four workshops scheduled in this series, one every month through December. If prepping to meal prep sounds like its right up your alley, sign up ahead of time at the links below!
Details for the workshop at World of Whirlpool, please:
Where? World of Whirlpool, 331 N LaSalle St, Suite 175
When? Monday, September 17 from 5:30-7:30 pm
What can you expect from the evening? Expect to learn new tricks to meal prepping from Whirlpool Worldwide's chef that will keep your lunches exciting and fresh all week long. And, you'll take home the meals that you'll be able to enjoy throughout your busy week ahead.
What does the cost cover? Your ingredients for 5 packed and ready-to-eat meals to get you through the week.
Ready to meal prep like a pro? Space is very limited so snag your spot!