Join us at #TrainersConnect October 16 for an Exclusive Look Inside Soho House Chicago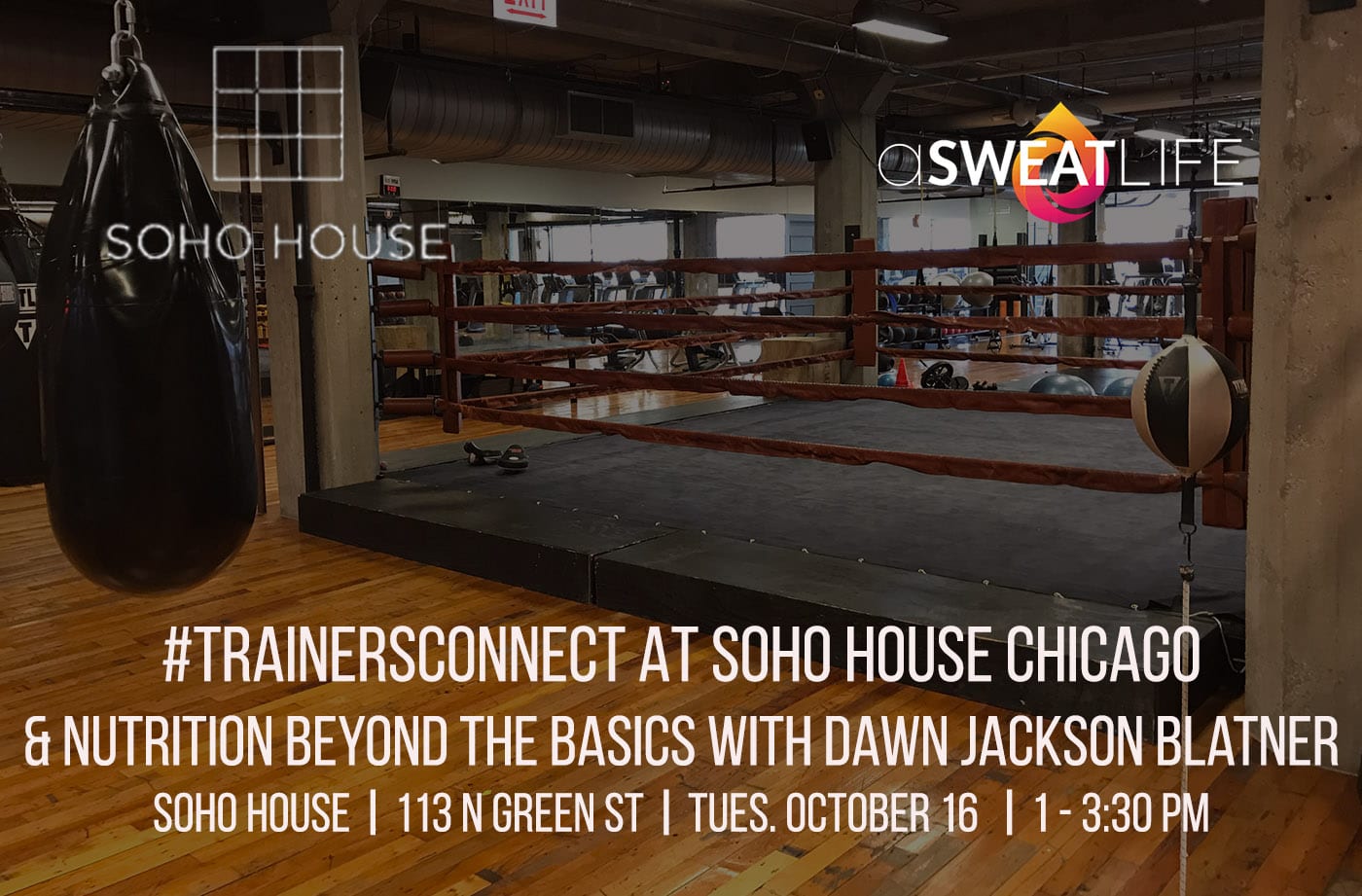 (Get your ticket to #TrainersConnect right here)
Over the past few months, we've brought you workshops that you requested in the surveys we sent by email. This month is no different. But on top of a nutrition workshop beyond the basics (which we'll talk more about below), we're also joining forces with Soho House Chicago for one afternoon only to get a sneak peak behind the Soho curtain for a workout on the gym level of the club.
More about Soho House Chicago's gym & your workout
When you arrive at the gym level of the club – the only place where members can't bring guests, and thus, the most coveted spot of the entire club to explore – the elevator doors will open to a gorgeous boxing ring. But take a look to your left or right and you'll quickly see you can fit in a number of different kinds of workouts at this facility.
And Fitness Director Daniel Wilsea can't wait to put the #TrainersConnect crew through the ringer with a few of them. Get ready to try out three different workouts, each 20 minutes in length, across the entire gym. You'll experience cardio and boxing, functional training and a series of circuits in the group fitness studio.
For this hour, the Soho House gym will be closed off for #TrainersConnect attendees only, so be sure to grab your spot and make it to this exclusive experience.
More on Nutrition for Trainers: Beyond the Basics workshop
Dawn Jackson Blatner is a world-class Registered Dietitian Nutritionist  and certified specialist in sports dietetics. Not only is she the nutrition consult for the Chicago Cubs and nutrition expert on the advisory board of SHAPE Magazine, she's the author of "The Flexitarian Diet," ranked a top plant-based diet by US World News and Report and "The Superfood Swap." She also won the ABC television show, "My Diet is Better Than Yours."
Dawn's going to sit us down post-workout for a talk that goes beyond the basics of nutrition. She's an expert in individualized eating strategies based on personality, preferences and lifestyle and healthy habit creation and motivation. What we'll discuss will be more tailored to your experience as a trainer or instructor who is always busy, on the go and in need of fuel.
These are the details for #TrainersConnect in October
When will this be? Tuesday, October 16 from 1-3:30 pm
Where will this be? Soho House Chicago, 113 N Green St.
What do you need to know about the workout? It'll be a rotational workout among boxing, cardio, and interval training so you'll get the full experience of the Soho House gym.
What's the workshop going to be? You'll hear from Dawn Jackson Blatner, RDN about more than the basics of nutrition, specifically geared towards industry professionals.
Ready to grab your tickets? Great, they're right here! And as always, your $5 donation goes to the Greater Chicago Food Depository.