Summer Survival Products from Thrive Market
[Disclosure: This post is a part of a partnership with Thrive Market. As always, we only write about the products, places and experiences that we love. All of these products are things that I actually bought and use.]
There's nothing that will stop your summer in its tracks like poor preparation. Sunburn, stress, a little mid-afternoon stink – beach, please.
We pored over the summer section on Thrive Market and found our favorite products to keep summer on the rails. If you haven't heard already, Thrive Market features thousands of the best-selling non-GMO foods and natural products. And Thrive Market created a membership to keep its prices way down. It's like a healthy, online Costco. Its prices are always 25-50% below traditional retail prices.
And guess what: they're giving you – aSweatLife readers – an EXTRA 25% off your first purchase PLUS a free 30-day trial membership. That's 25% off the already low prices that Thrive Market offers.
Here's what we got with our trial membership: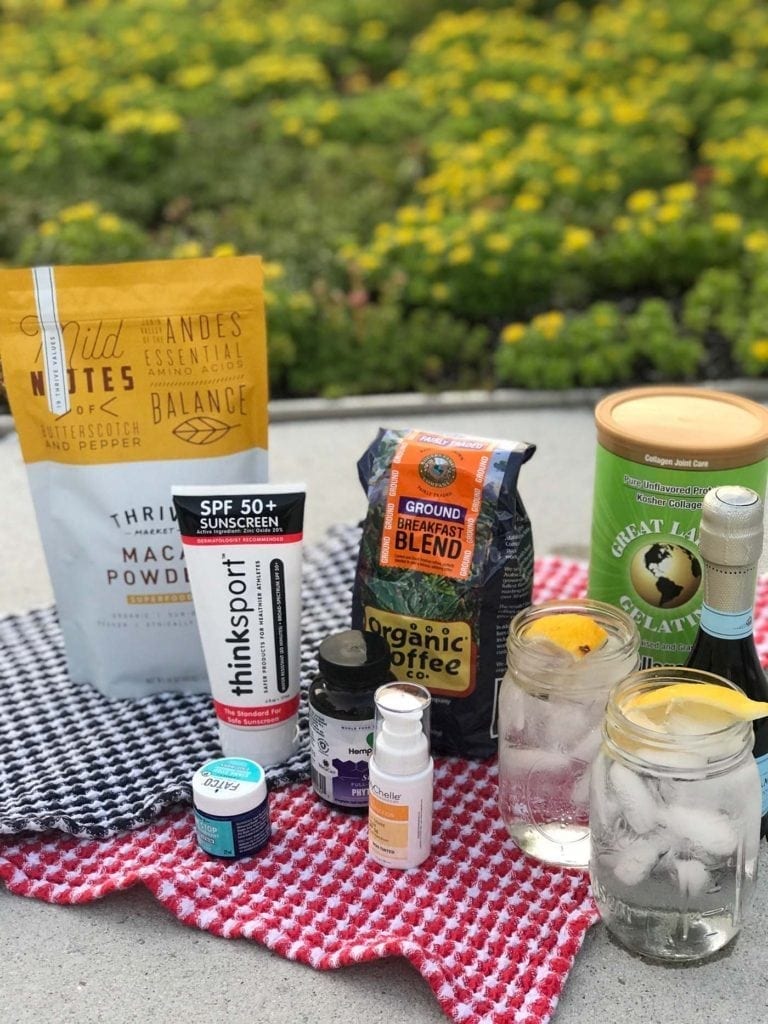 When it comes to sunscreen and my sensitive skin, I need to separate my face from the rest of my body. This sunscreen lathers on with a slight white hue, but that wears in after about 10 minutes. But there's a plus to that: this facial sunscreen multi-tasks as a primer and a sunscreen – matte is a hard look to come by in the oily, oily summer air, but this stuff is legit. This mineral-based sunscreen has an active ingredient of 16.1% zinc oxide. You're sure to be super protected from the sun.
This allover sunscreen is great for a long run, a hike or an active afternoon. This is a mineral-based sunscreen with an active ingredient of 20% zinc oxide – you can expect strong sun protection like your favorite lifeguard. Zinc oxide is one of the safest and most effective ingredients in sunscreens you can find according to the Skin Cancer Foundation, but like any sunscreen be sure to reapply after you sweat or swim.
I made the switch to natural deodorant and I'm constantly trying new products. As someone with delicate underarms, I'm a pretty good gauge of what will enflame a sensitive pit. Stank Stop is the creamiest version of the deodorant-in-a-pot variety of the natural stuff I've tried. It has many of the traditional natural deodorant ingredients like coconut oil and baking soda, but it also has shea butter, zinc, and tallow from grass-fed cows (note: vegans steer clear). It requires a slather instead of a swipe-on like a conventional deodorant product. It's effective, but like all natural deodorant products, you'll want to reapply mid-way through the day.
Summer is for cold brew. If you're anything like me, the easier everything is in the summer, the better. This coffee has a great flavor and a great size grind for cold brew (aka not too small, not too coarse). Make two or three batches of the cold stuff from this one bag and get yourself through a week without overheating with your morning brew.
Never made cold brew? The Kitchn has easy-to-follow direction. One bag makes about 12 cups of cold brew (or 12 cups of coffee when poured over ample ice); that amounts to about $0.75 per cup.
This is the collagen that doesn't turn jiggly when it's added to water. You can add this to smoothies or coffee for a boost of 11g of protein. With 38 servings in a container, this canister should get your through a month of morning smoothies.
I'm a ball of stress in the summer – in the winter I can hide in my home and no one even notices. But in the summer, I must be social, get work done and do all of the other fitness I want to do. This mix of hemp, cloves, and ashwagandha root combines adaptogens and natural remedies meant to help manage stress. It'll get you all the way through a gorgeous sunset.
I'm guilty of trying to get more energy out of fewer hours of sleep, so I do things like try to bio- and nutrition-hack. Maca – a Peruvian root – is so hot. Not only is it reported to be an energy powerhouse that's packed with all sorts of vitamins and minerals, it's also believed to enhance your libido. That's a win for summer love (winky).
Ready to grab some of these summer survival must-haves or build a must-have list of your own? Grab your complimentary one-month membership to Thrive Market here.