How To Switch to Natural Deodorant … and Does it Even Work?
For the past month, my armpits have been subjected to an all-out assault of plant-based butters mixed with essential oils and baking soda. Natural deodorant is having a moment and I devoted my body to the science of figuring out what works.
And although natural deodorant is everywhere – from the trendiest activewear stores like Outdoor Voices to Sephora to lifestyle stores like Sir & Madame – there is a true method to making the switch. I didn't realize there was a way to switch until I heard Autumn Merritt, co-founder of Sir & Madame, describe to a customer how often to apply and how to truly cleanse the underarm area.
In my conversations over the last few months, it's obvious that natural deodorant is perceived as less effective. So why, for a society obsessed with smelling fresh, are we going natural with our pits?
Fast Company detailed the growing natural beauty sector, including a report from the research firm Kline & Company "predicting that the synthetic cosmetics sector will decline in the next two years, while the natural skin care segment will grow."
In short, natural beauty is trending – and beauty, my friends, should not exclude your armpits.
Why are people switching to natural deordorant?
As consumers, we're more aware of everything we put on or in our bodies. A few ingredients are under the microscope, with some science supporting eliminating them.
Concerns about aluminum:
According the the American Cancer Society, "Aluminum-based compounds are the active ingredients in antiperspirants," and "Some research has suggested that these aluminum compounds may be absorbed by the skin and cause changes in estrogen receptors of breast cells."
Concerns about parabens:
Parabens are preservatives. And according to the American Cancer Society, the "Intake of parabens is a possible concern because studies have shown that parabens have weak estrogen-like properties."
Concerns about phthalates (Concern 1: pronouncing it):
According to the FDA, phthalates are commonly used in plastics, fragrances, hairspray and nail polish, mostly to act as a solvent or a plasticizer to keep materials from cracking.
TIME reported in a story titled "5 Things Wrong With Your Deodorant" that phthalates appear to disrupt the way your body produces and uses the hormone testosterone. And, Heather Patisaul, Ph.D., an associate professor of biology at North Carolina State University is quoted in the story, saying, "The greatest concern when it comes to phthalates is that they could impair reproductive ability in men, or that they could impact fetal development in pregnant women."
The FDA states, "It's not clear what effect, if any, phthalates have on human health."
How to switch to natural deodorant:
A little more thought goes into this switch than going from conventional brand to conventional brand and there's something your body goes through called the "detox" that you need to be ready for.
Here's what you need to know.
Test the products before you commit. If you've never experienced a rash under your armpits, please read the next sentence very carefully: avoid it at all costs. You may not know that a product or an ingredient irritates your skin until it does. Glamour recommends a patch test – per the instructions of every beauty product, apply to "a small, discreet patch of skin, like behind your ear or even on the inside of your elbow." Then, you're supposed to wait 24 hours so you can look for signs of redness or irritation." Once you pass the patch test with a product, move on to step two.
There's something called an armpit detox.  The period of time during which you are switching from conventional (very Whole Foods of me) to natural deodorant can cause some excessive … odor (it passes) and sweat. Your body, natural deodorant brand Primal Pit Paste says, gets used to a new normal and may smell as good or better than ever.
Treat your armpits like your face – try a bentonite Clay or a charcoal mask. Activated charcoal is apparently good for everything. And while I was at Sir & Madame, a few regulars discussed underarm care routines that included putting a mask on their underarms – the same one they put on their faces. Natural detoxifying masks like these can make the armpit detox easier and can eliminate "funk."
Try not shaving your underarms for a few days. To me, natural spells "gentle." But skin is a tricky organ and some skin just doesn't like some ingredients. To be a little easier on your skin as it goes through the transition, try not to shave for a few days before and a few days after you switch your pit product. Primal Pit Paste has a full guide for avoiding and hacking the rash, but irritation from shaving can make it easier for rash to form and – again – a rash is not comfy.
Change your expectations for deodorant. You can still expect not to stink, but don't expect to apply just once each day – it's more like three or four times each day. It's only weird to put on deodorant in your office bathroom if you make it weird.
Natural deodorants I tried and loved. 
Ursa Major: This natural deodorant was the third one I tried and the first one I loved. It comes in a just-like-you-get-at-a-drug-store stick and it's a very easy entry point. The Hoppin' Fresh variety is infused with peppermint, eucalyptus and rosemary, so it feels like a cool breeze when you apply. I was honestly just re-applying because I didn't ever want that feeling to go away.
This product is the one I keep in my bag.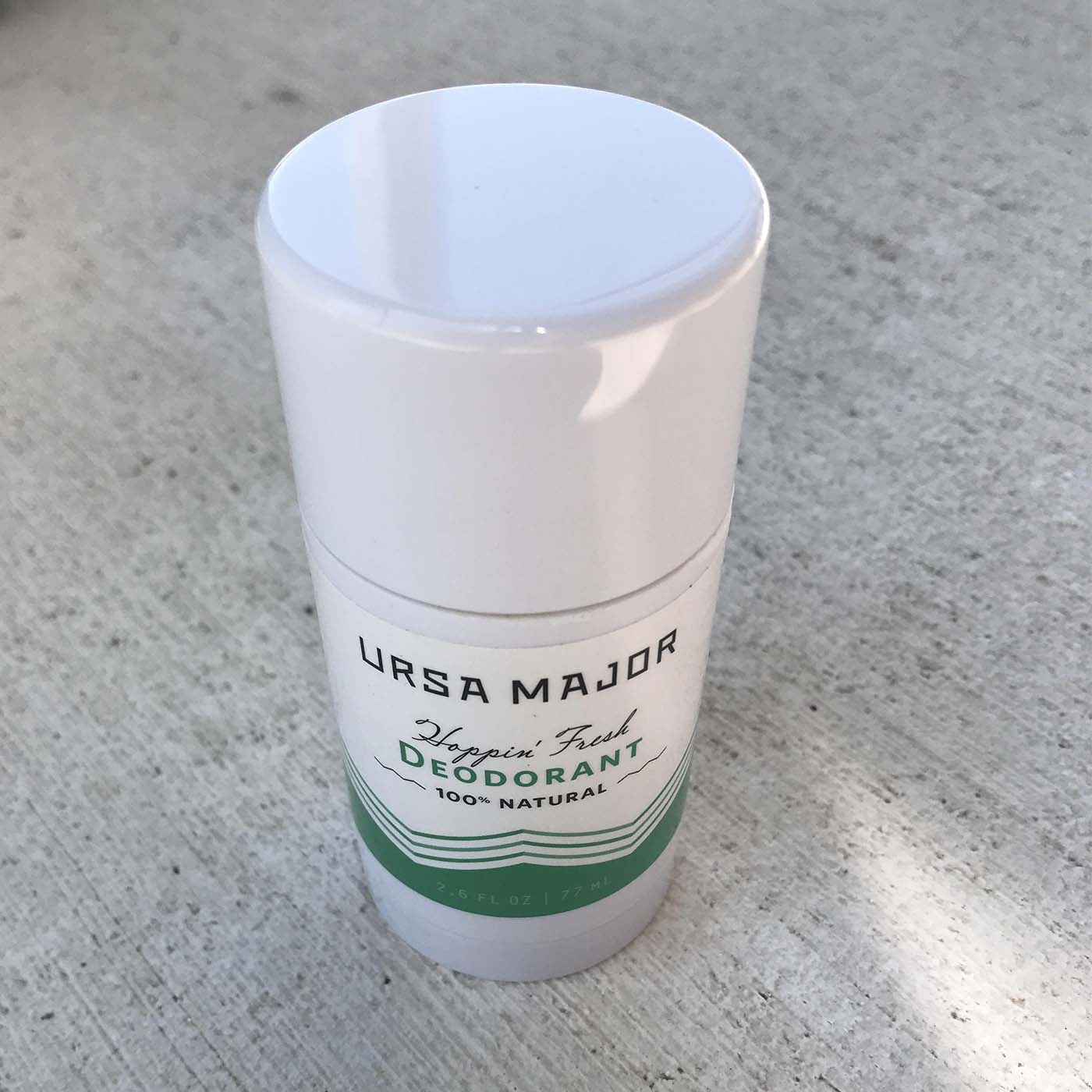 Honestly pHresh: The idea of warming this paste in your hands and rubbing on your armpits is a lot to get used to, but by the time I got to this product, I was already way down this natural deodorant rabbit hole. Yes, dear reader, you must warm this product on your hands and apply it to your armpits. You'll be fine. The lavender smell is lovely, and the product works. Slather away.
This is the perfect product to apply in the morning or to apply post-shower.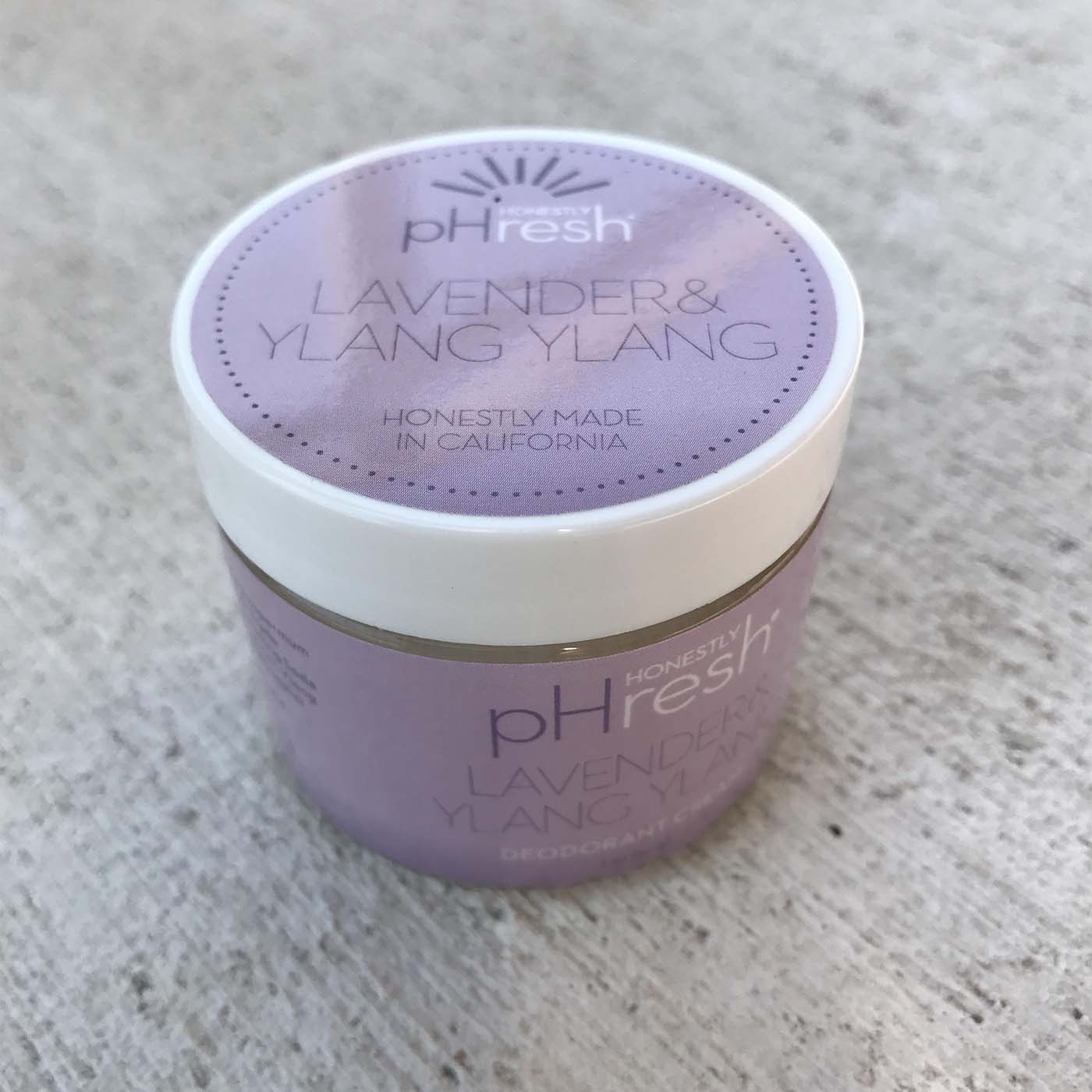 DIY natural deodorant by Whitney English
Last stop on the natural deodorant journey was the most granola of all, but I genuinely enjoyed knowing that I could make my own beauty product and being able to list all three ingredients. When I was sharing my natural deodorant pursuits with Registered Dietitian and blogger behind To Live and Diet in LA, Whitney English, she shared her recipe with me.
Here's what you need:
2 T. Baking soda
2 T. Corn starch
4 T. Melted coconut oil
Here's what to do with it:
1. Melt the coconut oil.
2. Add the corn starch and baking soda and mix thoroughly.
3. Put in a small container and refrigerate – keep it there.
4. Use a dowel or a spoon to scrape a small amount out of the container, melt between your fingers and use your hands to apply.
It may seem like a lot of work to make the switch, but don't let it stop you from trying. Remember, do what's right for your skin and if something irritates you, switch.