What Our Partners Have Planned for You This #SweatworkingWeek
[Disclosure: This post is a part of our sponsorships with our #SweatworkingWeek partners. As always, we only write about the places, people and things that we truly love.]
#SweatworkingWeek gets better and better with each iteration, and the goodies our partners have for the attendees are no exception. This is not your run-of-the-mill festival, that's for sure.
Throughout this week and at the Michelob ULTRA #SweatworkingWeek Fitness Festival, you'll get up close and personal with each of our brand partners, enjoying the best they have to offer you as a reward for getting up early for a breakfast-and-learn or for crawling your way through three workouts. Consider this your get-to-know-you guide so you're ready to reap the sweaty benefits of #SweatworkingWeek.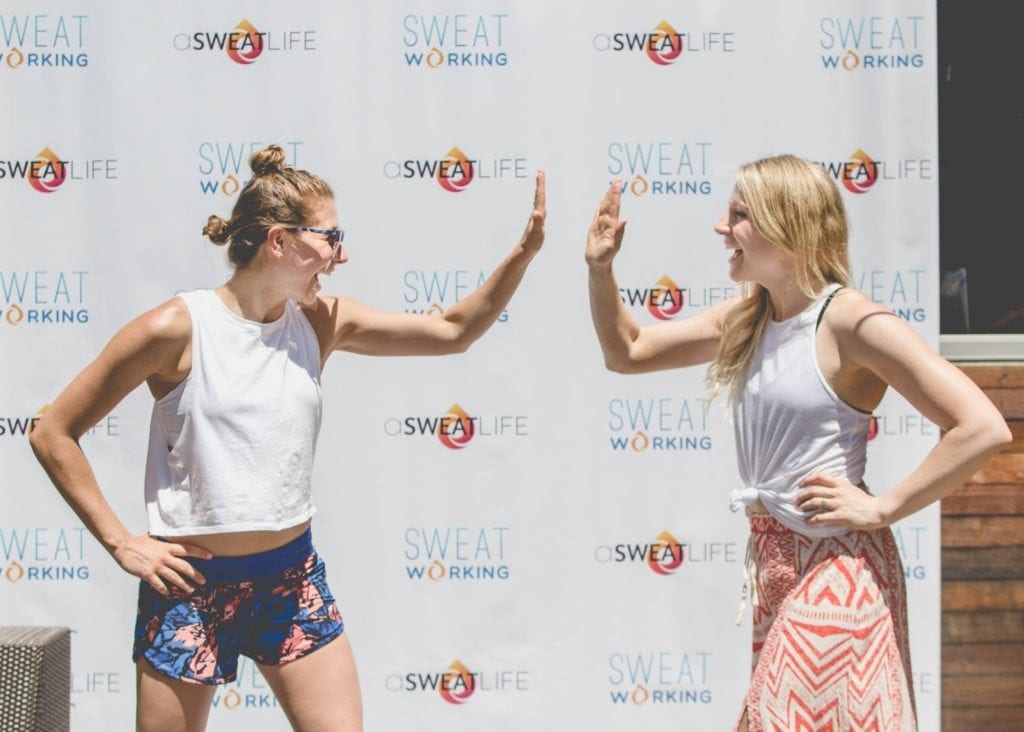 Michelob ULTRA
Work hard, play hard — that's how the #SweatworkingWeek motto goes, right? Luckily, our partners at Michelob ULTRA agree. The low carb, low calorie light beer is the post-workout drink of choice at aSL HQ, and we'll be serving up Michelob ULTRA in its classic form AND as beer cocktails at the Michelob ULTRA #SweatworkingWeek Fitness Festival. Bring your ID, please!
LUNA
You have LUNA to thank for the sweet fanny packs you get as a perk of each evening's Crawl, because you'll never know when you need an emergency snack. You'll find a nutrient-packed bar ready to go in your fanny pack to help fuel you through the crawls; plus, the fanny packs perfectly fit a phone so you can take pictures (and win prizes, hint hint).
Lifeway
We try to listen to our guts at aSL — and most of the time, our gut wants us to drink Lifeway Kefir. They'll be pouring samples for you throughout the week to help you recover from the crawls and fill your body with healthy probiotics, active cultures, and calcium.
West Town Physical Therapy
Squats feeling funny? Back feeling off? Don't quite understand what glute activation is? At the #SweatworkingWeek Fitness Festival, attendees will get complimentary movement screenings with Dr. Erin Conroy, owner of West Town Physical Therapy.
Koia
At the Michelob ULTRA #SweatworkingWeek Fitness festival, you'll find Koia sampling its 100% plant-based protein drinks made of ingredients you'll recognize like almonds, peas, brown rice, and hemp.
Propel Electrolyte Water
It's hot, we're sweaty, and we don't have time to be dehydrated — enter Propel. Propel is how Gatorade does water, and it's the only water among national enhanced water brands with enough electrolytes to replace what's lost in sweat. It's exactly what you'll need after a kickass workout (or three).
Kitchfix
When you come to one of our breakfast-and-learns this week, you can expect to get a delicious, nutritious breakfast from Kitchfix to kickstart your day — BUT THAT'S NOT ALL. Just like your mom used to do, they're also packing you a lunch for later. Kitchfix makes it easy for you to make nutritious choices by giving you anti-inflammatory, nutritionist-approved meals for delivery or pick-up. Basically, they're life-savers.
KRAVE Jerky
With all the workouts we're doing this week, you can bet we're carrying KRAVE Jerky in our pockets to refuel with a good source of protein. KRAVE has no added nitrates and no artificial flavors, and their assorted flavors feature lean cuts of meat from all-natural ingredients.
SkinnyPop
Get your Olivia Pope on — there's nothing better than a bowl of SkinnyPop and a glass of red on the couch. SkinnyPop has no artificial ingredients, preservatives, or flavors, and they're free of GMOs, MSGs, peanuts, soy, tree nuts, and gluten.
barkThins
Sometimes you just need chocolate, are we right? For those moments, we stash a variety of barkThins in our cabinets (because we can't possibly commit to just one flavor). barkThins blends Fair Trade dark chocolate with real, simple, non-GMO ingredients for an elevated twist on snacking. What's your flavor?
Limitless Coffee & Tea
Hard truth: #SweatworkingWeek wouldn't be possible without the power of coffee, and we love Limitless for their focus on organic farms and natural processes. With cold brew coffee for the mornings and matcha green tea for an afternoon boost of energy, our #SweatworkingWeek potential is truly limitless.
You'll also find Limitless unlocking your potential in the morning at the Michelob ULTRA #SweatworkingWeek Fitness Festival. And if you still need more coffee after, you can head down the street to the new Limitless Flagship coffee shop for a cuppa exactly what you want.
WTMLN WTR
Nothing screams "summer" to us like a fresh watermelon, and with WTRMLN WTR, you can take that irresistible juiciness with you anywhere (without lugging a 20-pound watermelon around). The cold-pressed watermelon juice is stacked with potassium, amino acids, and vitamin C — and did we mention Beyonce is a fan (and an investor)? Sold.
FLY Anywhere by Flywheel
This at-home version of your favorite Flywheel class is a great way to put fitness squarely into your home. At the Michelob ULTRA #SweatworkingWeek Fitness Festival, you'll be able to try a class on a FLY Anywhere bike and compete head-to-head for a chance to win incredible prizes.
SANO Pea Protein
For vegans, lactose-intolerant, or anyone who just wants a smooth, creamy protein powder, we'll have SANO pea protein samples on hand to try throughout the week. SANO is a protein option you can feel good about, from their purely plant-based ingredients to their commitment to using recycled materials in their packaging.
Simple Mills
Plain and simple, Simple Mills makes wholesome, convenient foods that are free of soy, gluten, and grain, in addition to being non-GMO and Paleo-friendly. Founder Katlin Smith is a favorite of aSweatLife (who doesn't love a badass female founder?), and her passion for changing the way people eat comes through each box of almond flour crackers (watch out, they're addictive).
Hyperice
Recovery is crucial during a week of wild workouts, and we literally carry a suitcase full of Hyperice products around to make sure our muscles are in working order for #SweatworkingWeek. You'll get to enjoy a variety of their products at the Michelob ULTRA #SweatworkingWeek Fitness Festival to help you recover from the week or prepare for your Fitness Festival workouts — good vibrations.
NormaTec
Because there's no such thing as TOO much recovery, we'll also have NormaTec recovery boots on hand Saturday. NormaTec uses compression to make your legs feel light and springy, even after long runs or heavy lifting. Sit back, relax, and enjoy the recovery.
Barnana
When it comes to different ways to eat bananas, we follow the Mean Girls principle: "the limit does not exist." Barnana has chips, brittles, and bites filled with naturally sweet, banana-y goodness. We didn't realize we needed Apple-Cinnamon Banana Bites in our lives, but now we can't live any other way.
Skin Laundry
We love sweat — breakouts, not so much. We'll have Skin Laundry at the Fitness Festival to pamper you with face masks and other gym bag-sized samples of skincare products. This California-based company specializes in laser and light facial treatments, but you'll get to sample their on-the-go products to cleanse your skin in-between workouts.
Delos
Look up Delos in the dictionary and you'll see "hurts so good" as the definition. These #delbows are trained to help you manage your pain by restoring muscle pliability and applying direct pressure to your poor, tired muscles. They'll be on hand at crawls throughout the week and at the Michelob ULTRA #SweatworkingWeek Fitness Festival to give you mini-treatments with a major impact.
gaan + Co.
Sometimes, you just don't have time for a full shower in between workouts and work. Luckily, we've discovered gaan + co. Their single-sized deodorant towelettes are the perfect size for your gym bag so you're never caught unprepared. (Psst… they also have mosquito repellent wipes for muggy summer nights).
ItsaPop
The popsicles of your childhood nostalgia have gotten a major upgrade with ItsaPop, a Chicago-based company. Choose from anti-inflammatory Cleansing, dairy-free Milky, or self-explanatory Tipsy gourmet popsicles to satisfy your sweet tooth and cool down after a rooftop workout at the Fitness Festival.
Beautycounter
Fun in the sun gets a lot funner (roll with it) when you know your skin is protected from harmful UV rays. We'll heave Beautycounter on hand throughout the week giving out sunscreen samples that are free of harmful ingredients and toxic chemicals. Sunglasses smiley emoji, check.
sweetgreen
Ever had a salad and immediately wished you had another one to eat because the first one just didn't fill you up? Yeah, not with sweetgreen. They create seasonal menus filled with fresh, local ingredients so you have food you feel good about eating. You'll see them at the Loop on Tuesday as you participate in a totally unique scavenger hunt as part of your #SweatworkingWeek crawl challenge. You'll also be able to redeem a special deal at the sweetgreen in the West Loop during the Michelob Ultra #SweatworkingWeek Fitness Festival by just showing your SweatWorking App.
Let us know!
Did this post help you get closer to achieving one of your goals?