4 Ways to Level Up Your Post-Workout Beer This Summer
Disclaimer: this post is sponsored by Michelob ULTRA. As always, we only write about the experiences and things we love. 
It's no secret that Team aSweatLife fully believes in the spirit of "work hard, play hard." After a long week at work, Jeana's known to get a mani-pedi; Maggie follows teaching back-to-back (and sometimes -to-back) classes by taking the time for her own yoga practice; and I love nothing more than challenging myself in a tough workout class and immediately making my own version of a ultra-fancy smoothie and jumping in a hot shower.
And in the summer, few things sound more refreshing than swapping out my smoothie for an ice-cold light beer like Michelob ULTRA (preferably on a patio, too). This year, I'm challenging myself to up the ante with my beer a little bit by thinking outside the cooler. Here's how you can too.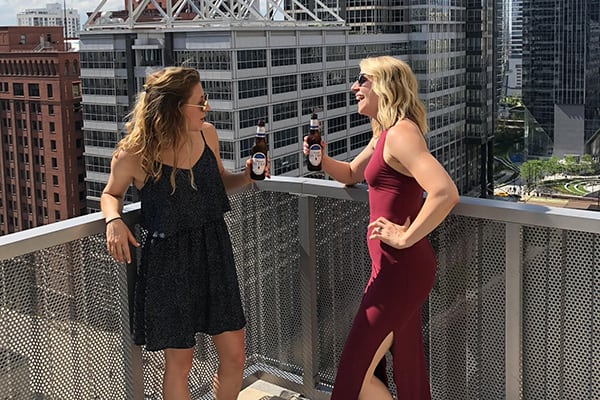 For the Health Nut: Matcha Beer
No, we didn't make this up (although we totally wish we could take credit for it). Mixing in matcha gives an earthy taste to your crisp, refreshing beer — and it adds a fun foam to boot. Also, matcha has tons of health benefits, so hey, couldn't hurt to add a bit to any drink, right?
To make this crafty infusion, dissolve a 1/2 teaspoon of matcha in a half-glass of warm water. Fill the glass with the rest of the beer of your choice (a light beer like an Michelob ULTRA, rice lager, or pilsner will probably be much tastier than a heavy stout, FYI — look for a beer that's naturally sweeter without a strong finish). Then, as you drink the blend down, continue topping off your glass with the remaining beer.
And warning: this mixture WILL result in a fluorescent beer cocktail, so make sure to wipe your mouth well (and maybe bookmark this recipe for St. Patrick's Day).
For the Fiesta: Beer-Rita
If you're looking to get the party started after your workout, a beer-rita is the way to go. This twist on a margarita is much less sweet than your typical pitcher of frozen strawberry margs (even just thinking about that gives me a headache, TBH).
All you have to do is mix equal parts frozen limeade, tequila, light beer, and water — that's it! Easy now — these beer-ritas go down fast and they can creep up on you, especially after a sweaty workout, so make sure you're hydrating in between sips!
For the Brunch Babe: Beer-Mosa
So you're heading to a friend's house for brunch and you're in charge of mimosas — but you totally forgot to buy champagne and all you have in the fridge is… beer. SOS!
All is not lost, guys. A beer-mosa is totally a thing, and thanks to Michelob ULTRA, that's how we'll be celebrating #SweatworkingWeek's finale at the Fitness Festival on Saturday, June 9. We'll have bartenders mixing up "The Michelob Mimosa," a 70/30 mix of Mich ULTRA and OJ, garnished with a fresh orange slice — because we may be sweaty, but we're still fancy.
For the Mixologist: The Michelob Mule
Maybe you love nothing more than a complicated cocktail, but you're quite not ready for hard liquor after a workout. Grab your favorite copper mug and a light beer like Michelob ULTRA — you've got a Michelob Mule coming your way.
To make this at home, just mix a light beer with ginger beer (shoot for a 70/30 ratio). Pour over ice in your copper mug and garnish with a wedge of lime.
How will you work hard and play hard this summer?