Why One Man Ate a Dozen Donuts Every Week for a Year
I'm no stranger to a good donut binge. As a co-founder of Chicago's first donut-centric fun run and the owner of at least two pieces of clothing with donuts emblazoned on them, there have been more than a few occasions where I've reached for that last donut knowing it's going to wreck my insides (this night comes to mind).
But never have I ever eaten a dozen donuts in one sitting. And SUPER never have I ever done that every week for a year straight.
Somehow, Ben Tomasek did.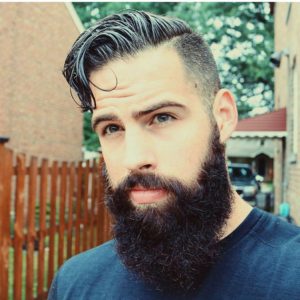 As a college football player, Tomasek played defensive line, a position known for requiring players to be taller, stronger, and heavier than other positions (defensive tackles in the NFL weighed an average of 310 pounds in 2013, just to paint a picture). After two years of college (during which he transferred schools and gave up football), Tomasek decided that it was time for him to get serious about his health, and it was then that his fitness journey started.
"I had no specific direction," Tomasek told me over a turmeric, black pepper, and ginger shot from Real Good. "My parents had a treadmill and I'd layer up with sweatshirts and run on that. I was too embarrassed to run outside because I was so out of shape. Eventually, I did run outside, and I only made it one block – that was a big moment. In high school I used to run two miles before school, so when I couldn't even run one block, it was a major blow to my ego."
So that became his first goal: to run a mile. As he continued to drop weight from the daily running, Tomasek was still struggling to get a hold on his nutrition. "I did the rudimentary things — weighing out portions, tracking calories — and I felt super constricted because of that. I had to do it manually, since smartphone apps for that weren't around yet, and it took awhile to figure out the math and the rhythm."
Tomasek restricted himself and refused to go outside of the parameters of his diet because he feared his weight loss would stop. But all that changed when he took a trip to Australia with his sister. They'd decided to drive straight across the continent, and the grocery shopping and cooking options would be limited, to say the least. Tomasek asked his sister to stock up on protein and decided he'd try a low-carb diet during the trip. And after a successful road trip, Tomasek realized something: there's more than one way to effectively diet.
That realization began to snowball. Tomasek began to experiment with eating low-carb during the week and whatever he wanted on the weekends (unknowingly doing a style of intermittent fasting before it was cool). And one day, it hit him: he'd try eating a dozen donuts one weekend morning to see how it affected him and his weekend splurges.

The donuts of choice were from Tim Horton's, and Tomasek ate them all in one sitting. Afterwards, he felt "pretty okay — I thought I could have kept going."
From there, Tomasek got more and more creative (sometimes adding Dairy Queen Blizzards to his donuts), and he began an Instagram account to track his weekly dozen, rightfully guessing it'd be a hit on social media. He committed to a full year of eating a dozen donuts a week, and he taste-tested his way through West Virginia, Pittsburgh, and of course, Chicago.
As his social media following grew, Tomasek began connecting with others about how his workouts and non-weekend nutrition could balance out the dozen donuts he regularly ate. From there, he started writing meal plans and workouts for clients.
Today, Tomasek continues to enjoy donuts on the regular, and he knows his 52 dozen donuts taught him invaluable lessons about what truly constitutes a "diet."
"I feel like people try to overcomplicate diets," he confides. "A lot of people ask questions like 'is this food good?' when they're not even focusing on the fundamentals. You've gotta take care of the fundamentals before fine-tuning your personal diet." Plus, when it comes to labeling food as 'good' or 'bad,' "everything is relative and subjective."
And while a dozen donuts may not be the right eating plan for everyone, there is value in trying different eating styles to see what works best for your body, says Tomasek.
"Credibility is a huge thing people miss in the world of social media. There's lots of misinformation out there, and the best way to find out what works for you is to try it and have an open mind. Just because someone's diet doesn't align with yours doesn't make it wrong, or worse, or better — everyone is unique, and I think diets work best when they align with someone's lifestyle."
As for what donut best align's with Tomasek's lifestyle? After sampling at least 600+ donuts during his year-long experiment, it's a surprisingly easy choice.
"The Cinnamon Old-Fashioned from Do-Rite Donuts — it's simple, not over-the-top or trendy, and it pairs well with black coffee."