#TrainersConnect Heads to Roosevelt High School for a Workout With Kids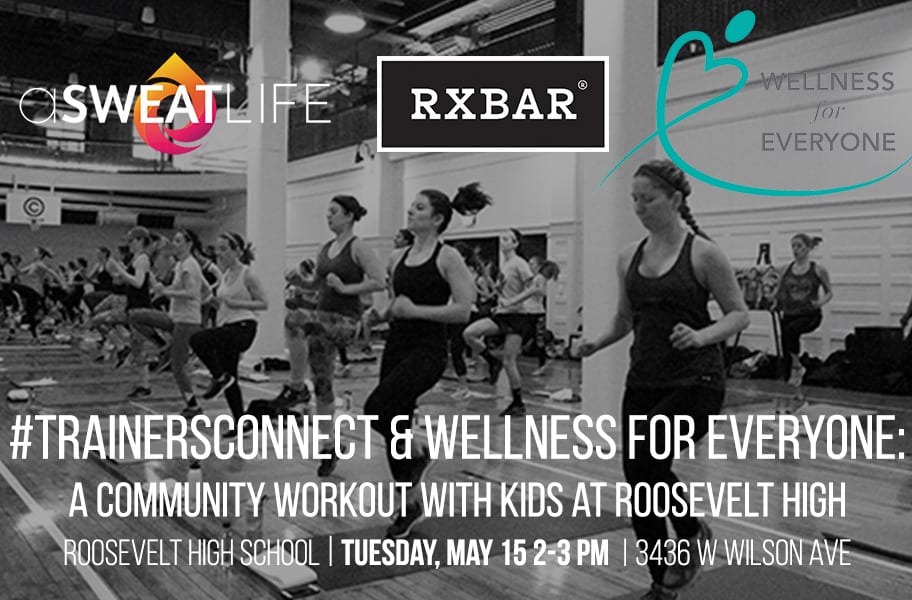 (Get your ticket to #TrainersConnect here)
For over a year and a half, we've gotten together once a month to connect outside of our daily lives, teaching and personal training schedules at #TrainersConnect. Each month, we've met at a different gym or studio to meet other instructors and trainers in Chicago, get in a great sweat and learn something new (psst: it's never a bad idea to get ahead of your taxes for next year).
On May 15, though, we're switching things up a little. aSweatLife is partnering with Wellness For Everyone to host a workout between trainers and kids at Roosevelt High School. Your $5 ticket will go straight to supporting the initiatives at Wellness For Everyone, and you'll also be doing good with your time and your workout hour.
What's Wellness For Everyone?
Wellness For Everyone develops strategic partnerships to fund programming in Chicago Public Schools. In the 2016-2017 school year, Wellness For Everyone provided programming to 33 schools, reaching over 3,000 students. Many of the students served by these programs have enormous stresses in their everyday lives. For some, their only meals come when they are at school. They lack exercise opportunities and outlets for creativity and energy. The classes that Wellness For Everyone offers students an hour every week to escape from stress, as well as access arts education (an area that is often the first to be cut).
How will #TrainersConnect partner with Wellness For Everyone in May?
May 15, Liu Gross will lead an accessible, bodyweight workout from 2-3 pm at Roosevelt High School. Your ticket to #TrainersConnect this month gets you a spot to this workout. You'll be paired up with a student for the hour to take on Liu's circuits and exercises.
In addition to working up a sweat among fellow trainers, we'll be spending the hour celebrating the joy of movement alongside kids in our city who don't always have the opportunity to experience it.
What do you need for this #TrainersConnect?
Just come ready to meet a new buddy for the afternoon at Roosevelt High School. Wear whatever is comfortable and we'll have snacks and drinks for afterwards.
Ready to get your ticket? Grab one here. We can't wait to spend the afternoon with you!
Details for #TrainersConnect:
When: Tuesday, May 15, 2-3 pm
Where: Roosevelt High School, 3436 W. Wilson Ave
Where do I get tickets? Right here!