Communities to Watch: Beat The Gym, Miami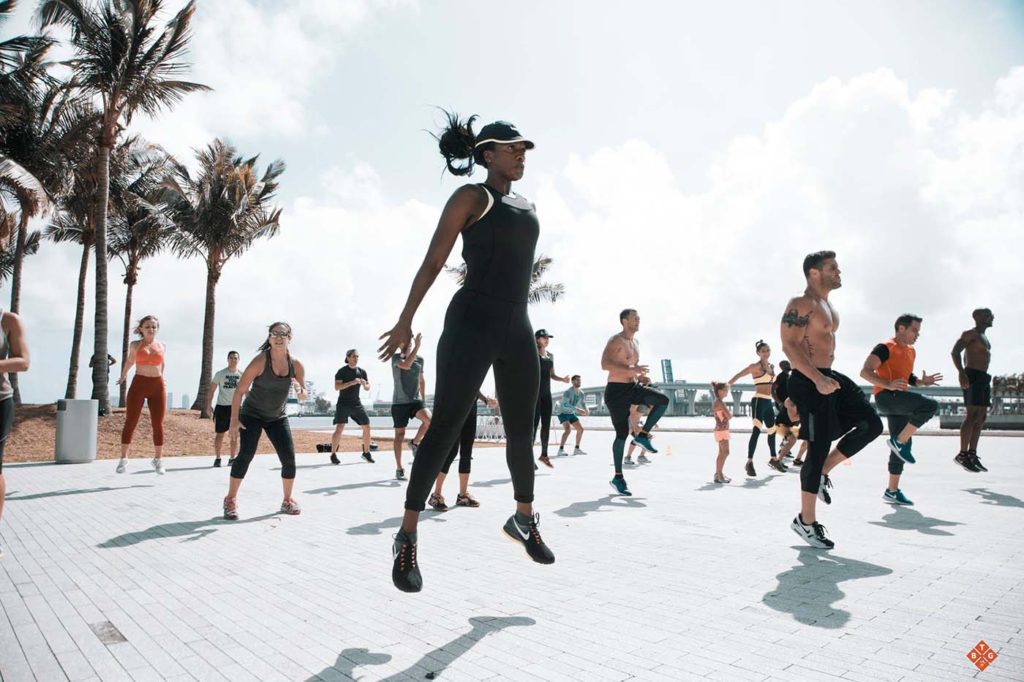 Beachside parks, on the turf at state-of-the-art football fields, rooftop decks with citywide vistas and in the middle of public art – just a few of the places you'll find the Beat The Gym #fitfam sweating together four days each week in Miami.
And at the picturesque backdrops where Beat The Gym challenges members to sweat, you'll notice they don't use any equipment and there's definitely no gym walls standing between members and the south beach sun. Shirtless trainers (it's Miami, after all) push the group to their limits with a fully bodyweight workout.
"Every workout has similar elements: all workouts target the entire body and no equipment is required, we incorporate body-weight exercises, animal flow movements, and sometimes speed and agility drills," Andres Azcarate of Beat The Gym said. "Our workouts are tough."
Founded in 2015, Beat The Gym was created to bring healthy living to the people of Miami at a lower price – solving the problem of fitness as a luxury good that can cost upwards of $35 per class. Coming in at just $5 to $10 a class, Azcarate said Beat the Gym is able to eliminate much of the overhead associated with studio workouts – like walls, heat and towel service – and increase the class capacity, bringing the cost-per-person down.
The low cost isn't the only benefit – Beat the Gym also creates community for the people who sweat together.
"It is a positive, diverse, inclusive and welcoming community that shows you that we are stronger together," Azcarate said.
And creating the experience, you'll find top-notch trainers from across Miami, but the way these trainers are recruited is anything but orthodox: They're not.
"Trainers must want to beat the gym so much that they will go out of their way to come to a class first so that we can see their passion in person," Azcarate said. "Tony Thomas, who is the co-founder of Beat The Gym and a celebrated trainer, vets all new trainers and if we like them we then invite them to co-lead a class and try it out."
Trainers lead classes ranging from boxing to full-body bootcamps to HIIT – and they're hoping to expand to new places, new formats and to reach more people via a recently-launched app.
"We are working to empower more trainers and add new locations in the near future," Azcarate told us. "We are working on an exciting new project producing fitness tutorials for people in other cities that wish to beat the gym and learn the moves until we get to them."
Want to Beat the Gym? Find them online and in the app store.