March 13: #TrainersConnect Takes on Taxes at CrossTown Fitness Roscoe Village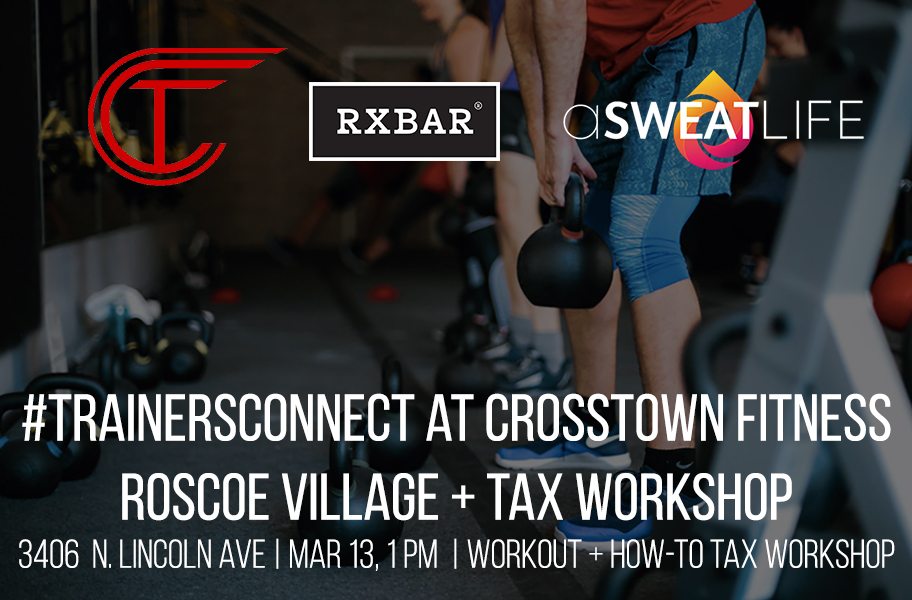 (Get your #TrainersConnect ticket here)
This fall CrossTown Fitness opened its third location in Roscoe Village. We couldn't wait to bring #TrainersConnect there when we saw it was equipped with Cryotherapy and Normatec Recovery Boots, Air Assault bikes, treadmills, all the heavy stuff you can dream of and power racks.
We hope you'll join us Tuesday, March 13 for a 50-minute Total Body workout at 1 pm, followed by a workshop that's just as heart-racing about everything you need to know for tax season.
And because most trainers have a mix of income sources, 1099s and W-2s, we're here to help you so you don't panic this year. We know the dreaded "T" word is enough to make any stomach turn, so we'll arm you with the knowledge and skills to take on this less-than-sexy job with as much swag as you can possibly muster. We're bringing in Josh Lance, owner of Lance CPA group and tax accountant in Chicago who specializes in working with sole proprietors.
Come prepared with your questions, but know that these common questions will be answered:
What documents do you need to do your own taxes?
Can you deduct your Ubers to and from class?
How can you plan to be ahead of the tax game starting now for next season?
And after this #TrainersConnect event is over, you'll have the chance to come back to CrossTown Roscoe Village for one full recovery session in the NormaTec boots and freeze yourself with the Cryotherapy for just $10.
Class will cost just $5 with all ticket sales benefitting the Greater Chicago Food Depository.
This is open to instructors from all studios. And if you thought to yourself, "Hey! My studio/gym should host this next time!" come to this one and then let's talk about it! Email Maggie [at] asweatlife.com.