What Prevents Us From Trying New Things in Fitness
Trying new things can be intimidating. No one wants to feel stupid, other or less than. Which is why it took me two years to work up the nerve to attend a stunts class.
While learning how to perform basic stunts went better than expected, I recently had very different experience at another first-time visit to a new studio. I was so excited to try out the class, but upon entering the space, I immediately felt like an annoyance to both the front desk staff and the instructor. I walked out of there thinking my experience was a prime example of why people don't try new things more often.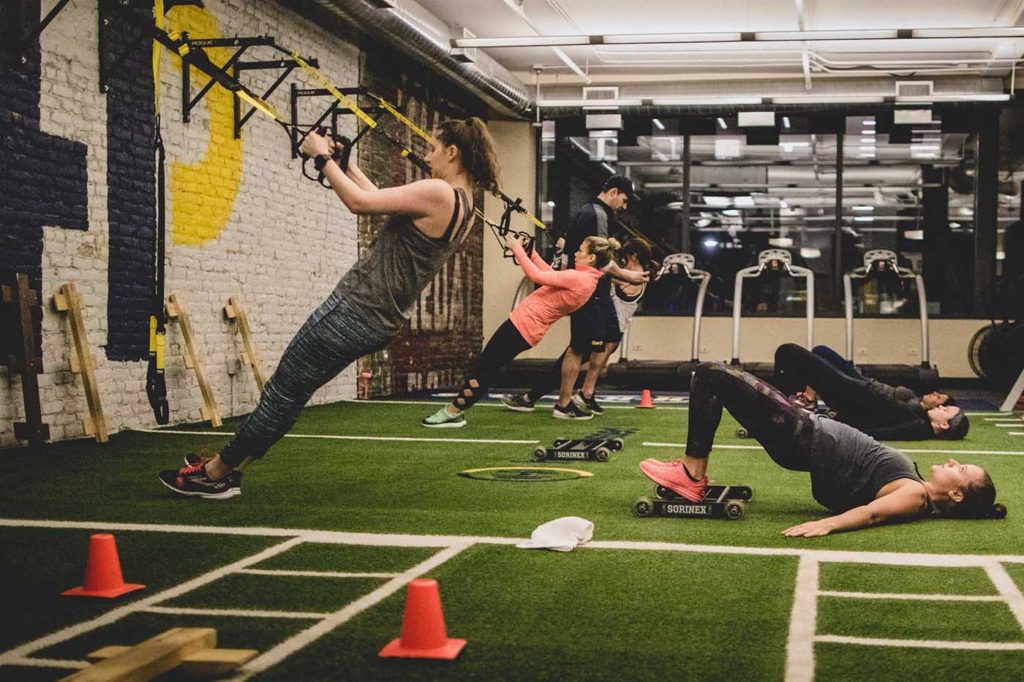 I decided to survey aSweatLife readers on the topic and many of your responses felt familiar:
"New studios are always a little nerve-wracking: where do I go, what do I do, what if I can't make it through the whole workout?"
"Trying a cardio barre class was nerve-wracking. I was the only new person and ended up backwards during some of the choreography."
"My annoyance was that the instructor didn't give modifications at all for ability level."
"Sweatworking events are very cliquey and I'm hesitant to try one again. Especially by myself."
"Late to class; only person that didn't know; fattest person in the class; most out-of-shape person in the class."
Since not all of studios make us feel like interlopers, I reached out to a few fitness professionals for their approaches to new clients and advice on getting over our emotional hurdles.
Making newcomers feel at ease
Upon arrival at the Midwest-based Shred415, the front desk staff gives a tour and introduces clients to the instructor, who goes over the workout. It's also a great time to ask questions and share concerns. Their classes are also done in dark lighting, which, as Chicago's Old Town studio manager Jazmina Pumputis explained, "makes it about you and your workout instead of having to work out in a bright room where it feels like people might be looking at you."
Over at Yoga Six, with locations around the Midwest and San Diego, Jenna Reddington assured me, "When new students come in, our biggest priority is making them feel welcome and their goals heard." They try to determine the best class format for new clients and if [they are] not able to give a full tour, they at the very least point out key areas new clients should be aware of." 
Graham Goy of the nationwide gym Title Boxing, shared, "Most people are surprised to hear that about 70% of our members are women and about 90% have never hit a heavy bag before."
Room for all skill levels
Brieze Levy of Dancing Grounds in New Orleans explained that there is a level guide to their classes, but even if there is a wide range of abilities in attendance, their instructors are prepared to be "adaptive to the moment." But no matter how adaptive instructors may be, Levy advised, "Coming regularly means you're practicing regularly and practice is always the key to getting better at anything."
Meanwhile, Goy explained that at Title Boxing, "Classes are not a 'group workout' but rather an 'individual workout' in a group setting. Our trainers say it, throw it and show it. Every combination is demonstrated and we build on combos throughout the class so every fitness and experience level can get an equally challenging workout."
Yoga Six keeps things accessible by transitioning from simple to complex poses, offering options to make things harder or easier. In addition, they use directional cues instead of calling out formal names of poses or using Sanskrit (the language often used in yoga) that can intimidate or confuse even regular yogis.
Advice for keeping an open mind
Disheartened to hear the above critique about #Sweatworking events, aSweatLife founder Jeana Anderson Cohen, who knows what it's like to feel alone in new fitness situations, conceded it can be intimidating to attend #Sweatworking for the first time.
However, she proposed, "It's a mental agreement you have to have with yourself when you walk in front of a crowd, into a new room or decide to join a new networking group. You have to believe that everyone in the room wants you to succeed. With that knowledge, it's easier to open up, to try new things and – on occasion – to fall on your face when you do. It's easier to get back up with a crowd of people reaching to pick you up."
When it comes to Shred415's treadmill interval classes, Pumputis offered, "To anyone that is scared to do it, I would encourage them to try it. To realize they aren't held to a certain pace or dumbbell weight. It is a workout for them and only them. And if it isn't for them, at least they know they tried!"
Levy mused, "In most dance classes, people are only looking at themselves or the teacher. The only one judging you, is you. Give yourself a break and ask yourself, 'What's the harm in being the oldest in the room?' and 'What's the harm in not being the most fit person in the class?' It's more harmful to stop yourself from doing something you want than it is going to a new class and being slightly confused. Just laugh that off, have a sense of humor about it. We are all built with our own strengths and weaknesses; remind yourself of your strengths and celebrate how strong you are for trying something new."
This isn't to definitively say your next attempt at something new will go smoothly or you'll immediately feel comfortable. But there are too many fitness options out there to settle for one that doesn't fit. Do some research, talk to the instructors, don't let one less-than-perfect experience discourage you and don't stop giving it a shot.