Learn How To Fall, Flip And Fight With Asylum Stunts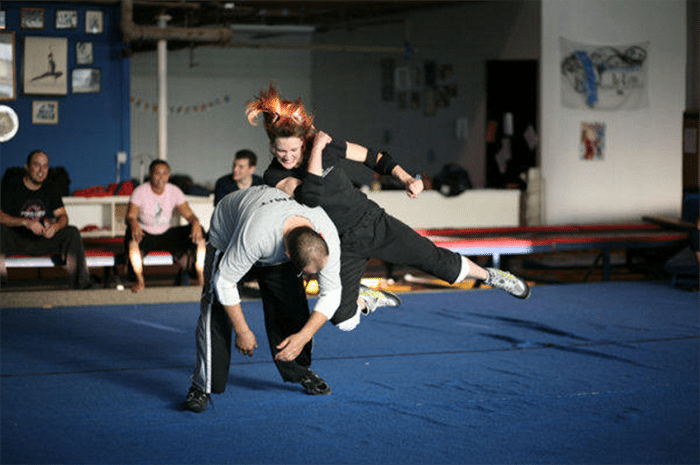 When I stumbled upon Asylum Stunts online, I knew I had to check them out. Learning how to do stunts like in the movies and TV? Sign me up! The only problem was that I was afraid.
I wasn't apprehensive about learning how to take a punch or pretending to fall from a roof. I worried about the peripheral things: What should I wear? Do I need special shoes? Will I be the sole outsider in a tight-knit group? Will I feel stupid?
After two years of periodically clicking on their website and building up the courage, I decided to make Asylum Stunts my next writing assignment so that I wouldn't back out.
When I arrived at the multi-use building, there was some awkwardness of not knowing exactly where to meet or what to do while everyone was setting up the safety mats. Once we got going though, my first session with Asylum Stunts was nothing like I feared. I've come to learn nothing really ever is.
I received a brief rundown of what was about to happen before being thrown into shoulder rolls, reacting to getting "shot" and performing a choreographed fight scene. I used the mini trampoline to practice falls and flips and was given a fake gun to shoot James Bond style. You know, aiming a gun while diving through the air and landing on your side.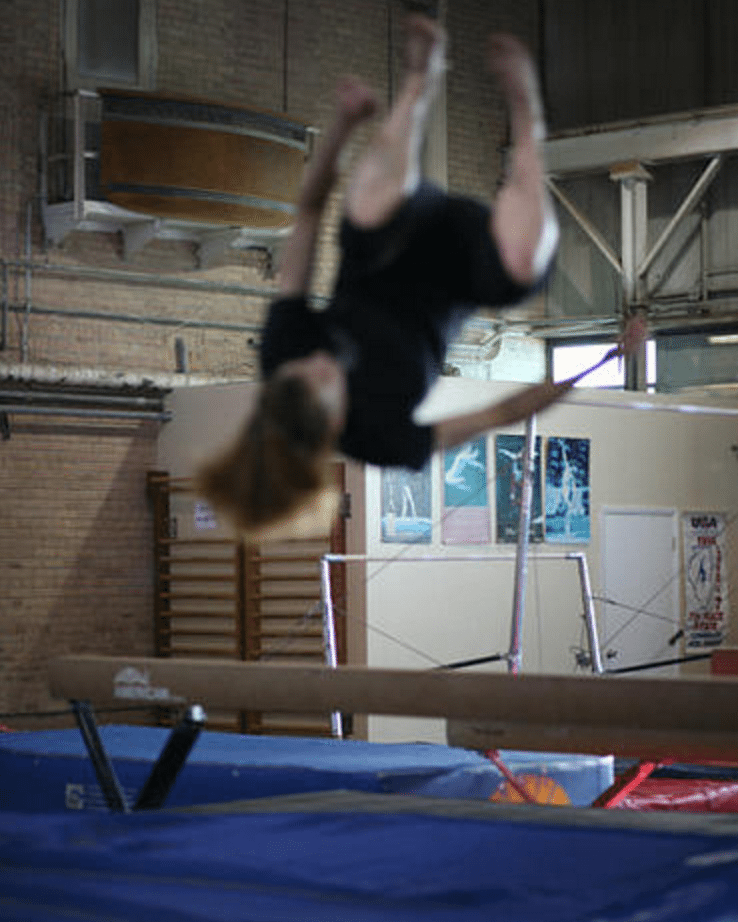 By the end of the session, I was climbing a ladder to a ledge where I would perform Roof Falls (jumping on an angle to land sideways) and Suicides (jumping forward and landing on your back). I was best at the latter and while I wasn't great at the former, I improved a little by the end of class. For my last stunt, I decided to try a Back Fall (literally falling backwards), which turned out to be a big fail. Aside from some ensuing neck soreness, I didn't hurt myself, but my legs almost went over my head when I basically landed on my shoulders. It was physically jarring and not at all how it was supposed to go, but at least I tried.
There were six people in my session, which was led by Brian Connelly, professional stunt coordinator/performer and director/co-founder of Asylum Stunts. Two other seasoned performers in the group helped demonstrate stunts to the ten-month veteran, two-day veteran and the other first timer who rounded out the class. To my relief, they were all clad in workout clothes similar to mine: yoga pants, t-shirt, running shoes. I'm not sure why I worry about such things.
Throughout the two hours of training, questions were welcomed, stunts were modified if necessary and demonstrations were given as many times as needed. Never did I feel like I was crashing the party or made to feel less than for not perfecting a stunt. There was, however, some good natured ribbing during a flip when I landed canon ball on my butt instead of my back. It was well deserved.
Connelly videoed all of our work and I got a look at one of my Suicide Falls before I left. Just like my entire experience at Asylum Stunts, it wasn't nearly as awkward as I feared it would be. In fact, I almost looked like I knew what I was doing.
Learning stunt work was not only fun and physically challenging, but I impressed myself by how easily I jumped (literally at times) into each task with little preparation or hesitation. I plan to not let another two years go by before returning.
Asylum Stunts offers Open Level Basic Training sessions on Tuesdays 8:00pm – 10:00pm and Saturdays 5:30pm – 7:30pm at The Aloft Loft Aerial Arts at 2000 W. Fulton St on the third floor. Each session costs $20, but the first time is free. There's no pre-registration. Just show up.