A Knockout Workout with TITLE Boxing Club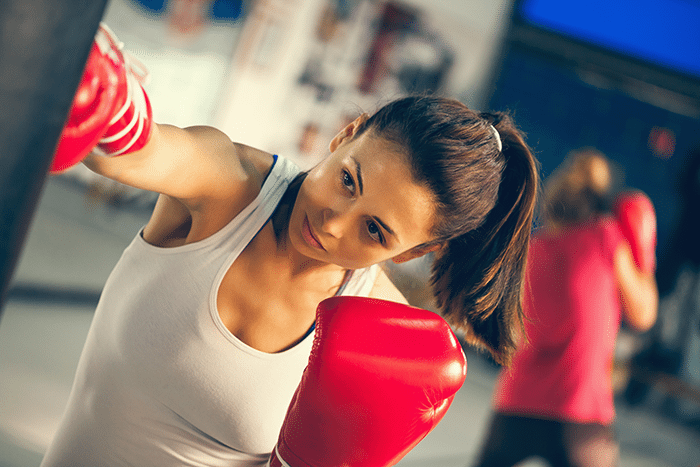 This may surprise you, but I've never thrown a punch. I've never been in a bench-clearing brawl or a bar fight, never so much as jabbed my sister when we were younger (she may remember differently, however).
However, when my roommate declared that she wanted to try a boxing workout, I jumped right on board. Besides being a calorie-torching, full body workout, boxing is a great way to release stress and tension, something that I'd been feeling a lot of recently. With our dukes up, we headed to TITLE Boxing Club at Clark and Fullerton in Lincoln Park.
Upon arriving (fifteen minutes early, as is recommended for your first class), we saw a surprisingly huge gym space for such a small gym front. With at least 50-60 punching bags hanging from the ceiling, plus a small area dedicated to basic gym equipment and jump roping, TITLE Boxing Club looks like a place for serious training. And it is.
While getting our wrists and hands wrapped* by staff members (something you don't want to skip, since those wraps provide stability to keep your hands safe inside your gloves), we got the lowdown on what we could expect from our hour-long boxing class: a 15-minute full-body warmup, 30 minutes of boxing drills and combinations with active rest periods, and 15 minutes of core work to top it off.
Before class started, a staff member worked with us to show us the basic punches: jab, cross, hook and uppercut. We practiced them with him, enjoying the one-on-one attention and tips that would help us knock out our punching bags later in class. For amateur boxers, he noted that it's not just your arm throwing a punch; you have to put your whole body into it, rotating your torso (that's where the full-body workout comes in).
We took our spots in the grid of punching bags, and our warmup started right on time, with a giant screen counting down the 15 minutes until our "warmup" was over. And believe me when I say that after three minutes, I was keeping an eye on the clock too. The warmup was less warmup, more holy-crap-I'm-going-to-collapse-right-now. The instructor had us alternating exercises ever 30 seconds, doing combinations of three exercises in a row followed by an active rest exercise. A sample combination went something like this:
Jumping jacks (30 seconds)
Mountain climbers (30 seconds)
Push-ups (30 seconds)
Alternating lunge jumps (30 seconds)
Repeat, then immediately move onto a new sequence
Spoiler alert: doing squat jumps, burpees, plank jacks and more is exhausting. I honestly felt like I could have gone home after those 15 minutes and been completely satisfied with my workout – I was drenched in sweat. But nope, we still had 45 minutes left.
Once the timer mercifully hit 00:00, it was time to grab some water and don our gloves. Our instructor gave us combinations to follow, and with her sequences ringing in our ears, we attacked our bags. We repeated combinations for 30-60 seconds (jab-cross-hook-hook), then switched to a new combination so that we never got too bored (or too comfortable). Every five minutes or so, we'd do an active rest exercise, such as squat jumps.
One of the coolest parts of the class was the roving extra instructor. Aside from the lead instructor teaching class and correcting people's punches and forms, one of the extra staff members on duty donned a pair of pads and went around sparring one-on-one with each class member. The roving instructor gave us different combinations to follow and longer sequences, including ducking and weaving, while moving freely around the floor so that you had to work on your footwork as well as your boxing. It was a really cool touch to the class and definitely enhanced the experience.
Finally, after my knuckles were getting a bruising and I could practically hear my punching bag pleading for mercy, we ended the class with a scorching core section. Using a medicine ball and the punching bags, our instructor led us through 15 minutes of ab exercises that made it painful to laugh the next day.
The verdict? TITLE Boxing is one of the toughest workouts in the city, and the next day my core and sides were sore from the full-body workout. If you're looking to completely lose yourself in a workout and leave drenched in sweat with slightly tender knuckles, this workout's for you.
Plus, now I can (probably) beat up my little sister.
*Note that while your first class is free with TITLE, you have to pay $10 for a pair of wraps if you don't have your own.