Get the Lowdown on Yoga Six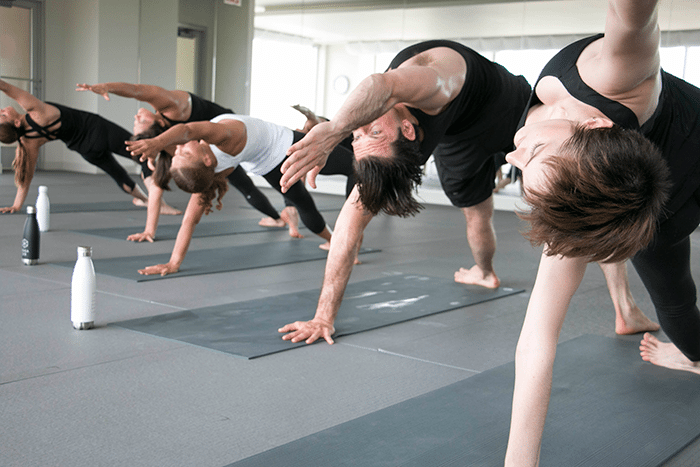 (Disclaimer: Yoga Six provided me with free classes to write this post. As always, all opinions are my own.)
Two years ago, I couldn't have told you the difference between chair pose and Chaturanga. These days, I'm still an amateur yogi, but I've come a long way. That said, I tend to stick to the same kind of class over and over. Hot yoga scares me, boot camp seems too aggressive and power yoga sounds complicated. I was a vinyasa girl all the way.
Or so I thought.
Last month, I decided to give all six classes at Yoga Six a whirl. The studio was running a challenge – attend each class three times – but in true yogi fashion, I set my own intention. I would make it to each class at least once, and then I would tell the asweatlife.community all about it. You're welcome.
Yoga Six has 13 studios around the country, mostly in the Midwest (Chicago, St. Louis, Columbus, Milwaukee, Kansas City), plus four on the West Coast (San Diego). The "six" in their name refers not only to their class offerings – boot camp, deep stretch, flow, hot yoga, power yoga and vinyasa – but also to their guiding principles. Their mantra, if you will, goes like this: stronger, leaner, clearer, calmer, braver, further.
I've been to all three of the Chicago locations, and they are uniformly clean, welcoming and soothing. I'm a big fan, pun intended, of the "fan shower" in the South Loop locker room, which blows cool air from above, drying off the sweat if you don't have time for a real shower.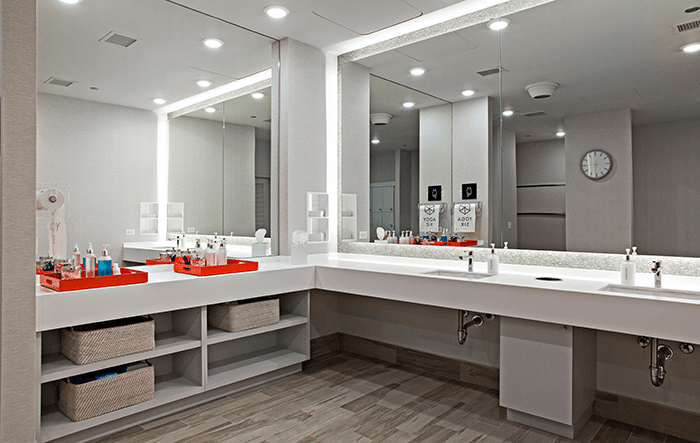 Speaking of sweat, it's gonna happen, especially in the boot camp, power yoga and hot yoga classes (duh), which are held in heated rooms. Sometimes the heat is still lingering when you show up for a vinyasa or flow class, so be prepared with water and a towel.
I appreciated that the teachers took the time to introduce themselves to each participant and ask about aches and pains, as well as special requests for the class. They offered hands-on adjustments if you wanted them and suggested ways that advanced attendees could take a pose further. I went rogue during boot camp, adding in a push-up during each walk-out, and the instructor seemed genuinely delighted. Teachers were also diligent about reminding participants that it was always acceptable to settle into child's pose for a break.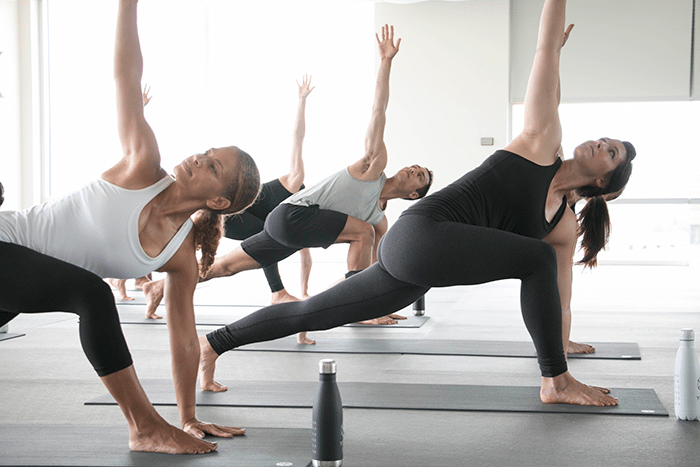 Yoga Six feels like a community. Students know each other and their instructors, strangers chat in the locker rooms and the front desk staff greets everyone with a smile. The South Loop studio offers summertime vinyasa and vino on the rooftop, and people actually do stick around for an hour after class to sip wine and hang out. In that sense, it reminds me of the wonderful folks who make up the asweatlife.community. Plus, Yoga Six is always offering fun workshops, like AcroYoga (such a blast!), meditation, partner boot camp, triathlons (beach boot camp, yoga and SUP, beach meditation) and more.
Now, on to the classes.
Drip. Drip. Drip. That was the sound of sweat dropping onto my mat as I attempted to hold half moon. I loved the intensity of this class. My legs were burning by the end and sore the next day. As we went into yet another one-legged Chaturanga sequence, I found myself silently thanking my trainer for all the push-ups he puts me through. Other highlights: successfully doing crow pose, deepening my lunge and occasionally finding balance as I teetered on one wobbly leg.
We were moving in this class. At first, I thought the fast pace would make it difficult to connect my breath to each movement, but instead, it was easier. The breath gave me the backbone I needed to flow through the sequences and explore deep twists and inversions. We were up, then down, then up again and so on. There were many flows that ended in Chaturanga – lots of opportunities to get that low plank right!
In flow, I learned that a slower pace doesn't necessarily mean an easier class. We held each pose for several breaths, giving us time to really deepen into it. The blocks came in handy as we balanced on one leg in a variety of postures. We did one plank but no Chaturanga sequences, which was fine by me, having just taken the vinyasa class. I liked how each sequence developed in this class; we started with a few poses and added on, slowly building a longer sequence.
I knew this class would be hot, but wow! It was steamy enough that I occasionally forgot to pay attention to my breath, and I appreciated the instructor's reminders to link breath to movement. Our flow sequence entailed a lot of high planks to mid planks to up dog to down dog. We visited our old friends, warrior I and warrior II. There was satisfying bridge work for our backs, as well as crunches. It's safe to say I conquered my fear of hot yoga after this class.
Say goodbye to traditional yoga and hello to weights. While there isn't much in the way of yoga in boot camp, I found that this class still tapped into key yoga strengths, like balance and core work. We did a few yoga poses too. If you think warrior II is challenging already, try adding a row with a 10-pound dumbbell next time. The class also featured shoulder and chest presses, deadlifts, bicep curls, planks and more. After two times through doing 20 reps per side (a lot more than my usual 12-15!), we did a cardio burst: one minute each of jumping rope, high knees and butt kickers, followed by an increasing number of burpees. All told, we had three sets of cardio interspersed with weights. Get ready to work in boot camp!
I felt good about this class as soon as I saw the soft pillows everyone set by their mats. Okay, it's actually a bolster, not a pillow, but same idea, right? After a tough session of lifting and a spinning class earlier in the week, I was in desperate need for some serious stretching, and this class delivered. We twisted, we lunged, we reached for the ceiling and the floor. Bridges bookended the class for an extra dose of back work. This class was actually the most packed class of the six, and I can understand why. Who doesn't need a little more stretching in their life?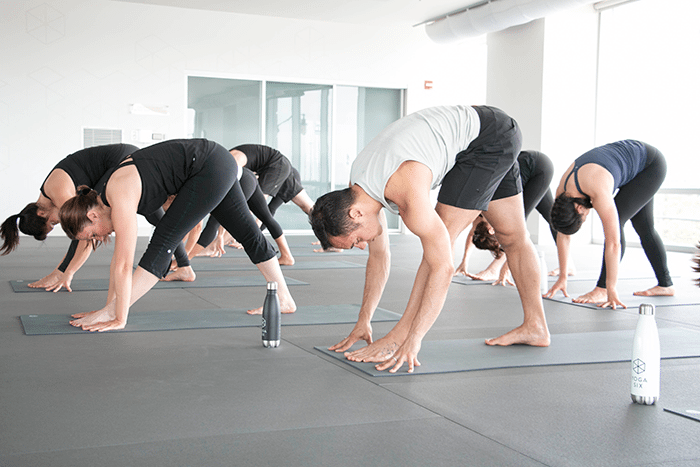 Sign up for a free week of Yoga Six classes today!
Which are your favorite Yoga Six classes? Let us know in the comments section below.