Here's What You Can Expect From Our Friends During #SweatworkingWeek
[Disclosure: This post is a part of our sponsorships with our #SweatworkingWeek partners. As always, we only write about the places, people and things that we truly love.]
We love hosting #SweatworkingWeek in January to help Chicagoans find a routine they can get behind for the rest of the year. We create a schedule built to help you instill more of whatever you need in your year: motivation to start a morning workout routine, help finding a new workout that excites you, inspiration to set new goals or a stronger community to support you along the way.
You'll find all of that in one amazing week, January 8-13, closing out with the #SweatworkingWeek fitness festival January 13. 
The workouts, lunch-and-learns and, let's be real, the goodies are what might bring us together for #SweatworkingWeek, but the connection, community and friendships built during the week are what we remember for the rest of the year.
And we wouldn't be able to make the magic of #SweatworkingWeek happen without the help of our friends. Here's what you have to look forward to from them.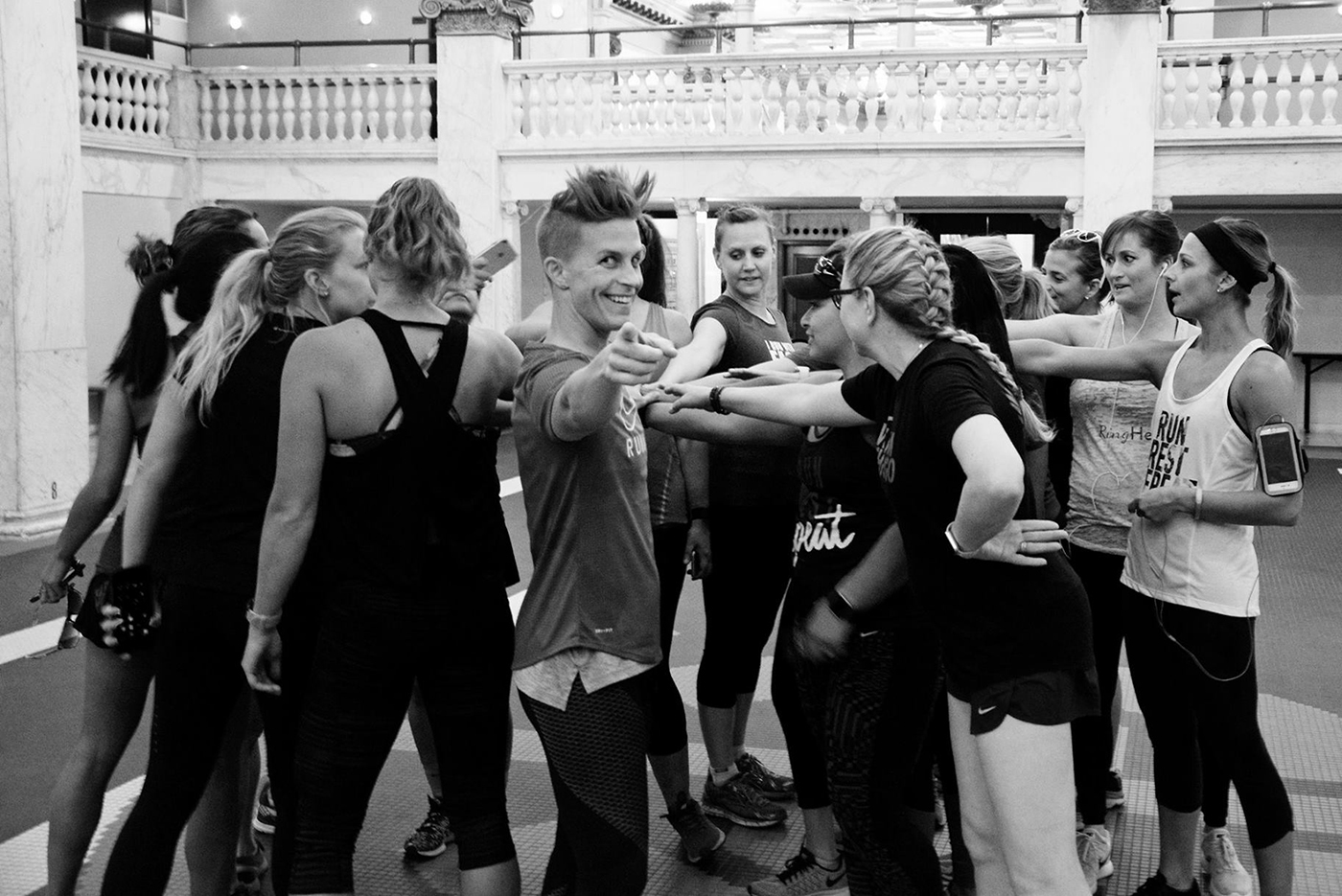 A wake-up call each morning with LUNA, our Rise-and-Shine Partner
Each morning workout of #SweatworkingWeek starts at either 6 or 7 am. If you're one to set your alarm for an early morning workout and hit snooze more than you actually get out of bed for it, this is your chance to turn that habit around.
Our friends at LUNA are our Rise-and-Shine Partners for the week. They'll be at every morning workout to ensure that we all make it through the sweat, with the promise of Luna Bars and fruit on the other side.
And what better way to solidify that the morning workout actually happened with a photo to capture it? LUNA will bring a morning photo booth to every morning workout all week as well as to the fitness festival. So you can be sure to prove to all of your buddies that you're up, at 'em and working hard as the sun rises with a pic. Because without it, did it even happen?
We'll see you bright and early all week long starting January 8.
Lifeway Kefir makes your mornings even brighter with probiotics
Our friends at Lifeway Kefir will be on site with snacks at the mornings and at the Fitness Festival on Saturday, January 13 offering samples of some of our favorite products. If you haven't tried this deliciousness, you're in for a treat. Kefir is a source of live, active cultures, probiotics and calcium, all which support digestion, immunity, skin health and bone density.
Our recovery partner Delos Therapy will be at evening sessions and the fitness festival to keep you going all week
We know that some of you take on new workouts or more workouts than normal during #SweatworkingWeek to try new things. For the soreness that may accompany that, we've enlisted help.
Enter Delos Therapy – not your average deep tissue muscle work. Delos Therapy practitioners will be at events to provide mini-treatments for your aching muscles Monday through Thursday and all day at Saturday's Fitness Festival.
Post-workout fuel provided by Fit Foodie Kitchen at evening sessions
For all the evening workouts of #SweatworkingWeek, Chef Shauna Shaik will be there to provide Fit Foodie Kitchen Rejuven8 bites to give you the post-workout boost you need from these bites made with whole foods and are gluten-free and dairy-free. Plus they taste so good, you'll be hard pressed to enjoy just one.
Whether you're taking on one or all the evening workouts of #SweatworkingWeek, you'll be refueled after to avoid a case of the hangries.
Cooked Chicago providing lunch for the lunch-and-learn sessions Monday – Thursday
Need an excuse to actually take a lunch break during your busy day? We know there's no "good time" to jet from the office mid-day, but we promise that our noon-hour, sweat-free sessions will actually help you at work. Each day, speakers will help you set goals or will share their stories of overcoming obstacles to achieve big things. Extra inspo: you'll score lunch with your ticket and you'll be back to your regularly scheduled day in an hour or less.
Cooked Chicago is making all our lunch dreams come true Monday through Thursday during the week. While our speakers will be sharing their tips to success in their entrepreneurial journeys and offering you ways to go after the goals you want for 2018 yourself, you'll also be enjoying meals that Cooked Chicago creates to help you live your healthy life (without having to meal prep). The brand creates Whole30-approved meals, an all-around healthy and delicious menu and juice cleanses to jump-start whatever your goals are.
An expert cooking demo and access to our dream kitchen at PRE Brands
Chef Sarah Russo will give us all the Friday lunch we dreamed of at the PRE Brands office. At noon, we'll gather around the office's massive kitchen island and create a lunch together, learning tips from Sarah along the way to make meal prep a breeze and to cook your grass-fed steaks to perfection.
Refreshments from Bai from workout to workout during the week
Our friends at Bai will be providing antioxidant-rich beverages to help you stay hydrated all week long (and they have some other surprises up their sleeves). With flavors like Burundi Blueberry Lemonade, Malawi Mango and Sumatra Dragonfruit, you'll have choices to fit whatever post-sweat beverage you're feeling.
Access to the EvolveHer co-working space after the Lunch-and-Learn sessions each day
Monday through Thursday, we'll meet for Lunch and Learns at the newest entrant to the co-working scene in River North: EvolveHer.
When Alicia Driskill dreamed up the big idea to create a unique, female-focused space that fosters creativity and collaboration for women in business, we couldn't wait to experience it. Clean, collaborative, open and lofty – this space does not disappoint. After the lunch-and-learn sessions Monday through Thursday of #SweatworkingWeek, you're invited to stay, work and enjoy the Wi-FI and camp out at EvolveHer.
This afternoon change-of-scenery could be just what you need to get restart your productivity.
A Fitness Festival to remember with one studio sponsored by Reebok Chicago
At the Fitness Festival on the last day of #SweatworkingWeek, Reebok Chicago is making all the bodyweight workouts happen in one of two studios hosting classes all day.
In this studio, you've got a workout option to fit all your dreams and desires. Take yoga and experience a sound bath meditation with Cass Yoga. Take on a dance fitness class inspired by music videos with MVFitness Founder Bobby O'Brien. Get sweaty with Seobia Rivers in her signature cardio kickboxing class. Work on pulsing your muscles into oblivion and your jabs, cross, hooks and uppercuts in Courtney Belcastro's and Glen Snellgrose's boxing & barre combo class and finish the day with an intentional meditation by Bare Feet Power Yoga.
And to answer your next question, yes, you can take them all.
A studio packed with equipment at the #SweatworkingWeek Fitness Festival thanks to our friends
The other studio running classes all day will have equipment to give you the goods you expect from a studio workout. Equipment for this studio will be provided by CrossTown Fitness and Sweat Fitness Studios.
The classes will make use of all of that heavy stuff. Rae Reichlin will give you  a taste of Ladies Who Lift. After that, Steph Rountree is showing you how she motivates you at CrossTown Fitness. Two trainers will come together to show their unique style – Dustin Hogue and Jeremy Liban. Emily Hutchins will bring you the Strength of On Your Mark. To close out the day, Betina Gozo and David Carson will co-teach a workout.
A way to celebrate all your accomplishments with Michelob Ultra
Official Celebration Beverage of the #SweatworkingWeek Fitness Festival Michelob Ultra will be on site all day. Whether you come to Morgan's On Fulton to take one of the many classes during the day or come to hang out, make your goody bag, grab a well-earned beer or beermosa and hang out for a while with us!